Instant Pot Lentil Curry is a rich and healthy meal. Not only are lentils packed with protein, fibre, iron and folate, but lentils are also both delicious and low-calorie.
This recipe is an amazing way to eat a yummy and delicious meal that's ready with almost no prep, because you just toss everything in the Instant Pot! We LOVE ourselves an easy dinner around here!
What is Lentil Curry?
Instant Pot Lentil Curry is a hearty vegetarian dish with a delicious coconut curry broth and red lentils. Made with a blend of spices and coconut milk (for creaminess), Instant Pot Lentil Curry is a go-to meal.
How do I store this Instant Pot Lentil Curry?
Store your leftovers in an airtight container in the fridge for 4 to 5 days. Reheat on the stovetop, in the microwave or even in your Instant Pot on the simmer setting.
Can I freeze leftover Lentil Curry?
You can freeze Lentil Curry for up to 3 months. Just be sure it is entirely cool before placing it into freezer-safe glass containers or Ziploc bags. Then, let it defrost in the fridge overnight before reheating in the microwave or on the stovetop.
Can I use green lentils in Instant Pot Lentil Curry?
Yes. You can use any color lentils. Green lentils have a peppery taste, but they hold their shape well. Green and Brown lentils are best at keeping their shape in cooking.
Red and Yellow lentils tend to be the "split" variety, and have more of sweeter and nuttier flavor profile. Since they cook faster than then Green and Brown Lentils, I love using them more. You'll also find them more widely used in most Indian and Middle Eastern based recipes.
Can you make this Lentil Curry on the stovetop or in the slow cooker?
Yes. Bring the ingredients to a boil in a large pot on the stovetop and simmer for about 30 minutes. If using a slow cooker, set it on low for 6 hours. Add all ingredients in the same order that you would add them to your Instant Pot. Place the oil on the bottom of the pot first to prevent the other components from sticking.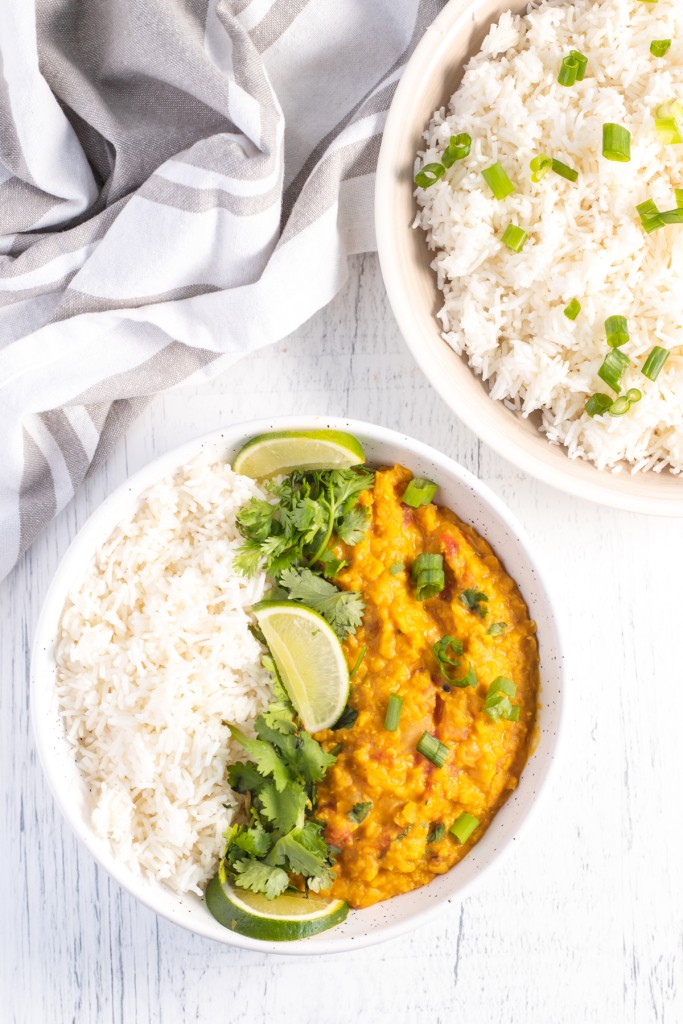 What do you serve with Lentil Curry?
Because this robust vegetarian meal packs plenty of protein and fibre, this pressure cooked Lentil Curry can serve as a main dish. If you want to add a side, serve it with some crusty bread or a side salad, or over a bed of basmati rice. A flatbread such as a naan would be fabulous with this as well.
Tips for Making Instant Pot Lentil Curry
Add 2 cups of spinach or another dark leafy green like kale for more fibre and nutrients.
If you prefer a less-creamier soup, add one more cup of broth or leave out the coconut milk
Red lentils have a slightly sweet flavor and a nice bright color. They tend to break down a bit during the cooking process resulting in more of a stew-like texture.
Recommended
Instant Pot Thai Green Curry
Instant Pot Thai Chicken Thighs
Instant Pot Tofu Curry
Notes
Instant Pot Lentil Curry is an exotic and nutritious meal you and your family will love. But, before you try this recipe, keep these tips in mind:
If you use 16 oz mason jars to store the leftovers of this recipe, they will hold the exact perfect serving size.
Curry loses its flavor quickly, so check how long your seasoning has been on your shelf before using it this recipe.
Top your bowl with a dollop of sour cream and red pepper flakes.
Substitutions
Fresh ginger – if you don't have any fresh ginger, use some ground ginger powder.
Curry powder – make your own using a blend of cumin, coriander, chili, turmeric and pepper.
Coconut milk – heavy cream or sour cream will also work. You may want to thin your sour cream with a touch of milk before using it in this recipe.
More Yummy Instant Pot Recipes You'll Enjoy
If you like this delicious Pressure Cooked Lentil Curry recipe, you'll want to try some of our other Instant Pot family dinner recipes! Try any from the list below.
Instant Pot Sausage and Peppers
Instant Pot Spaghetti
Instant Pot Easy Cheeseburger Pie
Instant Pot Tex Mex Chili
Instant Pot Hawaiian Chicken
The Best Instant Pot Lasagna
Instant Pot Ribs You'll Love
Yield: 4
Instant Pot Lentil Curry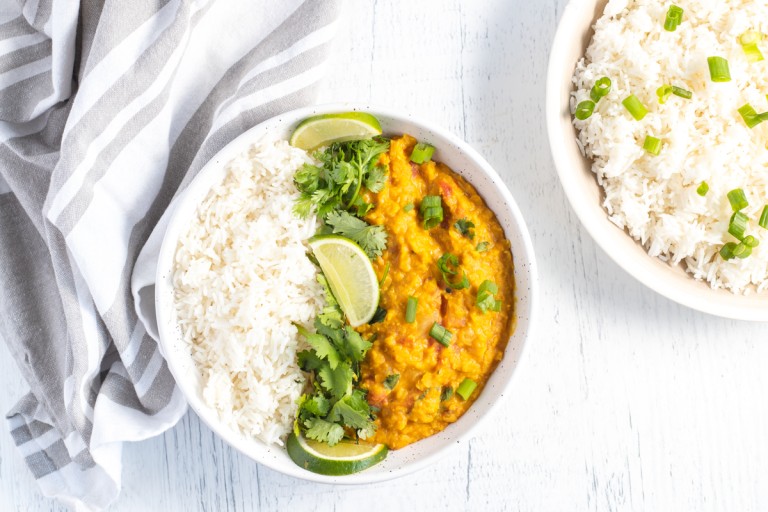 Instant Pot Lentil Curry is a rich and healthy meal. Not only are lentils packed with protein, fibre, iron and folate, but lentils are also both delicious and low-calorie. 
Additional Time
10 minutes
Ingredients
2 cups of red lentils
1 large onion
2 cloves of garlic
1 tbsp minced fresh ginger
1 can (28 oz) diced tomatoes
1 can (13,5 oz) coconut milk
1 cup vegetable broth
2 tbsp curry powder
1 tsp turmeric
Salt and pepper to taste
Garnish with cilantro and lime if desired
Instructions
In the Instant Pot, press sauté, and add oil. Once hot, add the onion, ginger and garlic and cook for 5 minutes.
Add all the rest of the ingredients. Salt and pepper. Cover and select the high-pressure function. Set the cooking time to 18 minutes.
Let the pressure release naturally for 10 minutes, then vent to release the pressure completely, and remove the cover. Mix well. Adjust seasoning.
Serve with rice.
Garnish with cilantro and lime if desired
Notes
•You can keep the curry in an airtight container up to 5 days in the fridge. The curry can also be frozen up to 3 months.
•Lentils do not require a soaking period like other legumes.
•Lentils allow you to fill up on fiber that is often consumed in too small quantities.