Instant Pot Easy Cheeseburger Pie
The impossibly easy cheeseburger pie is a super classic recipe, but I gave it a huge upgrade by making an instant pot easy cheeseburger pie! I have loved making tons of instant pot recipes, and experimenting with new ones everyday. This is instant pot easy cheeseburger pie recipe is going to be a new family favorite for you!
Instant Pot Cheeseburger Pie Recipe is Everything!
Yes, you are going to need to make this instant pot cheeseburger pie asap. You and the family are going to thank me for it! The recipe is super flexible, so you can add all other types of "burger toppings" into it. You can add onions, tomatoes, bacons, pickles, and the sky is the limit.
The recipe has a very liquid consistency. It's almost as thin as a crepe batter mix, so don't freak out when you make it! I was also very happy to know that nothing curdled and there was no weird texture issues when eating. It was delicious, and a great time saver! I made this recipe in under 25 minutes, including time for cooking the hamburger meat.
Enjoy My Instant Pot Easy Cheeseburger Pie Recipe

I hope love it as much as I do. Let me know if you make this recipe. Take a photo and share it with your other Instant Pot loving friends!
Here are some other great Instant Pot recipes for you to enjoy:
Enjoy making life in an instant!
Yield: 4
Instant Pot Easy Cheeseburger Pie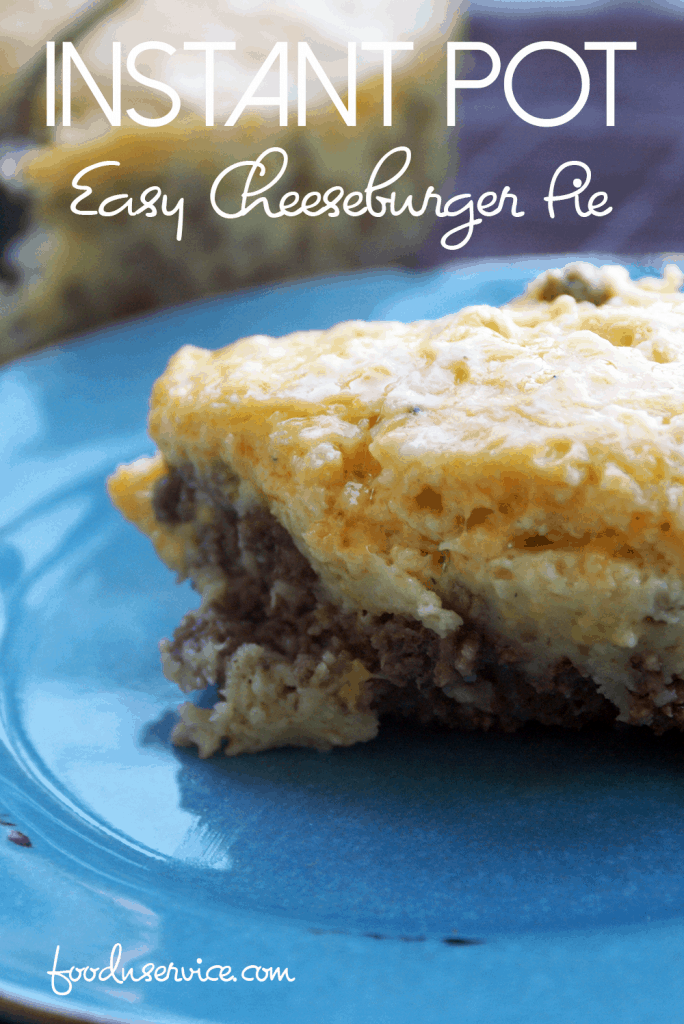 You'll love how easy and delicious this instant pot easy cheeseburger pie is!
Ingredients
1 pound ground beef
1 cup shredded cheddar cheese
2 eggs
1 cup milk
1/2 cup Bisquick
1/2 teaspoon garlic powder
sea salt and cracked pepper to taste
Instructions
In a medium sized skillet over a medium flame, add ground beef, garlic powder, salt and pepper to taste. Drain grease when browned.
Place ground beef into bottom of pyrex container.
Add cheddar cheese on top of ground beef.
In a bowl, add milk, eggs, and Bisquick. With whisk mix well until lumps are gone. To avoid lumps, I slowly added milk into the batter mixture and mixed with a whisk accordingly.
Pour liquid contents over ground beef and cheese in pyrex bowl.
Using a PIP method, add 2 cups of water into your IP container, place 2 - 1 1/2" ramekins to inside of the IP pot container. Place pyrex bowl on top of ramekins.
Place lid on top and lock into place. Place on High Manual Pressure for 15 minutes and let NPR for 5 minutes.
Release remaining steam from IP. Remove lid at an angle so water doesn't drip on top of cheeseburger pie. Allow to cool and then remove from the IP.
Serve and enjoy!