Crab Margarita Appetizer Recipe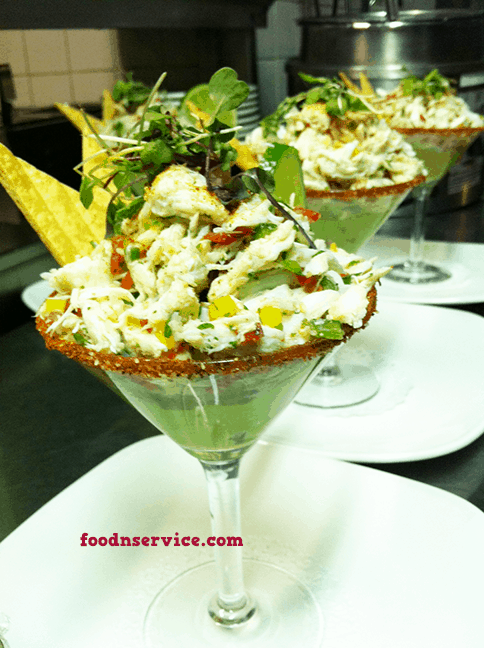 Crab Margarita Appetizer
I've been able to eat and work at so many amazing restaurants in my life, but Chef Bobby Trigg of the once amazing Ferry House Restaurant had taught me so many amazing culinary skills and simply delicious recipes that everyone can enjoy. What's really great about this recipe is that it easily turn into a Gluten Free dish with out the tortilla chip garnishment, but we will get to that.
This recipe is exactly what it suggests. The sweet tender crab meat was be saturated with a house made margarita mix and laid on top of bed of avocado salsa. The ingredients are super fresh and fun, and always in season. The presentation is the best part of it all, and adds a super fun flair to any meant or occasion. I guarantee you this: It was the single most popular appetizer in the our restaurant.
In case you missed out on it, here's my copy cat version of the Avocado Salsa Recipe that is to die for! You will need this for the base of the martini glass. Now you can use any type of glassware that you want to utilize, but Martini glass is just plain ol' fun and stunning.

Yield: 1
Crab Margarita Appetizer Recipe
Ingredients
1 can chilled super lump crab meat
1 small red bell pepper (diced and minced into tiny cubes)
1 small yellow bell pepper (diced and minced into tiny cubes)
1 1/2 ounces Pura Vida Silver Tequila
1/2 ounce Triple Sec or Gran Marnier
1/2 ounce lime juice (fresh squeezed is better)
2 ounces fresh sour mix
1/4 tsp black pepper
1 tsp salt PLUS a pinch of salt
1/4 tsp minced garlic
Cajun Spices (We will use this for the rim of martini glass)
Lime Wedge (will be used for presentation on rim of glass)
Flour Tortilla chips (used for presentation in glass)
Instructions
In a bartenders shaker, add in Tequila, Triple Sec or Gran Marnier, lime juice, sour mix, black pepper, a pinch of salt, and garlic. Allow to set and marinade in the fridge for 15 to 20 minutes.
Mix 2 teaspoons of cajun spices and teaspoon of salt onto a small plate. Mix well and spread out evenly.
Take lime wedge, and run it across the rim of the glass and dip the glass rim into the salt/cajun spice mix.
To bottom of martini glass, add the avocado salsa, and set to the side.
In a small to medium sized bowl, add your chilled crab meat and gently break apart (being sure NOT to shred the crab meat, unless you want to), both diced bells peppers, and then saturate with the margarita mixture.
Using your hands, start adding the crab meat margarita infused meat on top of the avocado salsa. You don't your appetizer to be too "wet", so be sure to drain a little of the tequila off of the crab meat. There will be enough infused in it already.
Add your lime wedge and tortilla chips to the martini glass to garnish. For placement of the tortilla chips, if you look at the picture above, they look like little rabbit ears.
And you're all done!
To make your life a little bit easier, most grocery stores actually have the diced and minced bell pepper mixtures accessible for sale in the product section. To top it off, you can get something called, "Micro Greens" for a cool garnishment on top.
It might sound like a lot of steps, but it really isn't. The biggest portion is the prep time, so I don't make this too often! But when you do make it, your guests are in for a super fun and amazing treat!