Instant Pot Thai Chicken Thighs
These flavorful Instant Pot Thai chicken thighs are perfect for dinner, while leftovers can be shredded to make delicious wraps for tomorrow's lunch. That makes this a pretty fabulous batch cooking recipe for the week!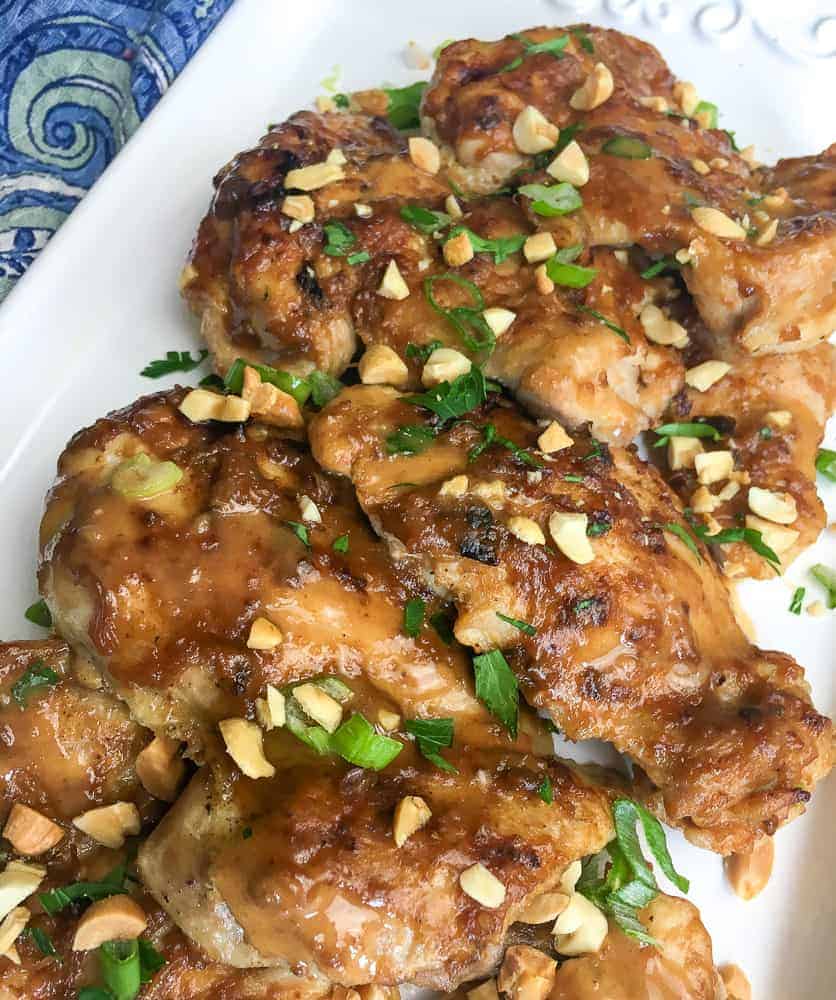 So Many Reasons to Love this Chicken Recipe!
I love being able to  try and make different recipes in the Instant Pot that can help change up the dinner plans here and there. 
The Thai chicken comes out so tender! After cooking this in the Instant Pot, you should place it on a sheet pan and place under the broiler in your oven. This will help give it a nice browned looking appearance.
Instant Pot Thai Chicken Thighs Recipe
This recipe calls for the use of skinless and boneless chicken thighs; however, you can just use skinless with the bone in chicken thighs. Can you use chicken thighs with the skin on? Yes you can, it's a texture thing for me…so I say leave it off. If you were going to make this in the oven or even the crock, I would say leave the skin on. It'll have a different consistency.
You can always make this with chicken breast meat or chicken tenderloins, and they'll turn out pretty fabulous!
One trick to this recipe is to add enough liquid to the peanut sauce prior to cooking. If the sauce is too thick, the Instant Pot may not be able to reach adequate pressure. So, if you decide to add more peanut butter, be sure to adjust the amount of liquid, as well.
I hope you enjoy this recipe, as much as I enjoy sharing it with you!
More Instant Pot Recipes And Info
There are Instant Pot Recipes for everyone to enjoy, but there's also a few things out there that you should know how to do, like How to clean your Instant Pot, What size Instant Pot you should buy, and even what kind of Instant Pot accessories you should get.
Yield: 4 - 6 Servings
Instant Pot Thai Chicken Thighs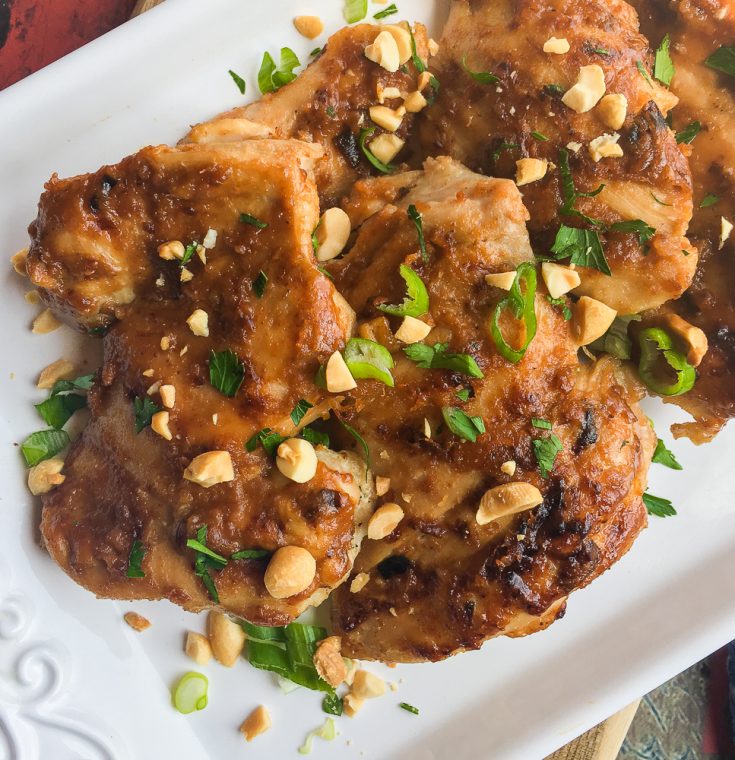 These Instant Pot Thai Chicken Thighs turn out so moist and flavorful!
Additional Time
7 minutes
Ingredients
2 tablespoons sesame oil
2 lbs. boneless, skinless & boneless chicken thighs
2/3 cup chicken broth
¼ cup sugar-free peanut butter
¼ cup gluten-free soy sauce or coconut aminos
2 tablespoon fresh lime juice
2 tablespoon honey, preferably local
1½ tablespoon Sriracha sauce
2 teaspoons fresh ginger
1 teaspoon garlic powder
Sea salt and black pepper, to taste
Instructions
1. Add sesame oil to Instant Pot and set the "Sauté" setting to high. Working in batches, if necessary, brown the chicken thighs, approximately 3-4 minutes per side. Repeat this process with remaining thighs. Remove and set aside on a platter.
2. Pour chicken broth into hot container and gently scrape up brown bits from bottom. Add peanut butter to the hot liquid and stir until completed melted. Add soy sauce, lime juice, honey, Sriracha sauce, ginger, and garlic powder. Season with salt and black pepper, to taste, and stir to combine.
3. Add trivet to the Instant Pot and place the browned chicken thighs on top.
4. Add lid and lock into place. Switch vent to "Sealing" position and set the "Manual" setting on high before adjusting the cook time to 10 minutes. After a brief pause, the Instant Pot will automatically start building pressure.
5. When finished, do a quick release (QR) to allow the pressure to escape. Unlock and carefully remove lid when finished and transfer the chicken to a platter.
6. Optional: To thicken sauce, select the "Sauté" setting and heat, stirring continually, until the excess liquid is reduced and the sauce reaches the desired consistency.
7. Turn Instant Pot off and return the chicken thighs and the juices that accumulated on the platter to the sauce and turn to coat.
8. Remove chicken and transfer to a serving tray. Garnish with chopped fresh cilantro, chopped peanuts, and green onions, if desired. Serve immediately with extra peanut sauce and your favorite sides. Enjoy!
Notes
To get the nice browning effect shown in these images, transfer the chicken thighs to a large, rimmed baking sheet lined with aluminum foil after cooking. Brush each side generously with the peanut sauce and place under a broiler set to high for 2-3 minutes or until nicely browned.
To Garnish:
Fresh cilantro, chopped
½ c. roasted peanuts, chopped
3-4 green onions, cut into thin slices