Instant Pot Thai Green Curry
I love this Instant Pot Thai Green Curry so much! It has so much flavor, and it's a dish that just warms the soul. This is such a great Instant Pot recipe that takes no time to make, and it's a recipe that you can make in batches to help you with any type of weekly meal planning.
I'm a huge fan of Thai cuisine; however, there aren't very many Thai restaurants around where I live. That's when I start looking online, watching TV for recipes, and trying a few out for my own.
I pair this up with some delicious Jasmin rice, which you can make in your Instant Pot! Now, I happen to have 2 Instant Pots, so it's a little bit easier for me. However, you can always cook your rice "Pot in Pot" style.
I would recommend using Trader Joe's frozen Jasmine rice, or another brand of frozen Jasmin rice. Traditional Jasmine rice won't have enough time to cook in your pot when you make this Instant Pot Thai green curry dish.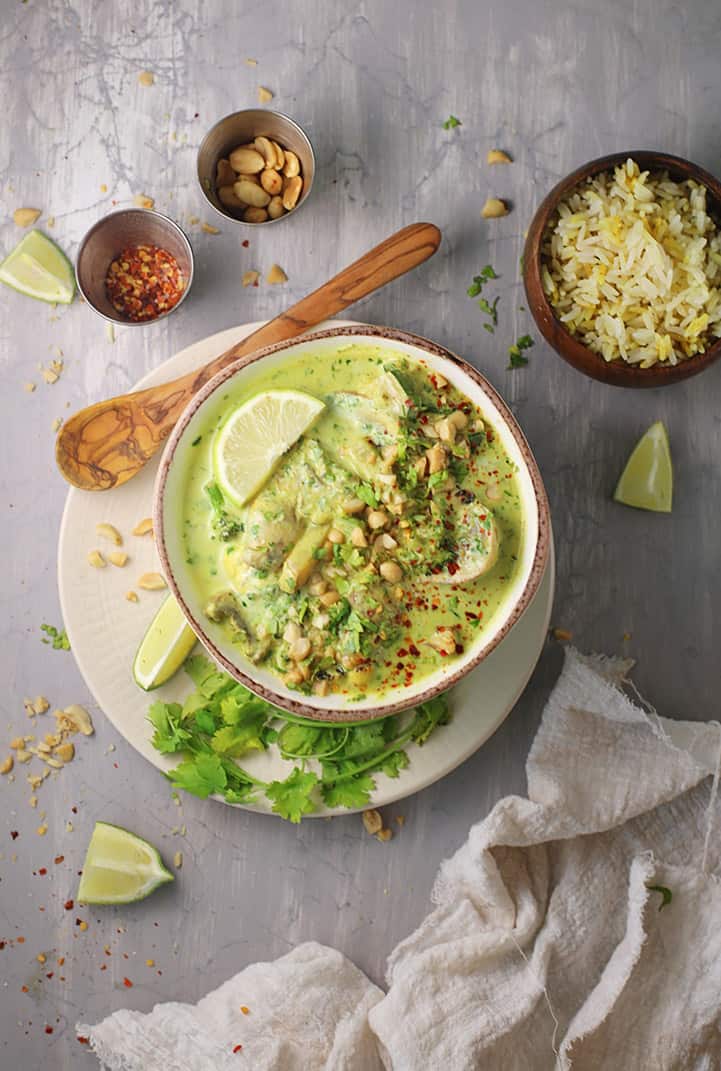 Ingredients Needed for Instant Pot Thai Green Curry
olive oil
onion
garlic clove
green curry paste
coconut milk (I use Trader Joe's)
zucchini
mushrooms
broccoli, fresh
lime juice
cumin
ground coriander
Salt and pepper to taste
ginger powder
water or chicken broth
YOU CAN ALSO ADD: bamboo shoots, potatoes cut into strips, Japanese eggplant, Thai basil leaves (you can substitute traditional Italian basil leaves, but it has a different flavor profile). For more information, please be sure to read the notes I've attached to the recipe!
This is a Fabulous Instant Pot Weight Watchers Recipe!
If you follow along the recipe as is, you will have utilized 9 Points on the Blue MyWW with a 1 cup (+/-) serving. This will make 4 servings. If you want to really cut the points, you can use dilute the coconut milk with water or chicken broth (use equal parts coconut milk per liquid from water or broth).
All of the points are coming from the coconut milk. If you have the points handy, then this will fit PERFECTLY into your plan. You can easily enjoy this dish over riced cauliflower!
Can You Add Meat into the Instant Pot Thai Green Curry?
Yes you can! You're cooking time will be just slightly different. Also, you have to be careful how thick your pieces of meat are when putting them in your pot. You easily burn everything and undercook your meat.
I suggest using thin slices of chicken, steak, or pork when cooking at the same time. This will ensure that your dish will stay intact and not overcooked. We don't want to get that dread burn message on your Instant Pot.
More Delicious Instant Pot Recipes to Enjoy
Yield: 4 servings
Instant Pot Thai Green Curry
My Instant Pot Thai Green Curry is a creamy coconut curry with the flavors of green chilies, lime, coriander, cumin, and a few other fabulous flavors. Bring the taste of Thai home to you!
Ingredients
4 tablespoons olive oil
1 onion, thinly sliced
1 garlic clove, minced
3 tablespoons green curry paste
coconut milk, 14oz can
1 zucchinis, diced into strips
1 cup mushrooms, roughly chopped
1 cup broccoli florets, fresh
1 teaspoon lime juice
1/2 teaspoon cumin
1 teaspoon ground coriander
Salt and pepper to taste
1/2 teaspoon ginger powder
1/2 cup water or chicken broth
Instructions
Select the sauté option in your Instant Pot. Add the oil,
onion and garlic and cook until the onion starts to soften.
Add the curry paste and the coconut milk and cook for 2 more minutes.
Add the rest of the ingredients to your Instant Pot and stir so everything is coated with the spices. Lock the lid and cook on high pressure for 3 minutes. Quick release the pressure.
Serve into bowls and garnish with fresh lemon, chopped parsley or cilantro, a crack of red pepper flakes and some chopped peanuts.
Notes
Burn Notice: You might get a burn notice. If you do, simply add in an extra 1/4 cup of water or chicken broth, to what the recipe calls for.
Garnishment:
Red pepper flakes
Lime
Parsley or cilantro
Chopped peanuts

Flavor:
To Boost flavor profile, you can add in 2 tablespoons of fish sauce and 6-7 Thai basil leaves.
If you don't like broccoli, you can leave it out.
If you have a lower tolerance to spice, then use only 1 1/2 tablespoons of Green curry paste.
Are you in my Instant Pot Weight Watchers Facebook Group? If not, then click the button below to join! I have over 113,000+ growing strong of encouragement, healthy recipes, and so much more!