Hello! Welcome to my little corner of the world. In my world, coffee flows like water. If I could have a coffee water fountain, I would be in complete and total heaven! However, until that happens…you can find me at Starbucks or hovering over my Kuerig machine with a death grip in the morning. When I'm not in my caffeine junkie state of mind, I'm a little bit of busy guy. I'm one of "those" people that loves keeping busy. So, "YES", I'm on my phone and laptop throughout the day to keep up with my friends, family, my extended blogging family, checking and responding to email, helping with VA work, and spreading sunshine everyone…kinda like a unicorn does, only I'm more magical.
Well, let's get down into who I am and what I'm all about! To start, I feel that there is always something to be happy about for the day. I'm kind of an eternal optimist. When life throws me lemons, I'm the one asking for Tequila to make margaritas with. I wake up each day with the thought, "What can I accomplish today, and make today a better day than it was yesterday?" However, these thoughts are only accomplished after I have my first cup of coffee…and then it's off to the races. My brain doesn't stop, so I normally keep a journal and a lot sticky notes to write on.
I was born in New Jersey, but raised in Georgia, and I am now back in New Jersey. Georgia is my heart and my home. I didn't graduate high school, but I did graduate college. In fact, I only have 3 months of an 11th grade education, but I was completely motivated and determined to go to college. I graduated from Brewton Parker College with a B.A. in Biology and 4 minors (Music, Chemistry, English, and Math). Even though I have a degree Biology, I fell in love with the customer service industry from a restaurant aspect.
I have worked with some of the most amazing and talented chefs from Georgia to New Jersey. I watched them. I asked questions. I learned cooking processes. I studied them. After serving about 22 years in the fine dining restaurant industry, I decided to blog.
I actually got into blogging because I wanted to teach others how to save money from using coupons. Well, it takes a LOT of work to be a frugal blogger. I decided that it wasn't my cup of tea, and kept with the roots of my passion for food and customer service (hence the name, FoodnService). I guess one would say that I'm a Lifestyle blogger, but I despise putting myself into a niche. I love writing about everything, including life with my special needs sister, Angela.
This is me and my sister, Angela. I'm more than just a brother to hear…I have come to fulfill the role of Dad, with the help of my most amazing partner in life, Stephen.
As you can see, this is just one of the many reason that I love him lol.
Then I have my Übi and Delilah. These two definitely are my heart and joy ever day. We have really have raised two of the best pups out there. I know I'm partial, but it's really a fact lol.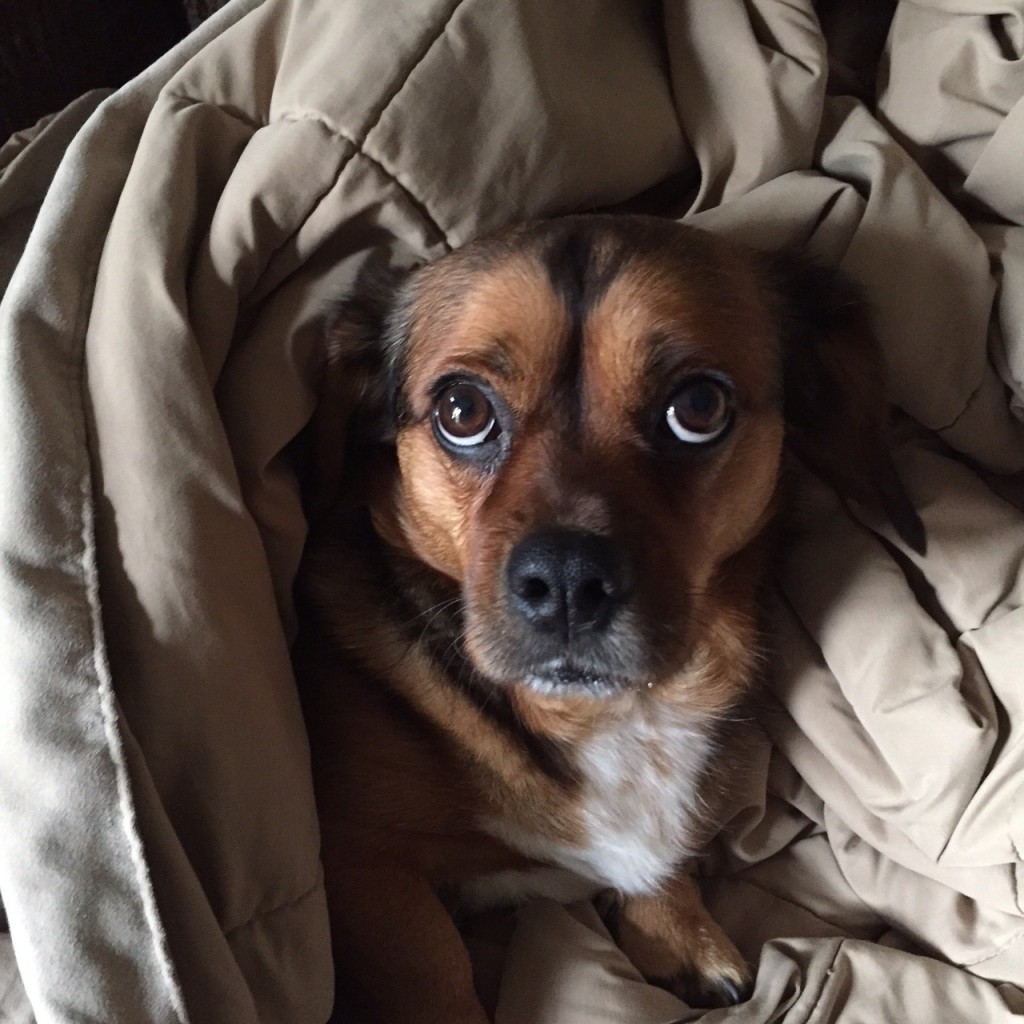 This is our Übi! The reason for the blanket in the middle of Summer? He LOVES laundry day. He loves to roll around in it, and take a nice long nap. Completely adorable!
Then this is our little girl, Delilah. She's the one that changed our lives and made us become a family. She is the one that truly aided in us beginning our journey together in life.
I have a huge passion for rediscovering food in ways that you might not have imagined! I love using fresh, wholesome ingredients that are readily available for everyone to utilize. I also love coming up with DIY crafts, writing product reviews for products in a fun & thorough way, and share my life stories with everyone.
Thank you so much for stopping by my little corner of the world. If you would like to, you can visit my other blog, notageek4u.com, to read all of my personal stories about life. Thanks for reading & visiting!