Instant Pot Chicken Enchiladas
If you're a fan of spice, cheese, and sour cream, you are surely going to love this Instant pot chicken enchiladas recipe. It is the perfect meal for when you're craving something creamy, cheesy, and savory, with all the bells and whistles. And, once you try this recipe, I'm sure it'll become an instant favorite and will be a hit among your friends and family.
Why We Love Instant Pot Chicken Enchiladas?
We all crave food that is bursting with flavor, keeps you full, and is loaded with cheese, meat, and delectable sauce. And, the instant pot chicken enchilada recipe is all that and more!
For starters, it is easy to make. Once you have all the ingredients at hand, all you have to do is place everything in the instant pot and wait for it to cook. As a finishing touch, top the cooked enchiladas with sauce and cheese and pop the dish in the oven for it to be hot and bubbly.
Secondly, this recipe is relatively healthy as compared to other fast food items. It is fulfilling and wholesome with all the nutritious ingredients.
The onions, jalapenos, tomato sauce, chicken broth, and seasonings give the enchiladas a rich flavorsome base. The chicken, cheese, and tortillas turn the whole thing into a mouthwatering combination that can be eaten on its own as it is quite filling. But, you can side it with some rice, black beans, or steamed vegetables, depending on your preference.
Plus, it's quite a versatile recipe, so you can add or omit certain ingredients or swap a few things to make it gluten-free.
Ingredients for Instant Pot Chicken Enchiladas
1 cup onion: You can use red onions or sweet white onions, but make sure to finely dice them.
4 cloves of garlic: Mince the cloves to add extra flavor to the dish.
1 jalapeno: Remove the seeds and mince the jalapeno to extract all the flavor.
1 cup of low-sodium chicken broth: You can swap it with vegetable broth or chicken stock too.
2 – 8 oz cans of good quality tomato sauce: Tomato sauce is one of the main ingredients of this recipe; therefore, make sure to get the best one!
Chili powder, cumin, Kosher salt, and fresh ground pepper: Mexican food is incomplete without cumin and chili powder. They are the star ingredients!
1 tablespoon of sugar: It adds a sweet tinge to the recipe to even out all the spices; however, you can use brown sugar or omit it altogether for health reasons.
1 1/2 pounds of chicken breasts: I used 3 boneless skinless medium-sized chicken breasts, but you can use chicken thighs as well.
2 tablespoons of chopped fresh cilantro plus more for garnish: Gives the enchiladas an appetizing look.
12 corn tortillas: Corn tortillas are the best for enchiladas, but you can use flour tortillas or any other tortillas for that matter.
8 oz of sharp cheddar and Monterey jack cheese: It's not enchiladas if there's no cheese!
Sour cream for serving: For thick creamy enchiladas! You can use Greek yogurt also to make it less caloric.
Frequently Asked Questions
I have answered some common queries regarding the instant pot chicken enchiladas:
Q. Which tortillas are best for the instant pot chicken enchiladas?
Usually, corn tortillas are used when making the instant pot chicken enchiladas, but you can use flour tortillas, beetroot tortillas, or any other type of tortilla according to your preference and diet.
Q. Can we make this recipe ahead of time?
Yes, you can make the instant pot chicken enchiladas ahead of time. You can assemble them, and keep them in the fridge for one day. Add the sauce and cheese topping right before popping it in the oven.
Q. How can I store the leftover chicken enchiladas?
You can store the leftover instant pot chicken enchiladas in an airtight container in the fridge for up to 3 days, and in the freezer for up to 3 months. Believe me, leftover enchiladas taste even better!
To reheat this recipe, simply take out of the freezer and place in the fridge the day before. Place contents into a pot on the stove until hot. You can reheat in the Instant Pot on Manual Pressure (high level) for approximately 1-2 minutes.
Tips and Tricks
Below are some tips and tricks to help make your chicken enchiladas finger-licking good!
1. The chicken broth and enchilada sauce can be prepared ahead of time and stored in the fridge to save time.
2. There are endless topping options for instant pot chicken enchiladas. I used sour cream, but you can use guacamole, crumbled cotija cheese, salsa, and diced tomatoes too.
More Delicious Instant Pot Recipes You'll Love
Yield: 12
Instant Pot Chicken Enchiladas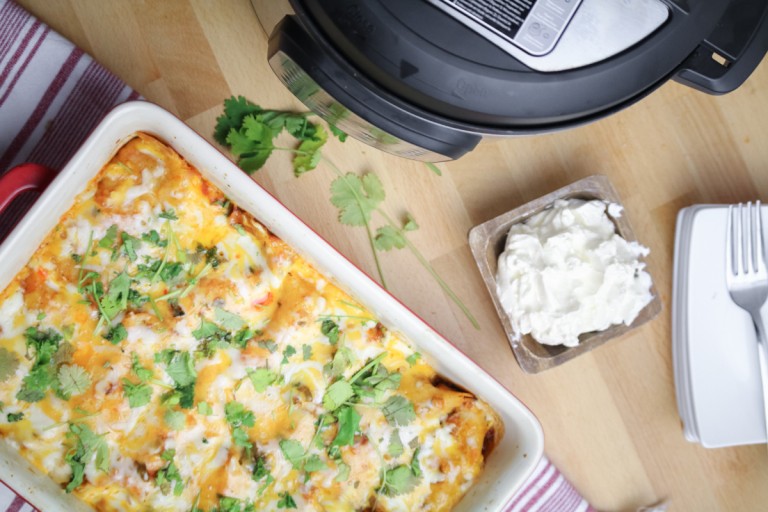 You'll love this delicious Instant Pot chicken enchiladas recipe! It'll be your new go to recipe!
Additional Time
20 minutes
Ingredients
1 tablespoon of vegetable oil plus additional for toasting tortillas
1 cup of finely diced onion
4 cloves of garlic minced
1 jalapeno seeds removed, minced
1 cup of low-sodium chicken broth
2 - 8 oz cans of good quality tomato sauce
2 tablespoons of chili powder
1 tablespoon of sugar
1 teaspoon of cumin
1 teaspoon of kosher salt and several turns of freshly ground pepper
1 1/2 pounds of boneless skinless chicken breasts about 3 medium sized breasts
2 tablespoons of chopped fresh cilantro plus more for garnish
12 corn tortillas
8 oz of sharp cheddar cheese shredded
8 oz of monterey jack cheese shredded
sour cream for serving
Instructions
Set Instant Pot to Sauteé and add 1 tablespoon of oil.
Saute onions, garlic and jalapeño until onions start to soften and turn translucent, 2-3 minutes.
Add chicken broth, tomato sauce, chili powder, sugar, cumin, salt and pepper to Instant Pot and stir to combine.
Add chicken breasts to Instant Pot, close lid and set pressure release valve to Sealing.
Set Instant Pot to High Pressure via Manual Mode for 10 minutes.
Instant Pot will take about 10 minutes to come to pressure, then will countdown from 10 minutes.
While chicken breasts and sauce are cooking, shred cheese and combine and prepare tortillas.
To prepare tortillas, preheat oven to 400 degrees.
Brush tortillas lightly with vegetable oil, spread on a baking sheet and heat in oven for about 5 minutes, just until soft and pliable.
Once Instant Pot has completed 10 minute countdown, it will beep and switch to Keep Warm function.
Carefully turn pressure release valve to venting to Quick Release pressure.

Remove chicken breasts and set aside to cool, then shred.
Stir 2 tablespoons of chopped fresh cilantro into enchilada sauce.
Spray a 9x13 baking dish with non stick cookings spray.
Use 1/4 cup of enchilada sauce from the Instant Pot to spread on bottom of baking dish.
To assemble enchiladas, evenly divide 1/2 of enchiladas sauce, 1/2 of shredded cheese and all of the shredded chicken among the 12 corn tortillas, roll and place seam side down in baking dish.
Pour remaining enchilada sauce over rolled enchiladas and top with remaining cheese.
18.Cover dish with foil and bake at 400°F for approximately 20 minutes, or until heated through and hot and bubbly.
Sprinkle with additional fresh cilantro and serve with sour cream.