Instant Pot Spaghetti is a super easy meal to make any time of the week for your family! I'm love my Instant Pot. With the daunting summer days coming our way, I can cook Instant Pot meals without worry about heating up my kitchen from using the stove top or the oven.
That's a definite plus in trying to keep my cooling bills down this summer. YAY! Instant Pot for the win!
My family loves it when I make my Instant Pot spaghetti. My nephews are in the horrible "eat everything in the house" nerve wracking stage in life, so filling them up with one of their favorite foods, makes me a hero in their eyes.
My Instant Pot Spaghetti is a HUGE Time Saver
Making Instant Pot Spaghetti not only makes the whole clean up process easier because it's a one pot meal, but it also helps you save time in the kitchen.
You no longer have to go through different steps to ground the beef, boil water for the pasta, and then have to heat up the season.
You do everything in your Instant Pot, and that leaves you only one thing to clean up. That's my type of cooking. I have a busy and active family, so I don't have the time to clean up everything from making spaghetti.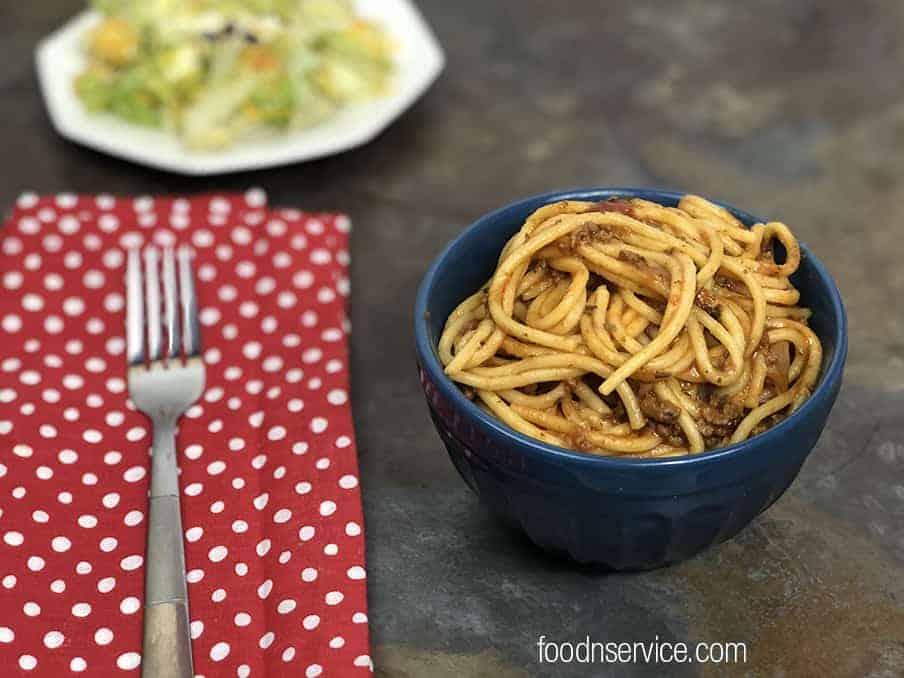 My Instant Pot Spaghetti recipe is SUPER flexible. Meaning that you can add whatever sauces and seasonings to it that you want to.
Some people like adding in extra basil, oregano, and even a hint of sugar to their spaghetti sauces.
You can STILL do that! We all have our favorite jar of spaghetti sauce, unless you love making your own sauce – then I don't blame you for putting the jarred stuff down!
If you want, you can even this other types of pasta, including linguini, elbows, farfalle, and a few others. Just don't use Angela Hair pasta, your Instant Pot Spaghetti will turn into a huge clump and you will be heart broken that it turned out so horrible.
Then you're gonna cry and throw your Instant Pot in the trash our on the ground, and then I'm gonna cry that you got rid of it.
I Burned My Instant Pot Spaghetti! What Did I do Wrong?
We all hate getting the dreaded BURN message on our Instant Pots when making recipes. You put all of the ingredients in the pot, and you pressure your buttons on it to get it going…then BURN.
You let out a small yell, and want to come back yelling and screaming at me.
Let me stop that from happening right now! I get yelled enough from Angela and my nephews all day long, so the good Lord knows that I don't need to add anyone else to that list!
Here's why your Instant Pot Spaghetti burned: You didn't put the ingredients into your pot in the correct order. It's that simple.
When cooking dishes like pasta in your pressure cooker, you have to place the ingredients in a certain order. With this, it's the ground meat, then the pasta, then the sauce on top…and then add broth (or water if you prefer).
If you put the sauce at the bottom or pour it over the meat, and then add the layers of pasta, you're going to burn it. Pasta sauce and other sauces like it are just to thick for the Instant Pot to bring it up to pressure, so it burns the sauce will trying to get it pressure.
Cooking in your Instant Pot is sort of an art form. Once you start truly using your Instant Pot, everything just makes more sense in how to use ingredients in it. You will learn that cooking in your Instant Pot is all about layering your ingredients in the right order to get what you want out of it.
You can use the above photo as a point of reference of what the texture of everything will look like. Of course, I did stir it up to evenly distribute the sauce and pasta around. I can seriously only make it look but so pretty for you lol. However, that's the consistency you're going to end with.
Instant Pot Spaghetti Recipe
Yield:

5-6 servings
Instant Pot Spaghetti
Additional Time:
10 minutes
Such an easy Instant Pot Spaghetti recipe that you can make without getting the burn message!
Ingredients
1 pound lean ground beef
1/2 teaspoon salt
1 small onion, diced
4 cloves garlic, minced
1 TBS fresh parsley, chopped
1 TBS fresh basil, chopped
1 pound spaghetti noodles, halved
1 (24 Ounce) Jar Spaghetti Sauce
4 cups beef broth
1 (14.5 Ounce) Can Diced Tomatoes
1 TBS olive oil
1/4 cup grated parmesan cheese
Instructions
Press sauté

Add onions and garlic, cook until fragrant

Add the ground beef, salt, basil and parsley

Cook till no longer pink, chopping to break the meat up as you go.

Turn off sauté and drain off grease (optional)

Add in halved

spaghetti

noodles

Pour in the sauce, tomatoes, and beef broth.

Make sure your noodles are completely covered.

Place on and lock the lid and press manual high pressure for 8 minutes.

When the time is up, turn off warming and QR - remove lid.

Add parmesan cheese and Stir well.
Recommended Products
As an Amazon Associate and member of other affiliate programs, I earn from qualifying purchases.
More Instant Pot Recipes You'll Love:
The Instant Pot I recommend:
This is the Instant Pot that I have, and I totally love it!