If you're a fan of rice bowls, you're going to love this instant pot tofu curry recipe!
Every now and then, you crave something a bit different than usual, like curry. The first thought that comes to your mind is to head over to an Indian or Thai restaurant to taste authentic curry; however, with this recipe, you can make a better and healthier version at home. And that too under 15 minutes!
Why We Love Instant Pot Tofu Curry?
This curry recipe is my go-to when I'm up for a light dinner. First of all, it's so easy to make. You simply have to saute the onions and garlic in an instant pot, add the tofu and the sauce, and just cook it for 5 minutes before it's ready to be served.
How easy is that? No spending hours in the kitchen, no time consumed in julienne cutting vegetables, and most importantly, no waiting!
Secondly, tofu is healthy. It's a plant-based, gluten-free, high protein, low fat, and low-calorie soy product with a creamy texture. When you mix it with coconut milk, tomato paste, curry paste, and curry powder, it becomes a savory curry, bursting with tantalizing flavors.
So, whether you're vegan, on a low-calorie diet, or just want to eat something easy yet tasty, the instant pot tofu curry is a perfect choice.
So, get that tofu, mix the coconut milk and curry paste, put everything in the instant pot, and let it do all the hard work!
Ingredients for Instant Pot Tofu Curry Recipe
The recipe requires just a handful of ingredients usually present in our homes. The only thing you might need to run to the store for is tofu.
For the Tofu
1 tablespoon of canola oil: With its light flavor and smooth texture, canola oil is a relatively healthy option for sauteing onions and ginger.
1 large onion: Finely chop the onion for that extra savory flavor.
2 tablespoons of ginger: Finely chop the ginger to add that tempting aroma to the dish.
14 ounces of extra firm tofu: Cut the tofu into 1-inch cubes.
Salt and pepper to taste: Seasoning makes everything better.
For The Sauce
1 can (13.5 ounces) of coconut milk: Coconut milk adds consistency to the curry, and gives it a sweet and mild taste to balance the spice from the other ingredients.
1 (6 ounces) tomato paste: You can use store-bought tomato paste or make some at home to add texture and enhance the flavor of your curry.
2 tablespoons of red curry paste: Gives the curry a red tinge and builds up the flavor.
1 tablespoon of curry powder: It contains a blend of spices and gives the dish a delightful and mellow curry flavor.
Frequently Asked Questions
Here are some common queries related to the tofu curry recipe. I hope they will be helpful.
Q. Can I add other vegetables to the instant pot tofu curry recipe?
Yes, you can add other vegetables to the tofu curry to make it more wholesome and nutritious. My recommendations include sweet potatoes, mushrooms, carrots, spinach, bell peppers, peas, and potatoes. But, you can add any vegetable you prefer.
Q. How can I make the curry spicier?
If you prefer your tofu curry extra spicy, just add more curry paste or powder. You can also sprinkle some red chili flakes on top or add sliced red chilies while sauteeing for that extra kick. Another option is to drizzle some sriracha sauce when serving.
Q. What can I serve the instant pot tofu curry with?
I love having it with rice. The combination is just divine. However, you can also serve it with noodles and bread, whatever you prefer.
Q. How to store the instant pot tofu curry?
You can store the tofu curry in an air-tight container in the fridge for up to 5 days and in the freezer for up to 3 months.
Tips and Tricks
Here are some tips for the best tofu curry experience:
1. Always serve the tofu curry warm, just as it's done cooking.
2. Sprinkle some cilantro on the curry before serving for a fresh and appetizing look.
3. Before cutting the tofu into cubes, make sure to drain the excess water from it by placing a heavy pan on top.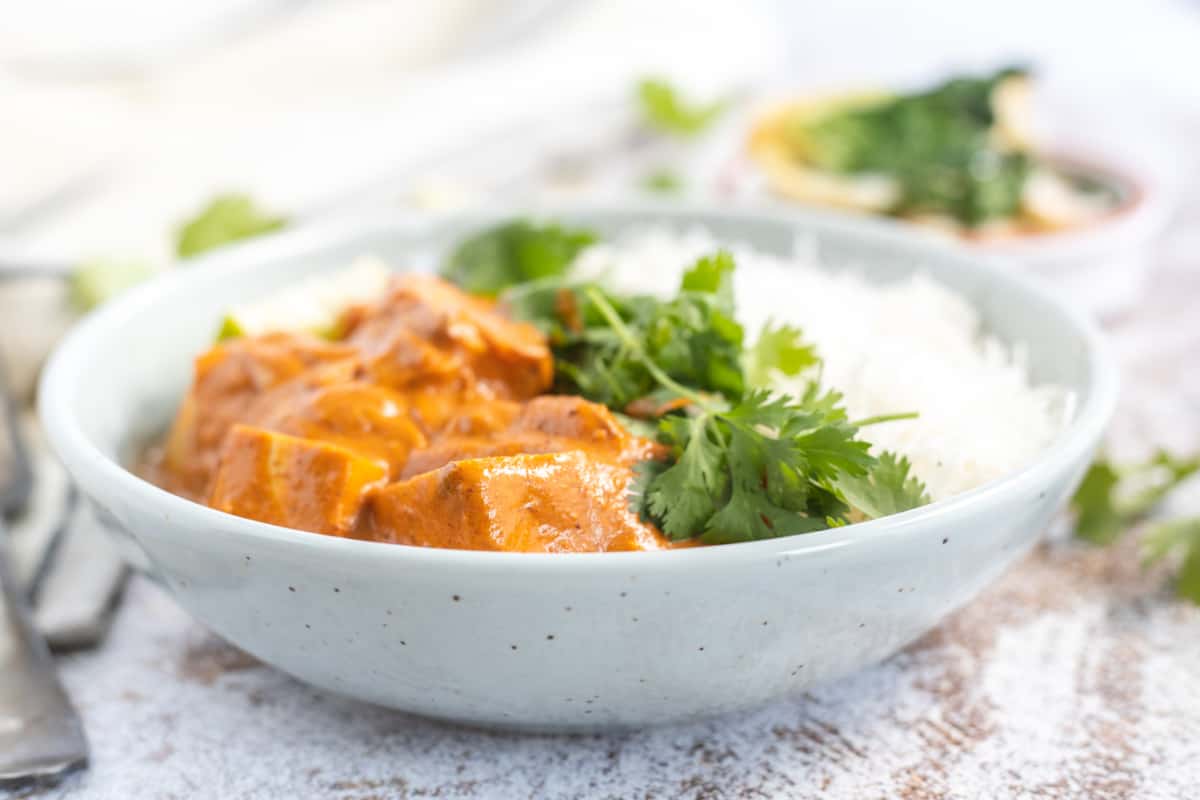 More Easy Instant Pot Recipes You'll Love
Yield: 4
Instant Pot Tofu Curry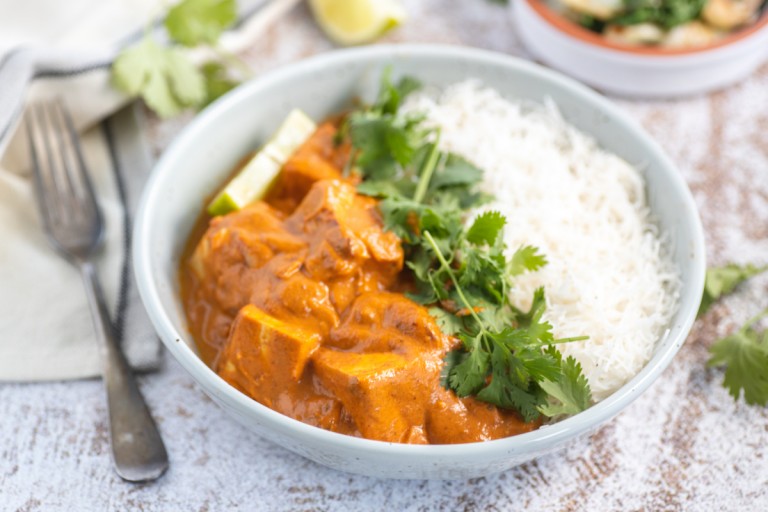 If you love tofu, then you'll love how flavorful and delicious my Instant Pot tofu curry is!
Additional Time
10 minutes
Ingredients
1 tablespoon of canola oil
1 large onion finely chopped
2 tablespoons of ginger finely chopped
14 ounces of extra firm tofu in cubes
Salt and pepper to taste
For The Sauce
1 can (13.5 ounces) coconut milk
1 (6 ounces) tomato paste
2 tablespoon of red curry paste
1 tablespoon of curry powder
Instructions
Finely chopped onion and ginger.
Cut the tofu in cubes (about an inch)
Add the oil onion and ginger in the instant pot and set to sauté function. Cook about 1 minutes until fragrant.
Add tofu cubes and cook for another minute.
In a bowl mix all the ingredients for the sauce.
Add the sauce in the instant pot and stir to combine everything.
Close the lid and set on high pressure for 5 minutes. Release the pressure immediately.
Serve in bowls with rice.

Notes
Optional serve with

Fresh cilantro
Stew vegetables like Bok choy or broccoli
Rice or vermicelli