Making Instant Pot Salmon (Pressure Cooker Salmon) with a hint of citrus, broccoli, and kale is so easy to do, and the fish turns out fabulous. Eat salmon, and other types of fish, has become one of my new favorite things to make because it's on the WW Zero Point food list.
[su_button url="http://eepurl.com/dpyDIv" target="blank" style="flat" background="#6bb3bf" size="6″]Click To Join WW Email List[/su_button]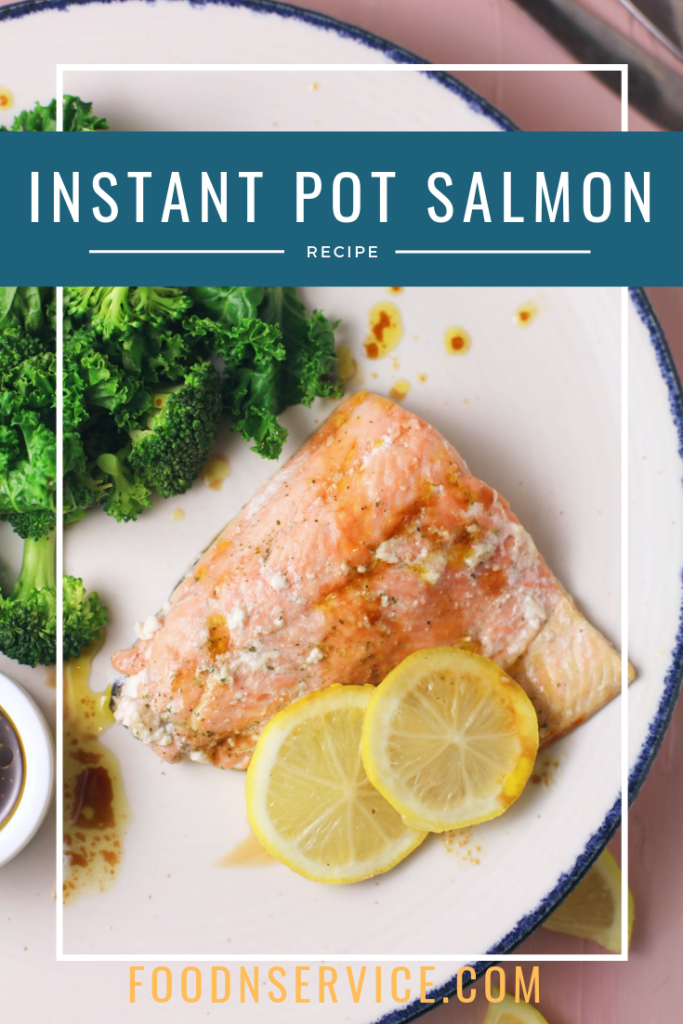 Instant Pot Salmon: Fresh or Frozen, You're Good to Go
It doesn't matter if you're using fresh or frozen salmon when cooking the fish in your Instant Pot. It will take the same amount of time to cook the salmon. I love cooking salmon with lemons because the flavor helps cut through the full richness of the fish.
The only thing that's going to matter in making this Instant Pot Salmon recipe is the type of cut that the salmon is. A cut close to the tail can be a bit thinner than a cut from the mid part. Then it will also matter if you're cooking a salmon steak or salmon fillet. A salmon steak is a cross section of the fish, whereas a salmon fillet comes sliced from either side of the fish and then cut accordingly. The salmon fillet is what most people are used to eating at restaurants and at home.
The thicker cut and more dense salmon pieces will take a minute or two longer to cook in the Instant Pot. If you're going to pressure cook salmon steaks, I would add an add 3 minutes to the cooking time that's in the recipe below.
Enjoy A Quick Vinaigrette with your Pressure Cooker Salmon
A "quick vinaigrette" is a fabulous light addition to your Instant Pot Salmon prepared salmon. It'll add a little more depth to fish and to your palate. A quick vinaigrette is easy to make, and goes great on a lot different types of proteins, vegetables, and salads. I love making vinaigrettes because you can change up the flavors for whatever mood you're in.
How do you make a quick vinaigrette, and what's the vinaigrette ratio for the recipe?
A quick vinaigrette ratio is pretty steady with a 1:3 ratio. 1 part for the acid and 3 parts for the base with usage of an olive oil, which is one of my most favorite things to do. Then you can add in other components like to add different complex flavors. You can use honey, maple syrup, thyme, rosemary, garlic, tarragon, red pepper flakes, citrus fruit, and so much more. The sky is the limit!
The top 3 acids that I love to use are:
balsamic vinegar
rice vinegar
red wine vinegar
For this quick vinaigrette, I use balsamic vinegar. FYI, you don't have to use all of it. Just sprinkle/drizzle a little over the fish and the veggies. You'll be looking at just around 1 SmartPoint (because of the olive oil) if you drizzle around 1 teaspoon of your quick vinaigrette.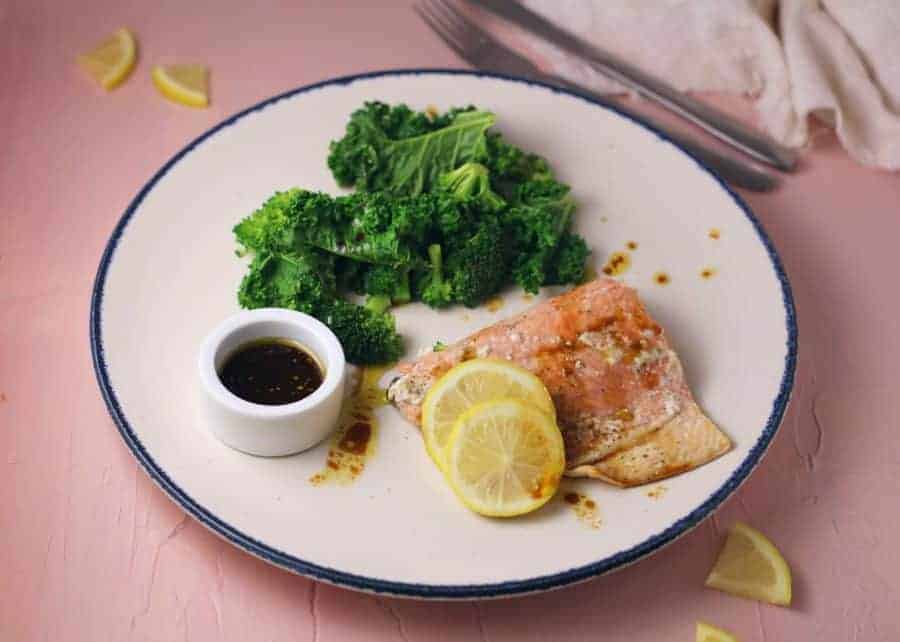 Yield:

2
Instant Pot Salmon
Additional Time:
10 minutes
You'll love how easy this Instant Pot Salmon meal is to make, and how flavorful it is.
Ingredients
1 Salmon fillet (5-6 ounce portion)
2 tablespoon lemon juice
½ cup water
½ teaspoon garlic powder
sea salt and pepper to taste
¾ cup broccoli florets
Lemon slices
Instructions
Season the salmon fillet(s) with salt, pepper, and garlic powder.
Add the water and lemon juice to your Instant Pot, and place the steamer rack inside. Place the salmon on the rack and top with the lemon slices.
Secure the lid and use the manual setting to cook on high for 3 minutes.
Once the timer goes off, press cancel and turn the valve to release the pressure.
To cook the broccoli and kale, remove salmon from rack, and place vegetables on top of rack. Press sauté, and allow them cook in the lemon water broth in the pot for about 3 minutes or until tender. Cover the pot with the lid while cooking with the vent open, or use a certified Instant Pot lid instead.
Notes
You can cook two salmon fillets at the same time, and then steam cook the vegetables second.
It will take about 10 minutes for it come to pressure.
Make quick vinaigrette and place to the side while salmon is cooking.
Recommended Products
As an Amazon Associate and member of other affiliate programs, I earn from qualifying purchases.
More WW Freestyle Recipes & Articles
Looking for More Easy Instant Pot Recipes? Try These!
There are two fabulous Weight Watchers Groups on Facebook you should totally join! One is a Freestyle Success group where we share all types of fabulous information, and the other is an Instant Pot Weight Watchers Group.
[su_button url="https://www.facebook.com/groups/wwfreestyle/" target="blank" style="flat" background="#6bb3bf" size="6″]Click To Join Freestyle Success Group[/su_button]
[su_button url="https://www.facebook.com/groups/instantpotwwrecipes/" target="blank" style="flat" background="#6bb3bf" size="6″]Click To Join Instant Pot WW Group[/su_button]