Instant Pot Lava Cake recipes are so much fun to make. Not only are they a great dessert to enjoy at any time that you want to make them, but they are so super easier to make than what you might think.
Just look how beautiful this Instant Pot chocolate peanut butter lava cake turned out! The chocolate cake turned out delicious, and the peanut butter was so gooey. If you're a peanut butter and chocolate lover, then this recipe for my Instant Pot lava cake is going to be your new best friend.
My Instant Pot Lava Cake with Peanut Butter and Chocolate is Delicious!
Ever have a craving for a Reese's Peanut butter cup(s)? This Instant Pot lava cake that's the peanut butter and chocolate experience to different heights!
Each bite just keeps getting better and better.
The only sucky thing about the Instant pot lava cake? When you are taking that last bite, and you have to scrape the plate with your fork, finger, or tongue? Yeah…I don't judge. Do you babies! Get that goodness in.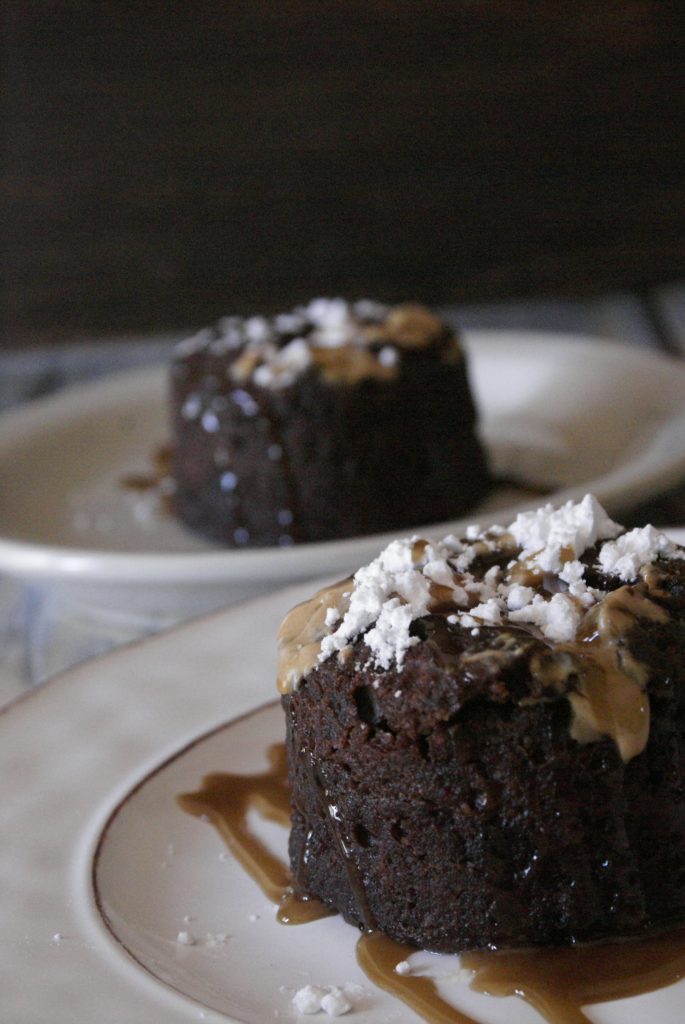 I did use a little bit of caramel sauce on the Instant Pot lava cake, but I didn't drown it in the caramel sauce. I wanted enough to add a little bit of the caramel flavor.
I had these done and ready to go for when my nephews got home from school, and they were hovering over me like little vultures while I took photos of the Instant Pot lava cake.
I've never seen them move so fast when I told them that they could have it! lol. It was funny and cute at the same time. They've come to love my little magic pot.
Once you dig in your fork, the peanut butter oozes out onto the plate and beckons for pieces of the yummy chocolate cake to be soaked up in it.
Since Angela can't have chocolate because of the caffeine in it, I'm working on a more special one for her. I just hope that it works out like I would want to be. However, if it does work out like I have planned in my head, then my other Instant Pot lava cake recipe is going to be a hit with the kids!
Instant Pot Chocolate Peanut Butter Lava Cake Recipe
I hope you enjoy my lava cake recipe, and my other recipes that I share with you. Please don't forget to give it some love by sharing on Facebook and pinning on Pinterest! Every little share helps my little blog out, and helps me out a ton. I love you all!
More Instant Pot Recipes:
Yield: 4 mini cakes
Instant Pot Lava Cake
You're going to love how easy and delicious this Instant Pot Lava Cake is going to turn out! How can you go wrong with chocolate and peanut butter?
Ingredients
6 ounces semi-sweet chocolate (chocolate chips are fine)
1/2 cup (1 stick) salted butter (room temperature)
1/4 cup all-purpose flour
1/2 cup confectioners' sugar
1/8 teaspoon salt
1/2 teaspoon instant coffee
3 large eggs
1 large egg yolk
4 teaspoons creamy peanut butter
4 - 6oz Pyrex dishes
Instructions
Spray each ramekin with nonstick cooking spray
Coarsely chop the chocolate. Place butter into a medium heat-proof bowl, then add chopped chocolate on top. Microwave on high in 10 second increments, stirring after each until completely smooth. Set aside.
Whisk the flour, confectioners' sugar, instant coffee, and salt together in a small bowl. Whisk the eggs and egg yolks together until combined in another small bowl. Pour the flour mixture and eggs into the bowl of chocolate. Mix your ingredients together slowly with a whisk, and be sure to try to get out any lumps.
The batter is really thick, and that's consistency we're looking for.
Fill the bowls up 75% of the way. Add a teaspoon of peanut butter in the center, and then cover with a little bit of batter.
Add 2 cups of warm water into the inner pot, and then place down your trivet. **Make sure your inner pot is actually IN your Instant Pot**
Add your bowls of goodness onto the trivet.
Lock your lid. Close the vent. Set to High Manual Pressure for 8 minutes.
Once complete, QR (Quick Release) the pressure). Remove lid at an angle as to not get too much of the moisture from the lid onto your lava cake.
Allow to cool for a minute. I used tongs to pick up the dishes out the Instant Pot. Place plate on top of your lava cake, and then invert it. Carefully remove the glass dish from on top. Add your favorite toppings and enjoy!
Notes
Please note:
I used a 6qt DUO Plus for this recipe. Yes, it will work in an 8 quart, but I wouldn't adjust the time for it as I think you might over cook the lava cakes.
You can fit in all 4. Place 3 in the bottom, and one on top in the middle.