Instant Pot Cherry Cobbler
Instant Pot cherry cobbler tastes so freaking amazing, and it's so easy to make! If you have a big family like mine, then you know that they all tend to come down with a sweet tooth at the same time. Hungry boys and a hungry Angela that wants something sweet? Probably the most annoying thing to have to experience…probably.
With my Instant Pot cherry cobbler recipe, you'll be able to get two batches of the topping out of this! This way you can make one today, another in the next couple of days.
Instant Pot Cherry Cobbler: It's ALL About the Topping!
Yes, as much as we all love the pie filling, it's really about the instant pot cherry cobbler topping! I used a shortcut method and decided to use a yellow boxed cake mix for my cobbler topping, but you can always make your own from cobbler mixture from Bisquick.
That Bisquick recipe that I gave the link to can even be made more Weight Watcher's friendly by subbing out margarine for butter, skim milk for whole milk, and Splenda for sugar. You'll cut a TON of calories out of your topping and reduce those FreeStyle points!
Tip for a Crisp Topping on the Instant Pot Cherry Cobbler
The tip for the topping part of the Instant Pot cherry cobbler is this: Once you pull your cobbler out of the your Instant Pot, let it cool. The cobbler is pipping hot, so you won't even be able to eat it just yet; however, if you allow it your cobbler to cool for a good 15 to 20 minutes, you'll see the topping will form a small crisp on it! That small crips that will form from the topping will be a perfect combination for vanilla ice cream, or another favorite flavor of yours.
If you want a browning of your cobbler topping, then you can always put it in your air fryer, or if you have the air fryer lid for the Instant Pot, you can do that, too
I didn't add any ice cream to mine when I served because I didn't want to put an even more sugar rush into the boys and Angela. They would have been bouncing off the walls even more lol!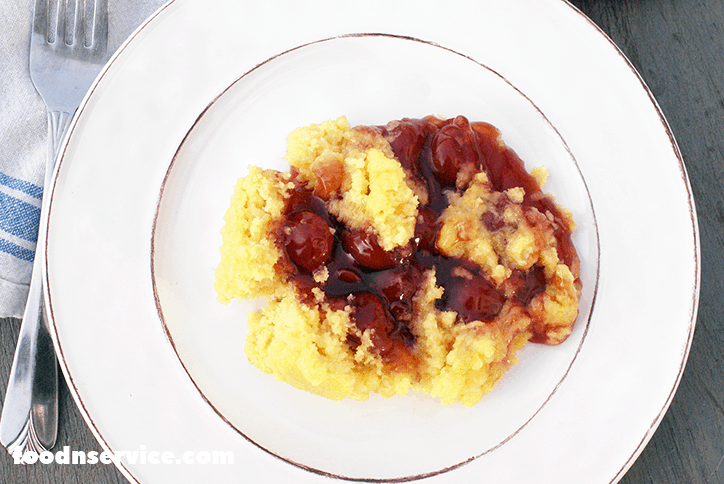 The Instant Pot Cherry Cobbler is an Easy Dessert to Make!
This is my number one reason why I love it so much, It's so easy to make. You can use this with any type of canned pie filling, or make your own from scratch! I like time saving meals, so this is a winner in my home.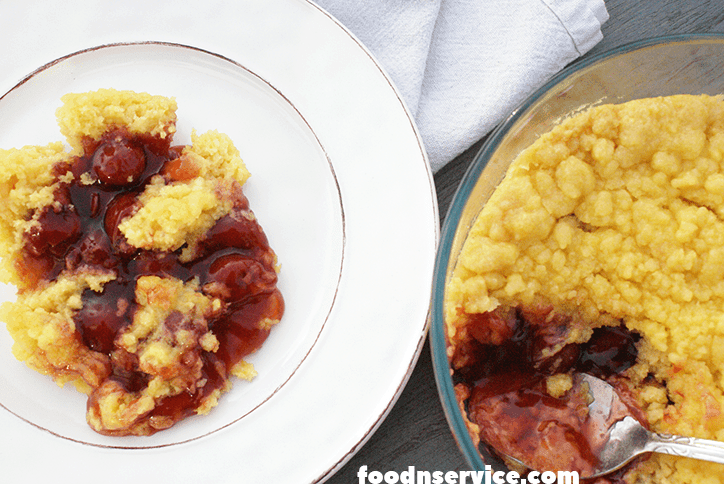 If it makes Angela and my nephews happy, then I'm happy to make it!
I hope you enjoy this simple and delicious recipe!
More Instant Pot Recipes:
Don't forget to subscribe to my Newsletter! I send out a weekly one straight to your inbox filled with amazing tips, recipes, and other fab information I found around the web.
Yield: 6
Instant Pot Cherry Cobbler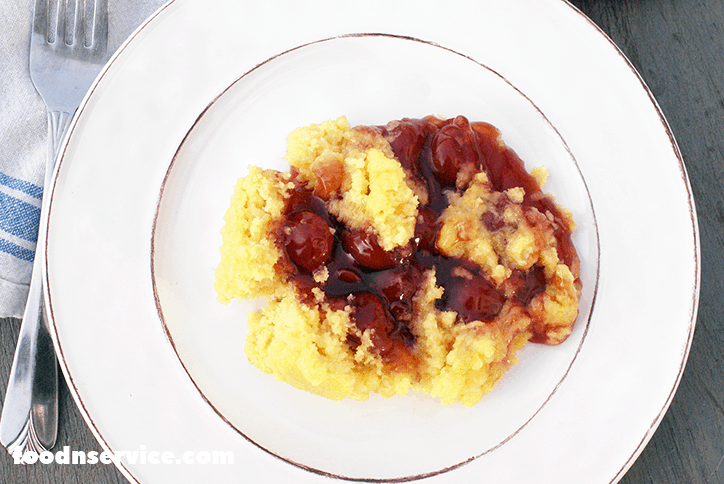 A quick and easy to make Instant Pot Cherry Cobbler dessert that your whole family will enjoy!
Additional Time
4 minutes
Ingredients
1 can cherry pie filling
1 box yellow cake mix
1 stick of salted butter (room temperature)
1 tablespoon light brown sugar
aluminum foil
Instructions
We are going to be using a PIP method (Pot In Pot). This is the preferred method for "baking" in your Instant Pot. For this, we will be using a 7 cup Pyrex oven safe round container. I use this for all my PIP recipes!
In a bowl, add your cake mix, butter, and light brown sugar. Mix well with a fork until crumbles form.
Add your cherry pie filling into your pyrex dish, and spread with a spoon to level the filling.
Add half of your cobbler topping to the cherry pie filling in your pyrex.
Add 2 cups of warm water to your Instant Pot metal liner, and then place your trivet inside of it. Place your pyrex dish on top of your trivet.
Use a piece of foil and cover the top of your cherry cobbler to help prevent any extra moisture droplets from lid to fall in it.
Close and lock your lid, and turn vent into the off position to help build up the pressure.
Bake for 20 minutes High Manual Pressure (note: Not all models have a pressure option. If yours doesn't, that means it will automatically cook on high pressure). Allow to NPR (natural pressure release) for 10 minutes. Release the remaining pressure.
Once pressure is gone and pin is dropped, remove the lid, then remove foil, and remove your cobbler from your IP. Enjoy!
Notes
For this recipe, I used a 6 qt Instant Pot.