Instant Pot Hamburger Helper
My Instant Pot Hamburger Helper recipe is an easy weeknight meal, that can be done in one pot in 30 minutes or less!
Pasta and cheese is always a winner in my home, and this Instant Pot hamburger helper recipe is something always makes the bellies extremely happy. We're notorious about buying pasta, especially when it's on sale. So this recipe is a household essential for us!
Another reason to love this recipe? It's a great time saver! Do you only have a limited amount of time and forgot to make dinner? No fear! You can whip this up in no time, and you'll save the day. You can even change up the pasta, if you wish.
Frequently Asked Questions about my Instant Pot Hamburger Helper
Can I Freeze this Recipe?
You absolutely can! My Instant Pot hamburger helper is such a great freezer friendly meal for the family. Once you create the recipe, you can allow it cool to room temperature. Then you can put in a freezer friendly container as a whole, or portioned off in smaller meal sizes.
You can easily reheat in the microwave for faster results, or in the oven at 350°F for 35-40 minutes (covered in foil).
What if I get a Burn message on my Instant Pot Hamburger Helper? Is my meal ruined?
Okay. If you get this message, don't stress or freak out. The Instant Pot has 13 safety precautions to help it not over heat. Things get super hot in there, and that's just one of the safety measures.
Be sure to check a couple of things. Is the venting seal in closed position? Is the Pot ACTUALLY in your Instant Pot machine? Is your floating valve clean and moving freely?
When did you get the burn notification? If it happened after the recipe has come to pressure, just kinda ignore it. I know. But trust me, your pasta is STILL cooking. You only need it for 5 minutes of pressure cooking time. Your meal is safe and sound.
The reason it happened is that you probably left a tiny little bit of ground beef bit stuck to the bottom and the machine sensor found it, so it's detecting something "burned" in that spot. It's a very common results of cooking and deglazing in your Instant Pot. I have a flat edged wooden spoon, and it's GREAT for delgazing!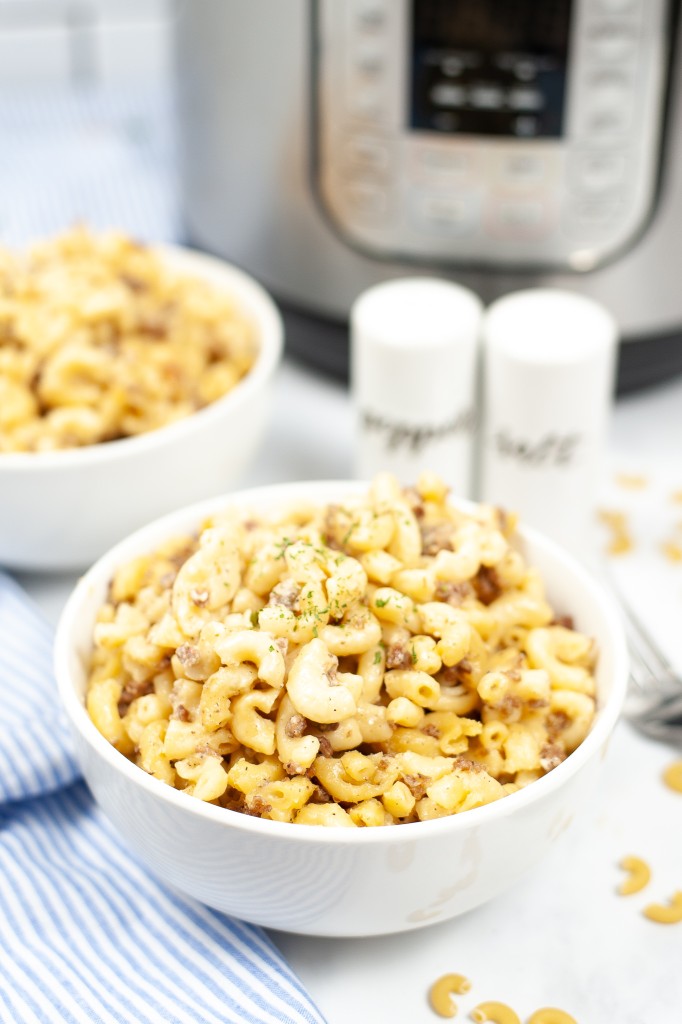 Instant Pot Hamburger Helper Recipe
Ingredients
1 lb of ground beef
1 tsp of pepper
1 tsp of salt
1 tsp garlic powder
1 tsp onion powder
1 tbsp ketchup
1 tbsp dijon mustard
16 oz of elbow noodles
4 cups of beef broth
1/2 cup sour cream, close to room temperature
3 cups of shredded cheese, not bagged shredded cheese
Instructions:
Shred cheese and set to the side, allowing to come to room temperature while Instant Pot is cooking.
Set instant pot to sauté and brown the ground beef, being sure to crumble along the way of cooking. Add garlic powder, onion powder, salt, pepper, ketchup, and dijon mustard. Stir well.
Add in about 1 cup of beef broth and deglaze the pan. Be sure to scrape off any beef bits so you don't get a burn notice. Pour in remaining beef broth and add pasta. Seal the lid and pressure valve close. Set to pressure cook on high for 5 minutes.
Manually release pressure valve and open lid. Stir in cheeses and sour cream.
More Easy Instant Pot Recipes