Planning dinner for the family, especially those who love their meaty meals, shouldn't feel like a chore or be expensive, especially if you add this Instant Pot Cube Steak recipe to the weekly menu.
I feel like cubed steak is rather underrated compared to other beef-inspired meals yet this cut of meat is incredibly flavorful and very easy on the wallet which is always an added bonus!
Thanks to the Instant Pot, you can whip up a hearty meal with all the ingredients in one pot and in just 35 minutes. Serve it over freshly steamed rice or with a side of roasted vegetables if you like…and dinner is served!
What EXACTLY is Cube Steak?
Cube steak, otherwise labeled in store as "cubed steak" is a tenderized cut of beef that is typically used when making stews and soups.
It's an inexpensive cut of beef with a ton of flavor which is why it's such a great option if you're looking for a budget-friendly meal to feed the family!
If you've never used cube steak before and aren't sure what to look out for when purchasing your meat (apart from checking the label, of course) it looks very similar to ground beef and is also packaged the same way – in a foam tray that's tightly wrapped in shrink wrap.
While cube steak and ground beef may look very similar, be careful not to select the wrong meat for this recipe! If in doubt, always ask for assistance at your local butchery or in-store meat section.
What Can You Serve with your Pressure Cooked Cube Steaks?
While this recipe already incorporates mushrooms and onions, you can add a delicious side of roasted vegetables to this beef. Other options include:
Cauliflower rice (as a low-carb option)
Steamed green beans
Caramelized honey carrots
Dinner rolls or Buttermilk Biscuits
Fresh salad
Here's How to Store your Cube Steak Once Cooked in your Instant Pot:
Most beef cuts will last in the refrigerator for 3-4 days once cooked.
Make sure to store any leftovers, together with sauce and veggies, in an airtight container once completely cool.
To reheat, add the cubed steak with sauce and remaining mushrooms in a baking dish, covered so that it doesn't dry out, and heat in the oven at 350℉ for 15-20 minutes.
The image below is a step by step look of how things will look during your cooking process!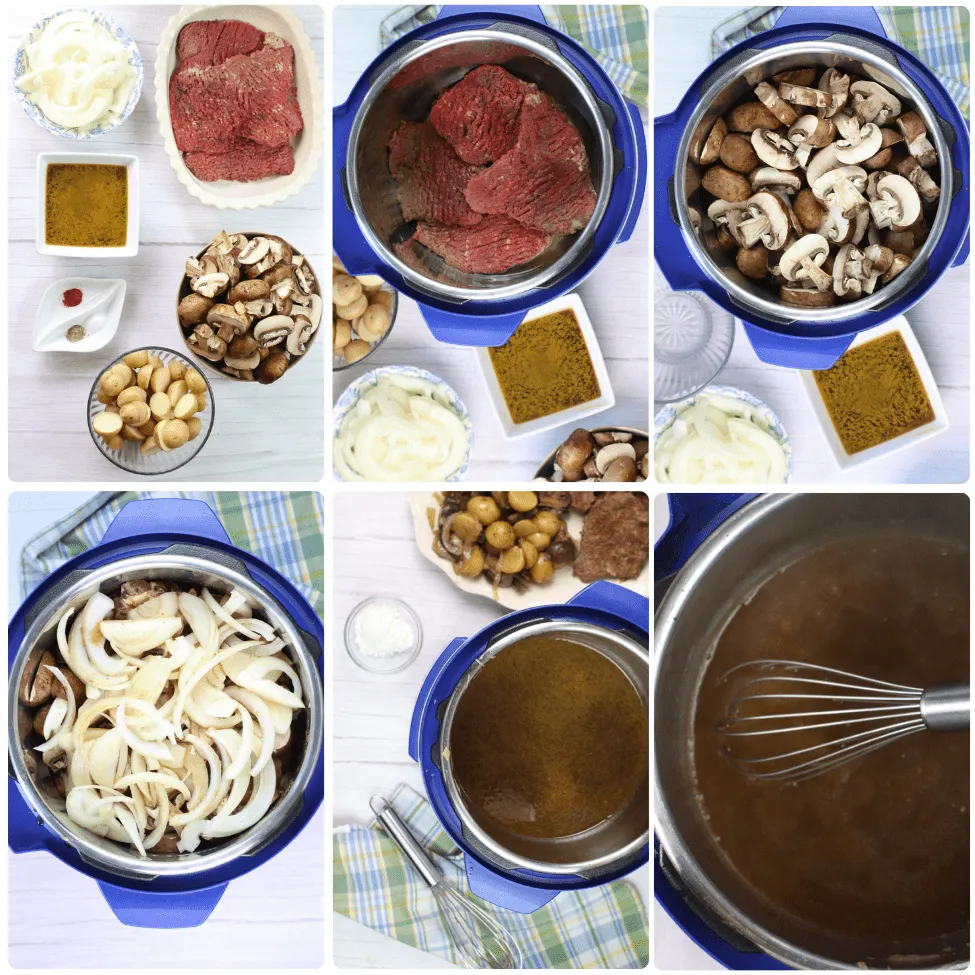 Simple Tips for Making Instant Pot Cube Steak
If you're interested in making a cornstarch slurry to go with your cubed steak, simply mix 1-2 Tablespoons of cornstarch with 1 Tablespoon of water and then add it to the liquid remaining at the bottom of your Instant Pot or any sauce that you want to thicken. I usually start off with 1 Tablespoon of cornstarch and then add another if needed, mixing while heated on the SAUTE setting of your Instant Pot.
Not one for spiciness in your food? Just omit the cayenne pepper and add any of your favorite steak seasonings instead.
If you don't have any beef broth then use beef stock or beef bouillon cubes. A packet of onion soup in water would also work!
The onions are a pretty integral ingredient to this meal, adding rich flavor to the meat and sauce but the mushrooms are optional in case you're not a fan.
More Delicious Instant Pot Recipes You'll love toMake
Yield: 4-6
Instant Pot Cube Steak
Nothing comes close to comfort food then making this Instant Pot Cube Steak recipe with Gravy! Making the potatoes at the same time is a great time saver, too!
Additional Time
10 minutes
Ingredients
4-6 pieces of cube steak,
6 large cremini mushrooms Thickly sliced
1 yellow onion Sliced into half-moons
1 cup beef broth
½ teaspoon cayenne pepper
¼ teaspoon ground black pepper
½ teaspoon salt
Instructions
Coat the bottom of the Instant Pot with vegetable oil (this is optional but to prevent the BURN message from appearing).
Add the cube steak, and season. Feel free to layer the steak slices, but season them all.
Add potatoes, mushrooms, sliced onion, cayenne pepper, salt, and pepper. And finally the beef stock or broth.
Secure the lid, and make sure that the vent is set on SEALING position. Press on MANUAL or PRESSURE COOK on high pressure, and set at 20 minutes. Allow the pressure cooker to come to pressure (this will take around 10 minutes), and start cooking for 20 minutes.
When the time is up, quickly release the steam. To plate, take the steak out, as long as the veggies. You will be left with the liquids at the pot, you can thicken that to make a gravy by pressing on SAUTE and adding 1-2 tablespoons of cornstarch slurry (see notes), and mixing until the gravy is thickened.