Instant Pot Chicken Noodle Soup Recipe
Instant Pot chicken noodle soup is one of the easiest things to make on the fly, especially when someone comes down sick, the weather gets cold, or if the notion strikes you because of a hankering for it. Admit it. Sometimes we just have to feed our urges, and making Instant Pot chicken noodle soup is a great way to satisfy that crave. If you want to go straight to the instant pot chicken noodle soup, then just go ahead and scroll down while I just chit chat about my passion for food lol.
Instant Pot Chicken Noodle Soup with Extra Noodles
Could you make this with less noodles? Of course you can. Just cut the noodle serving in half, and you'll have your traditional style of chicken noodle soup. I just like it nice and hearty, and so do my nephews and sister. It's always nice to have family on your side when making food lol.
I Love Mushrooms in my Chicken Noodle Soup!
The only thing is that I do add in a little bit of unexpected ingredient: mushrooms. I love those things. They add a nice texture to the soup while adding another layer of flavors to the broth. I also didn't add onions to it for a true mirepoix effect. I just don't care for it in my instant pot chicken noodle soup. But feel free to add in a 1/2 cup of sweet onions into the sauté portion of vegetables in the initial steps.
Instant Pot Chicken Noodle Soup Recipe
I hope that my recipe for instant pot chicken noodle soup is easy to follow along, and that you and your family enjoy as much as mine does. It's very flexible, so you can add in your own specialty seasonings like: rosemary, basil, chervil, thyme, or cumin. Those are all great additions to add in for flavor profile and homeopathic reasons.
 More Easy Instant Pot Recipes:
Yield: 4
Instant Pot Chicken Noodle Soup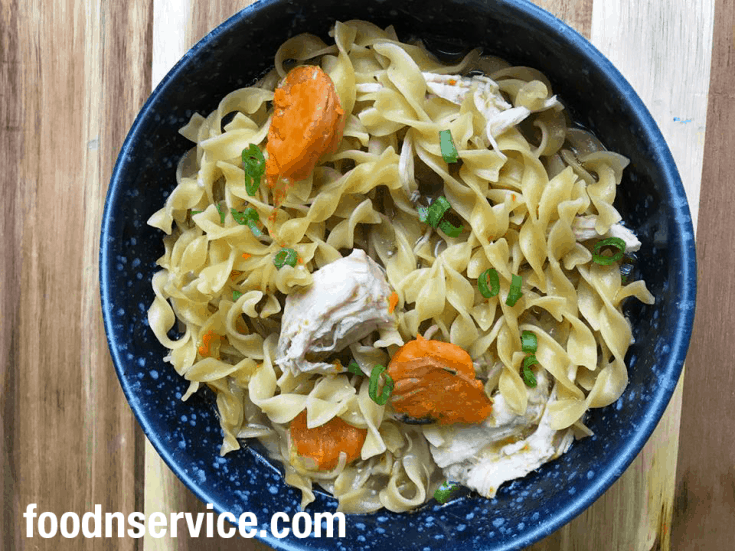 An Easy Instant Pot chicken noodle soup your family will love. 
Ingredients
2 pounds boneless, skinless chicken breasts
2 tablespoons of olive oil
3 cloves garlic, minced
6-10 mushrooms, chopped (button or baby portobellos)
2-3 medium carrots, chopped
1-2 celery stalks, chopped
5 cups low sodium chicken broth (you can use normal)
12 ounces egg noodles (6 ounces if you want less noodles)
sea salt and cracked pepper to taste
Instructions
Gather your ingredients and head over to the Instant Pot! Press the Sauté button and click adjust, until you see Sauté More. Sauté the mushrooms and garlic in 2 tablespoons oil. Stir evenly to coat mushrooms. Add in carrots and celery, and salt and pepper.
Pour 2 cups chicken stock into the veggie mixture. Add chicken breasts, partially submerging them. Close the lid and cook on High Pressure for 10 minutes. Do a Quick Release.
Shred the chicken, then pour in 3 more cups chicken stock, and the noodles. Stir so noodles are wet. Cook on High Pressure for 6-8 minutes or until noodles are cooked.
Notes
*You can add less egg noodles for your own personal liking
*Total cooking time includes time it takes for your instant pot to come to pressure