Have you EVER seen homemade eggs as pretty as these Glitter Easter Eggs? I don't know about you, but making the same old Easter Eggs year after year gets a little boring!
Enter: GLITTER! Nothing boring about glitter!
Now, before you begin to worry that this is going to get super messy and be a mistake, let me assure you – this Easter Glitter Craft is completely doable with your kids and you won't want to quit half-way through.
How to Make Perfect Hard Boiled Eggs
You can absolutely make eggs on the stove the old fashioned way, but for perfect hard boiled eggs every single time, try making Instant Pot Hard Boiled Eggs or Air Fryer Hard Boiled Eggs. You won't believe how easy it is!
Other Ways to Decorate and Dye Easter Eggs
What You'll Need to Make Glitter Easter Eggs
Boiled Eggs
Fine Glitter
Elmer's Glue Paint
Brush
Quart Baggies
Hairspray (optional)
What Can I Do With Glitter Easter Eggs?
Growing up, our Easter Eggs went in a big fancy bowl on the kitchen table for us to marvel over throughout the season (or until the eggs started to smell, whichever came first).
But there are lots of things you can do with them besides the centerpiece option. Here are some ideas:
Stick them to a holiday wreath, if you use plastic eggs
Hang them from branches (like an Easter tree), and it can be a tree of treats for your guests or little ones!
Place them in Easter baskets
Give them as gifts
Use them in your Easter Egg hunt!
Have an egg tossing competition or an egg rolling race (caution: this could get messy!)
How Do I Remove the Raw Egg From The Shell (without breaking the shell)?
You don't have to do this, but you can try it if you'd like. This method is just for if you want to use the shell of the egg, and not have to worry about peeling it later and you can use the egg shell for constant Easter decorations!
Emptying the content of your eggs without breaking the shells can be a tricky process, but it makes the eggs much lighter and allows you to use them for decorating. Plus, you don't waste the eggs!
First, use a push pin to poke a hole in both ends of the egg. Then, stick a toothpick in and twist it a bunch to break up the yolk. Finally, stick a small straw in one end and blow to force the contents out of the egg.
You can catch the eggs in a bowl and use them for scrambled eggs!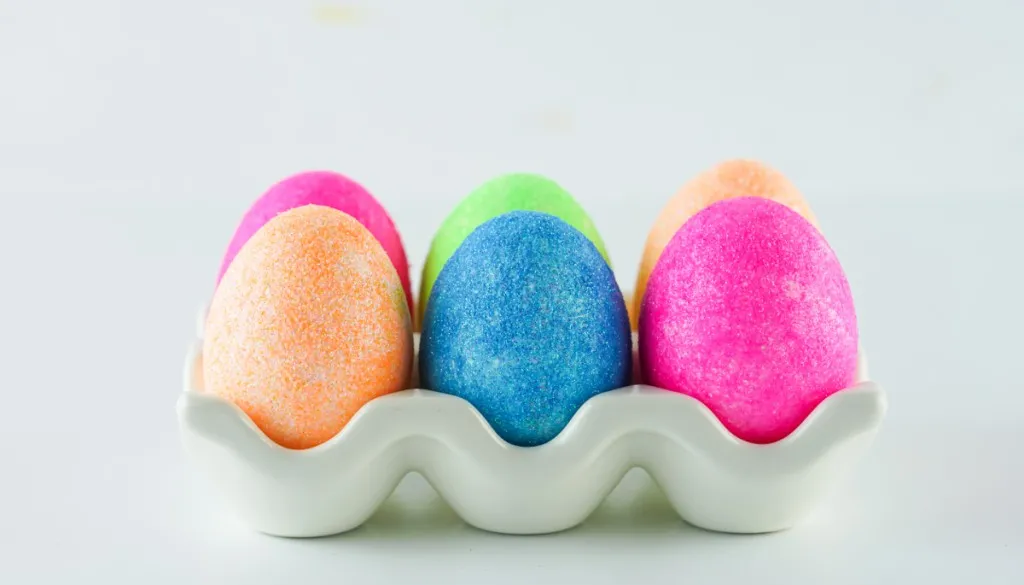 Recommended
Instant Pot Reeses Peanut Butter Eggs
DIY Knitted Mini Easter Basket
Chocolate Cheesecake Cookies
Tips and Recipe Notes
Technically, you can still eat these eggs, although if you ingest too much of the glitter, it could technically make your poop sparkly. Hilarious, I know. However, not something I prefer, ha!
Using hairspray to seal the glitter will cut way down on the glitter shedding, so I say USE IT. Buy a cheap bottle – it'll work great! Side note: I tried coating the glitter with another layer of glue to hold it in place. It didn't work, it just made it a thick gloppy mess! I wouldn't try it.
I attempted just shaking the glitter over the eggs and it was a messy disaster and the coating wasn't nearly as smooth. The baggie saves a ton of mess and the coating is so pretty!
I preferred a fine glitter, but slightly chunkier glitter could probably work. If it's too large, the coverage won't be as good. Glitter is pretty cheap, so if you don't have any of the thin stuff, grab some from Walmart.
You don't want a super thick and goopy amount of glue, just a basic thin layer is best.
This works for any type of eggs, including brown or farm-fresh eggs.
Can I Eat Decorated Easter Eggs?
Technically, yes, you can. However, you've got un-refrigerated eggs on your hands, so you need to either keep your eggs in the fridge or eat them right after you decorate them and they dry. I keep them in the fridge in a spare egg container until I'm ready to pull them out and enjoy.
Keep in mind, if your shells got broken or cracked at all, you won't want to eat them, just in case some of the decorating materials got inside the shells.
How Do I Store Easter Eggs?
Most people don't refrigerate their Easter Eggs unless they intend to eat them – and if you do, make sure they get to the fridge within 2 hours of boiling them! Then, they'll last in your fridge for up to 7 days.
If you plan to keep them on your table or use them to decorate, plan for them to be out just for a few days before they'll start to smell a bit funky.
If you use them in your Easter Egg hunt, make a list of where you hid them! You will be searching for the hidden smell if any get left behind!
More Awesome Crafts You'll Like
I Heart DIYing my holidays! Here are a few of my favorite crafts to date:
DIY Wine Cork Heart Trivet
Lemon and Lavender Essential Oil Sugar Scrub
DIY Green Slime
Apple Spice Sugar Scrub