DIY Green Slime With Glue
I've been trying to find a great DIY Green Slime with glue tutorial online, and have been driving myself to find the easiest (less messy) one to make. I finally came across a tutorial for a slime project, and decided to change the color of it and change it to a DIY green slime with glue. I came across this FABULOUS tutorial for a DIY slime with glue from Shelley over at Steam Powered Family. I tried others, and they were just okay. When I tried this one, I turned out pretty fabulous. I couldn't stop playing the slime!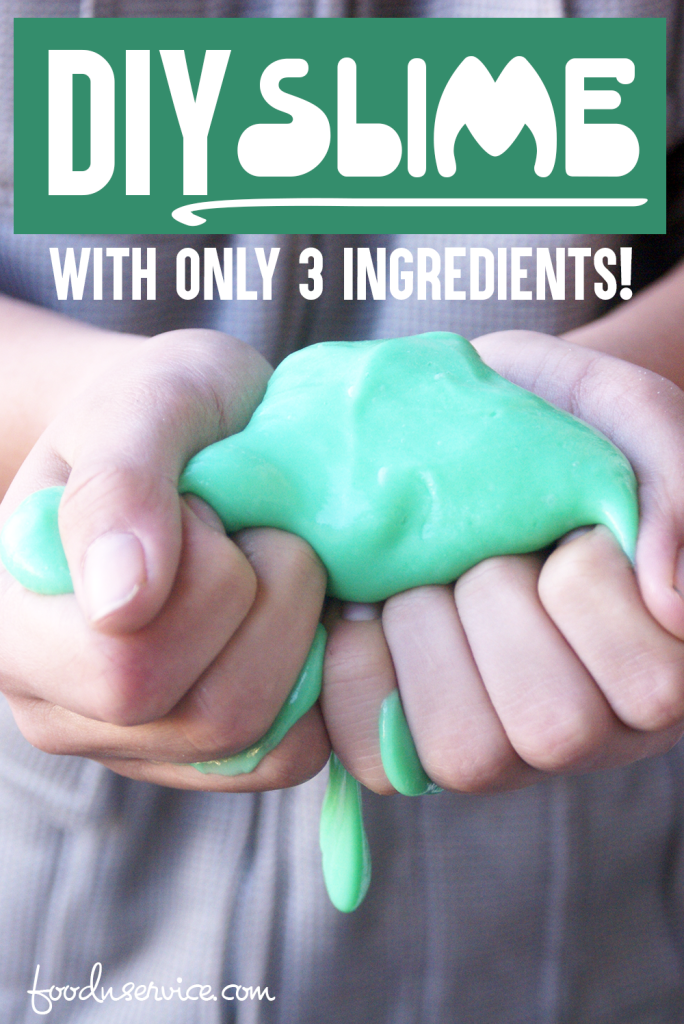 I thought the texture of the DIY green slime with glue turned out just perfect. It wasn't too much of a putty feeling, but wasn't too wet and sticky. The only thing that I felt indifferent about was the amount of baking soda versus the buffered saline solution. Maybe it was from different elevations or maybe it was the buffered solution that was used? I'm not sure. However, try hers out first to see if it works out for you at your elevation. If it's a little too loose for you, DO NOT THROW IT AWAY! Finish it up with the rest of my tutorial. I added more baking soda and a lot more buffered saline solution to my DIY green slime.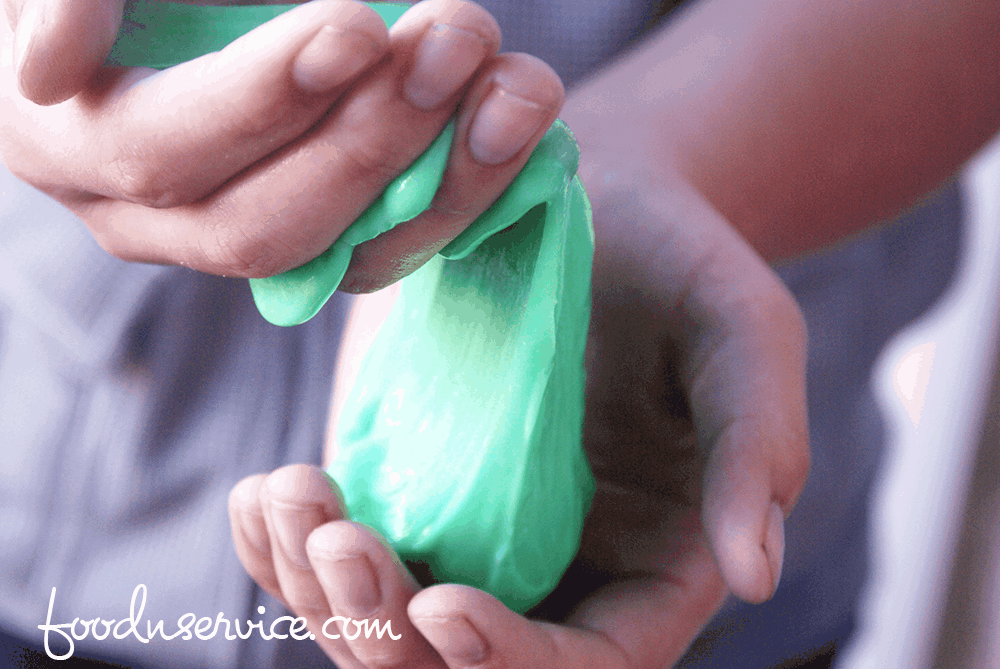 I had one of my nephews help me make it, and of course…play with it. He even blurted out with excitement, "I love science! This is so cool, and would be perfect for Aunt Angela." He was so right on two accounts: 1. Science IS cool! 2. It would be great for Angela to keep help with her sensory with her fingers and hands in keeping them busy and having fun.
The DIY Green Slime with Glue uses 3 Ingredients
This is my most favorite part. The slime takes 3 simple ingredients that most households utilize. Even the buffered contact lens solution. Here are the 3 ingredients that you will need:
4oz of white glue (I got mine from the Dollar store)
4 tablespoons of baking soda
2-4 tablespoons of buffered saline solution
Green food dye (or any color really), or you don't have to use dye at all!
You can see how I but it together in the video tutorial below! It's so super easy.
Directions for DIY Green slime with glue
In a small bowl, pour the glue in.
Then add 4-5 drops of green dye in it, and mix well.
Add your baking soda in and mix well.
Slowly add in the buffered saline solution and mix thoroughly. Add the saline solution to your slime mixture a little bit at a time. You will feel it tighten up more and more as you add it in. You can stop adding it in once you get to your own desired texture and density.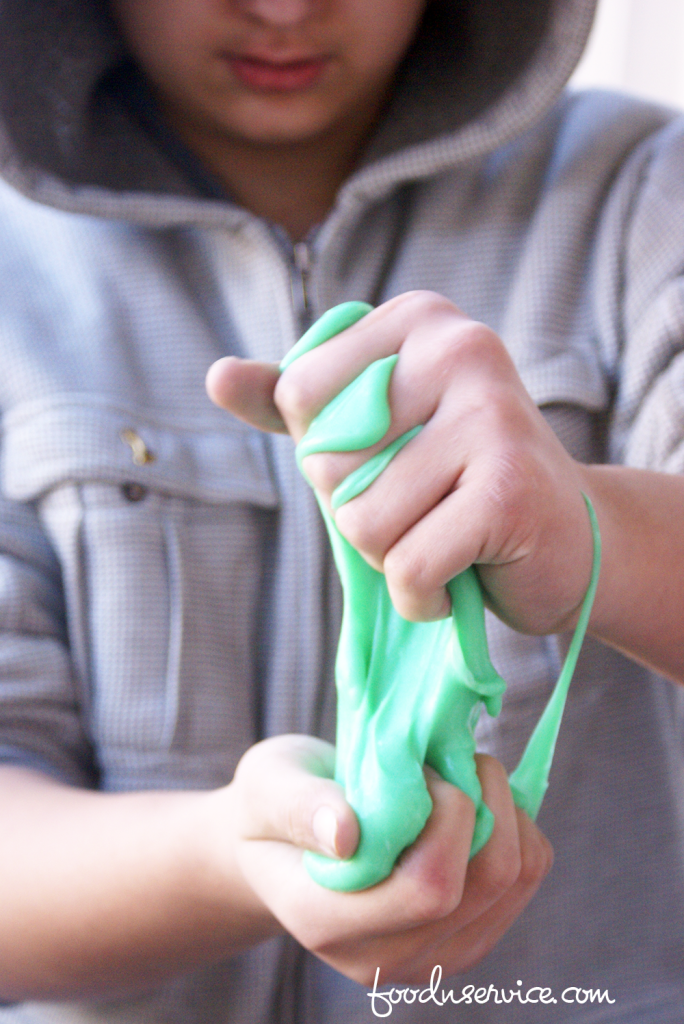 Before you know it, you have your green slime! That's how easy it is to make! Again, you don't have to use food colors in it, as I know that a lot of people, like myself, have an allergy to particular food dyes.
To see how easy it is, just watch the video below!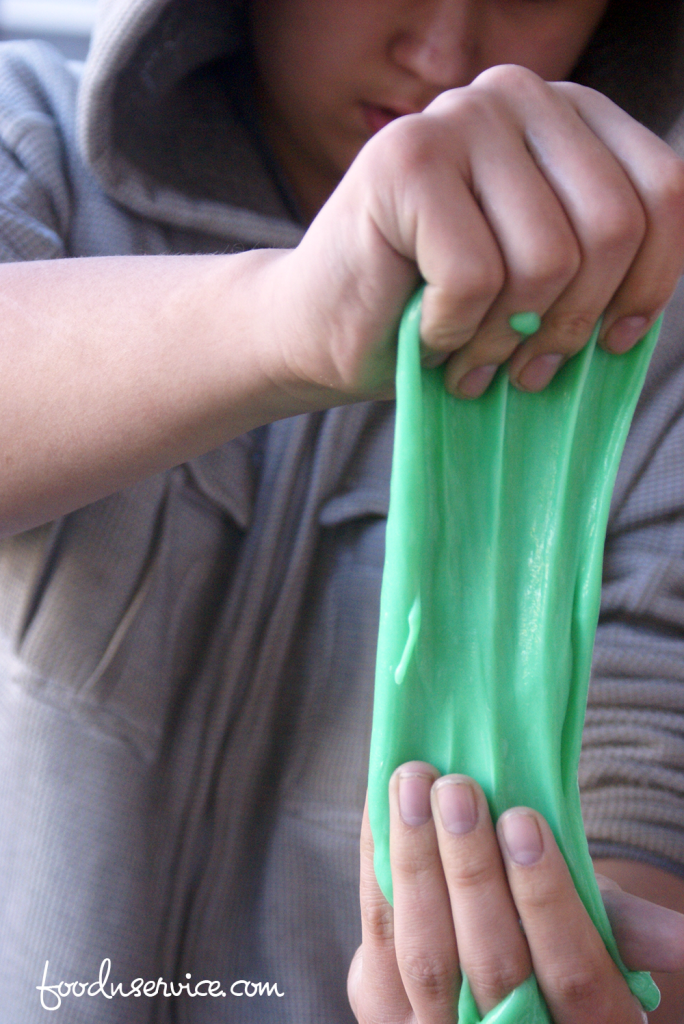 It's so stretchy and cool feeling to the touch. I seriously played with this much longer than an adult should play with slime!