This Slow Cooker Korean Beef has plenty of Asian flare and is one of the most savory and easiest recipes around. The tender and succulent beef is the perfect flavor combination of sesame and ginger for the main course you won't be able to resist.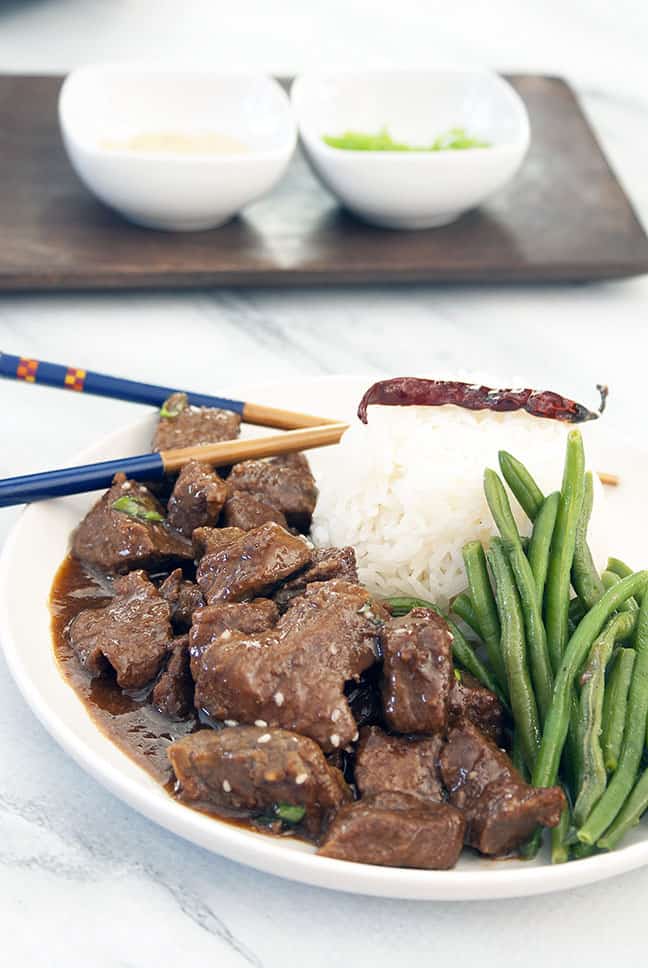 What is Korean Beef?
Korean Beef is traditionally known as bulgogi. It consists of stewed beef or beef chuck roast slowly cooked with brown sugar, garlic, and spices. Then it is usually covered in a thick soy sauce slurry giving it a beautiful golden brown color and a tender texture.
How Do I Store Leftover Slow Cooker Korean Beef?
You can store Korean beef in an airtight container in the fridge for up to 5 days. After that, place it in an airtight container or bag. Then, reheat at 350 degrees for 15-20 minutes.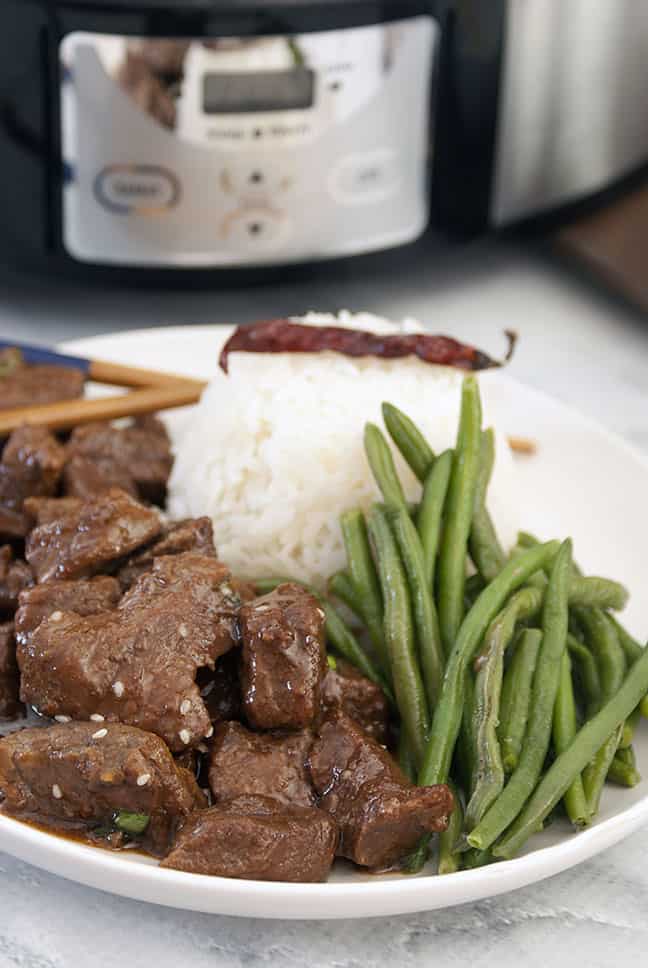 Can I Freeze Korean Beef?
To freeze Korean beef, place it in a Ziploc bag or a freezer-safe container for up to 3 months. Thaw in the fridge overnight before you reheat Korean Beef. To reheat, set the desired amount into a hot skillet lightly oiled and cook over medium-high heat for 2-3 minutes or until hot.
What to serve with Korean Beef?
If you are wondering what to serve with Korean Beef, some suggestions include rice, mashed potatoes, spicy cucumber salad, or authentic Korean kimchi. I always love the stir fry cauliflower rice from Trader Joe's as a rice substitute! It has such amazing flavor to it.
Tips for Making Korean Beef
To garnish Korean Beef, try topping it with sesame seeds and sliced green onions.
If you are short on time, you can use a store-bought Korean BBQ sauce to make Slow Cooker Korean Beef. It will still taste fantastic.
If you have any leftovers, grab some Boston lettuce and make some Korean Beef Lettuce Wraps. Don't forget to use the Korean BBQ sauce for dipping.
Recommended
Instant Pot Teriyaki Chicken
Instant Pot Korean Cauliflower
Air Fryer Sesame Chicken
Notes
This Korean Beef recipe knocks it out of the park. But before you make Korean Beef, here's what you need to know:
Slow Cooker Korean Beef is a fantastic recipe to consider making a double batch and freezing some for an even simpler meal in a pinch or repurposing as tacos, wraps, or on top of a salad.
To make Korean beef without a slow cooker, marinate the meat for at least 3 hours (preferably overnight). Lay out the beef on a sheet pan. Bake at 350 degrees for 35-45 minutes until tender. Be careful not to overcook and dry out the meat.
Korean beef sauce is incredibly versatile. You can generously coat prepared meatballs in a bowl of bulgogi sauce. Then put the meatballs on a bed of jasmine rice, and drizzle with sriracha sauce.
Substitutions
Rice Wine Vinegar – Substitute rice wine vinegar in Korean Beef with distilled white vinegar.
Soy Sauce – If you avoid soy, substitute soy sauce with coconut aminos.
Freshly Grated Ginger – If you don't have fresh ginger on hand, add ginger spice ½ tsp at a time into the oil and vinegar mixture, and whisk until you reach the desired taste.
More Yummy Asian Inspired Recipes You'll Enjoy
If you like this Slow Cooker Korean Beef, you'll want to try some of our other easy Asian recipes! Try any from the list below.
Asian Lettuce Wraps
Instant Pot Asian Chicken
Crockpot Teriyaki Chicken Recipe
Instant Pot Kung Pao Chicken
Instant Pot Beef and Rice
Yield: 4-6 servings
Slow Cooker Korean Beef
The tender and succulent Korean Beef is the perfect flavor combination of sesame and ginger for the main course you won't be able to resist. 
Total Time
4 hours
10 minutes
Ingredients
1 cup beef broth
1/2 cup brown sugar, packed
1/2 teaspoon minced garlic
1 tablespoon sesame oil
1 tablespoon rice wine vinegar
1 tablespoon freshly grated ginger
1 dried chili pepper
1/2 teaspoon onion powder
3 pounds of stewed beef or beef chuck roast, cut into 1-inch cubes
2 tablespoons cornstarch
1/2 cup low-sodium soy sauce
1 teaspoon sesame seeds
2 green onions, thinly sliced
Instructions
1. Whisk together beef broth, brown sugar, garlic, sesame oil, rice wine vinegar, ginger, and onion powder in a medium-sized bowl.
2. Place chuck roast into a 6-qt slow cooker. Stir in beef broth mixture until well combined.
3. Cover and cook on low setting for 7-8 hours or on high for 3-4 hours.
4. Whisk together cornstarch and soy sauce in a small bowl to make a soy sauce slurry. Gently stir into the slow cooker with beef. Cover and cook for 20-30 minutes or until the sauce has thickened.
Notes
•If you love spicy food, then you can add in 2-3 additional dried red chili peppers.
•This dish doesn't need additional salt, unless you love salt. Even with the reduced sodium soy sauce, it has plenty of flavor.