These Tissue Paper Easter Eggs are an easy, crafty way to make Easter Eggs that don't involve cups of dye. For older kids that want a fresh new way to decorate for Easter, these pretty eggs just require some tissue paper and vinegar, and they just look so beautiful!
How do you make Tissue Paper Easter Eggs?
Easter eggs made with tissue paper are easy to make! The secret is, you need tissue paper that bleeds ink when it gets wet. You can look specifically for Bleeding Tissue Paper when you shop.
You just cut the tissue into small pieces that can wrap around the egg, secure it with rubber bands, and soak the eggs in vinegar. The dye will bleed off the tissue paper and onto the egg.
Other Ways to Decorate and Dye Easter Eggs
What is Bleeding Tissue Paper?
Bleeding tissue paper is thin paper (often used for gift wrapping or crafts) that is dyed in such a way that when it gets wet, the ink will bleed off of the tissue and onto something else, like thicker paper or Easter eggs.
Not all tissue paper will bleed so it's important to look for bleeding tissue paper if you want this craft to work out!
Can I use more than 1 color of tissue paper on each egg?
Absolutely! You can get very creative and wrap multiple colors around your eggs or cut out small strips or pieces. You can also crumple the tissue paper into balls As long as you can secure your pieces with rubber bands, you can decorate your eggs however you wish!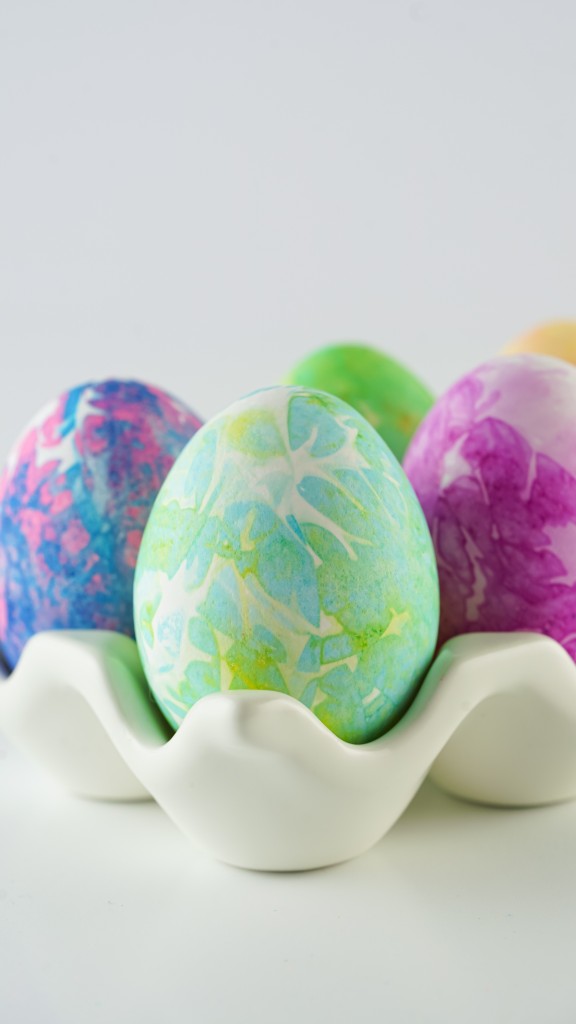 What are some variations of tissue paper eggs?
I like to use a coffee filter to make interesting patterns. Lay out a small coffee filter and place your pieces of tissue onto the filter. You can cut your tissue in any shape or size you want, and put them as close together as you'd like on the coffee filter.
Then, set the egg on the filter and wrap the coffee filter around the egg, covering it with the tissue paper pieces. Secure the filter with an elastic, and set the whole thing in your cup of vinegar.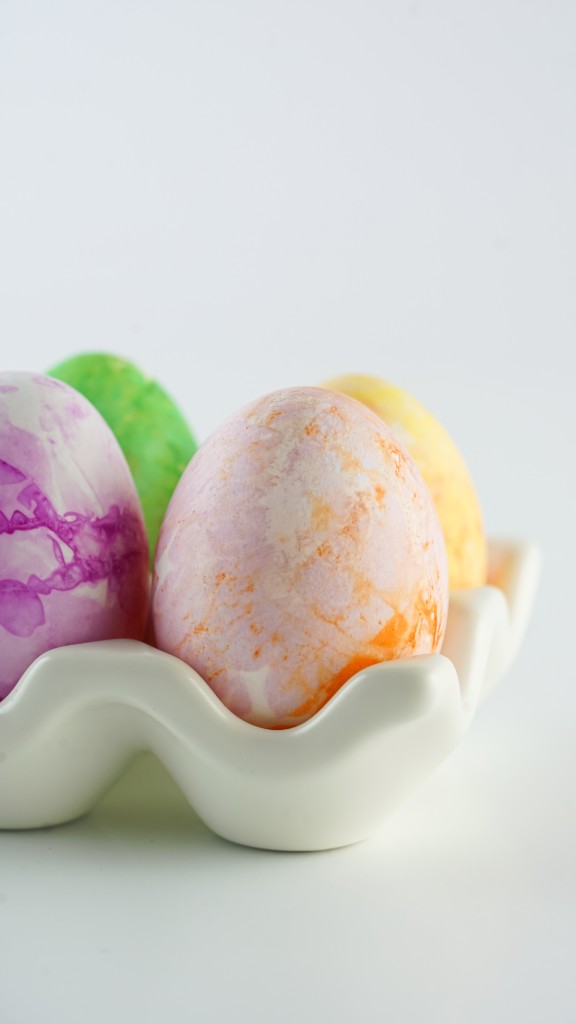 Recommended
How to Dye Easter Eggs
Glitter Easter Eggs
Kool Aid Dyed Easter Eggs
Tips and Notes
You can decorate your eggs first with paint. Black polka dots on part or all of your eggs, then decorated with tissue paper look really cute! You can also add pictures, hearts, or names of people you love.
I recommend you and your kids wear disposable gloves to keep the vinegar off your hands.
When you remove the tissue paper, some of the ink may bleed off your hands, so wear gloves if possible.
How Do I Store Easter Eggs?
You can keep Easter Eggs on the table, unrefrigerated, for a few days before they'll begin to smell bad.
If you want to actually eat your Easter Eggs, you can! But you need to get them back into the fridge within 2 hours of hard boiling them. Then, they'll stay good in the fridge for up to 7 days.
Make sure you don't eat any that may have cracked as the dye will have seeped below the shell into the egg.
Make Easter Even Easier!
Boiling eggs over the stove can be a pain! If you don't take them out at the perfect time, you end up with cracks. Instead of boiling your eggs the old-fashioned way, try making Air Fryer Hard Boiled Eggs, or Instant Pot Hard Boiled Eggs for the easiest holiday decorating ever!
Yield: 12
Tissue Paper Easter Eggs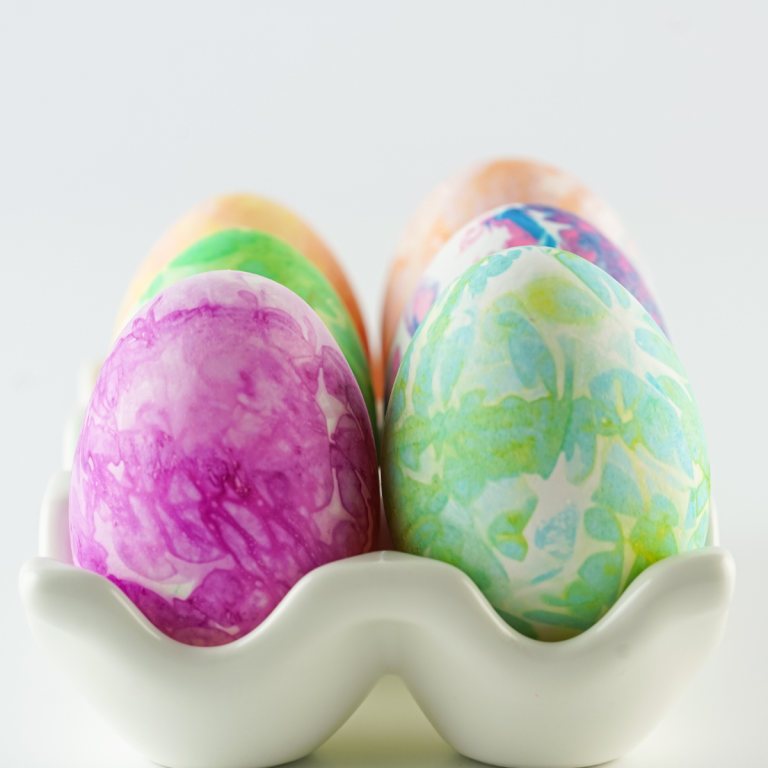 These Tissue Paper Easter Eggs are an easy, crafty way to make Easter Eggs that don't involve cups of dye. If you want a fresh new way to decorate for Easter, these pretty eggs require some tissue paper and vinegar, and they just look so beautiful!
Additional Time
5 minutes
Ingredients
Boiled Eggs
7x7-Inch Pieces of Bleeding Tissue Paper
Vinegar
Rubber Bands
Paper Towels
Rubber Gloves (optional)
Instructions
Take two pieces of the tissue paper, either both the same color, or two different colors, and roll/wrap the egg in them.
Make sure it's tight against the egg and use 1-2 rubber bands to secure the tissue paper.
Pour some vinegar in a jar, glass, or cup and place one egg at a time in it.
Let each egg sit for around 30 seconds, making sure it really soaks up the vinegar.
Fish the egg out with a spoon and place in the egg carton to rest for 5 minutes.
If desired, use gloves at this point. Unwrap the eggs and pat dry with a paper towel.
Return the eggs to a clean part of the egg carton and let them sit for another 5 minutes or so to finish drying. Enjoy!
Notes
●If your kiddos like to do torn paper crafts, you can let them rip small pieces of the tissue paper. Once the pieces are all torn, dip the egg in vinegar and let the kids place the pieces of tissue paper against the wet egg. Let it sit for 5 minutes before removing the paper, patting dry, and allowing it to rest in the carton. Keeping a small spray bottle of vinegar close is great for if the egg starts to dry and the tissue paper won't stick any longer.
●It's very important that you use bleeding tissue paper. It will say right on the package if it's bleeding paper or not. Sadly, the dollar store paper doesn't tend to be the right kind.
●It doesn't matter how you wrap the eggs or put on the rubber band, just as long as the tissue paper rests against the egg.
●Don't leave in the vinegar too long or it will take too much of the color, but this takes a while, so just as long as you don't forget about them in the vinegar.
●The vinegar will change colors, but this doesn't mess with the tissue paper colors as you dip each egg.
●This works with farm fresh and brown eggs, but the colors tend to be a little darker on the brown eggs.
●You can use just one color of tissue paper for each egg if you don't want multicolor. However, be sure it's two layers of tissue paper for each egg. This results in a much better color distribution.
●The longer you leave them to sit after dunking them in the vinegar, the darker the colors will be.