Instant Pot Reese's Peanut Butter Eggs
These Instant Pot Reese's Peanut Butter eggs are sweet peanut butter eggs dipped into chocolate. These peanut butter eggs are so delicious you will no longer want to go out and buy Reese's eggs.
I have always loved Reese's peanut butter eggs. Every year I count down the days until Easter because I know that I get to buy the delicious Reese's egg treats. There is no better combination than chocolate and peanut butter together.
I was looking at the package of Reese's eggs and I realized that I couldn't pronounce a lot of the ingredients on the package. I decided to try my hand at making my own peanut butter eggs using ingredients that I can pronounce.
The best thing about making these Instant Pot Peanut Butter Eggs at home is that I can eat as many as I want and no one will ever know. Plus, now with this delicious recipe I can make them in the summer or whenever I get a craving for this chocolate and peanut butter treat.
Frequently Asked Questions About Instant Pot Reese's Peanut Butter Eggs
How do I store these Reese's Peanut Butter Eggs?
These Instant Pot Reese's peanut butter eggs store great on the counter if your house is cool. Candy melts do have a slightly lower melting point than chocolate so if you like to keep your house on the warmer side you will want to store your eggs in the fridge. You can store them in any airtight container or even a storage bag will work.
If you want to save your eggs for later so that you aren't like me and try to eat them all at once, you can freeze your eggs for up to 6 months.
How do I shape these into egg shapes?
There are two different ways that you can shape your eggs. You can do like I did and shape your eggs by hand. To shape your eggs by hand simply make a rounded but wider base and slowly taper in the sides of the eggs to reach a smaller rounded tip.
Another way to shape your peanut butter eggs is to use a cookie cutter. I personally prefer just to use my hands to shape them because who wants to add another dish to wash?
What kind of chocolate do I need to use?
I used melting chocolate to make these Instant Pot Peanut Butter eggs. I like to use melting chocolate because it's designed to make the perfect coating on dipped items and quickly rehardens. I love how smooth the melted chocolate turns out.
You can find the melting chocolate at your local craft store or Walmart on the baking aisle in the craft department. You can even purchase them on Amazon if you are like me and hate going into stores. I used this Mercken's Milk Chocolate melting chocolates.
I chose melting chocolates because I don't really have to worry about tempering it. It's a "melt and go" situation. If you decide to go with another type of chocolate variety, just be sure that you're tempering your chocolate properly and not scorching it.
Chocolate chips can be used instead of the candy melts if you prefer to use them. However, you will want to add about a teaspoon of vegetable shortening or coconut oil. This will help your chocolate melt smoothly and harden with a slight shine.
Instant Pot Peanut Butter Eggs
1 1/2 cup Peanut butter
6 tbsp Brown sugar
2 – 12 oz bag chocolate melts
2 cups powdered sugar
2/3 tsp salt
1 tsp vanilla extract
6 tbsp butter
How To Make
1. In a saucepan over medium heat, combine butter, vanilla, brown sugar, salt and peanut butter. Stir until melted together. Of course, you can use the sauté mode on your Instant Pot, too! You'll just have to give it a little clean out for when we need it for step 5 below.
2. Stir in powdered sugar a few tablespoons at a time until combined completely
3. Using a small baking scoop, scoop out a ball of peanut butter mixture. Form into an egg shape and place on parchment paper.
4. Once eggs are formed, place in the freezer for 2 hours.
5. Place your mixing bowl on the tall instant pot trivet and one cup of water in the instant pot liner. Set instant pot to sauté and stir until the chocolate melts until fully melted. Add oil if chocolate needs to be thinned out.
Here's my two favorite ways to setup as a double boiler. One is with a butterfly clip, and the other is using a piece of foil that's folded a few times and clipped on to the rim. This helps to stop and suction that can occur.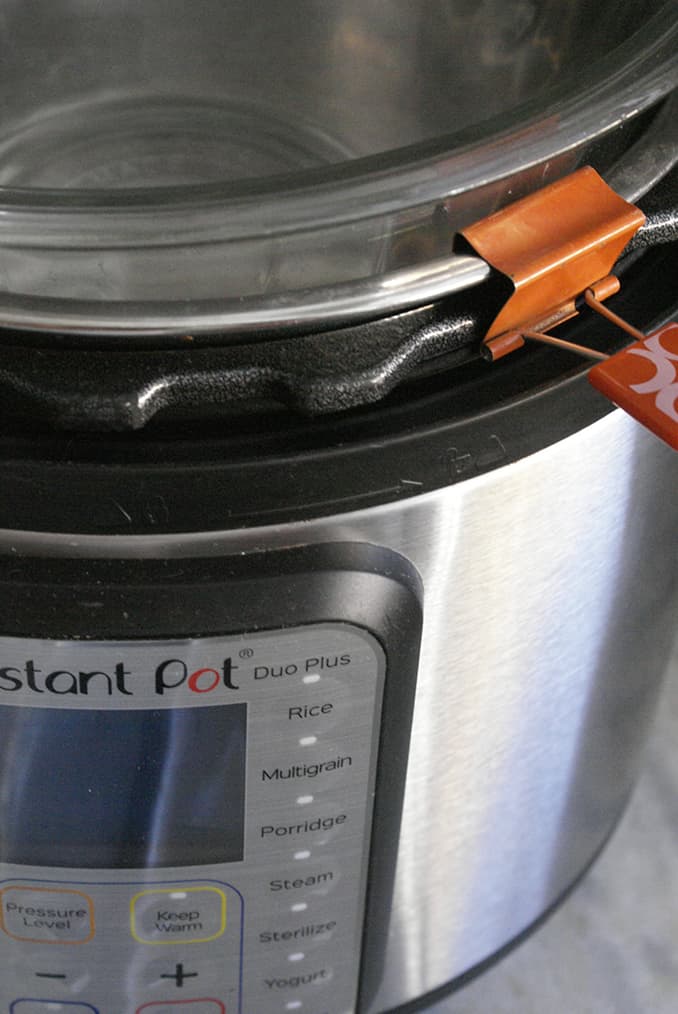 6. Remove eggs from the freezer and dip using a fork in the melted chocolate. Completely cover eggs and place back on parchment.
7. Allow the eggs to sit and shell to harden.
Cooking Tips
Your chocolate coating will set a little fast because your peanut butter is frozen, so keep that in mind if you want to add a little decorations on them.
Sprinkle a little sea salt on top of your chocolate as it hardens for a sweet and salty taste
If you want colored eggs, use colored candy melts. Do not try to color white chocolate as it will change the texture of the chocolate and not coat your eggs correctly
Use white chocolate if you prefer white chocolate eggs.
If you are freezing your eggs, be sure to layer parchment or wax paper between layers of your eggs so that they don't stick together.
More Instant Pot Recipes
I have lots of easy and delicious Instant Pot recipes for you to make and enjoy! Here's a few that I think you'll absolutely love.