These Halloween Bat Cookies are going to be the perfect addition to your spook-tacular Halloween celebration!
I love Halloween! Well actually I love all holidays! We don't discriminate against holidays in our household! We celebrate them all in a big way! Usually with lots and lots of wine! lol! But let's face it, I love wine and have always loved a good cocktail so really holidays just add to my opportunities to drink.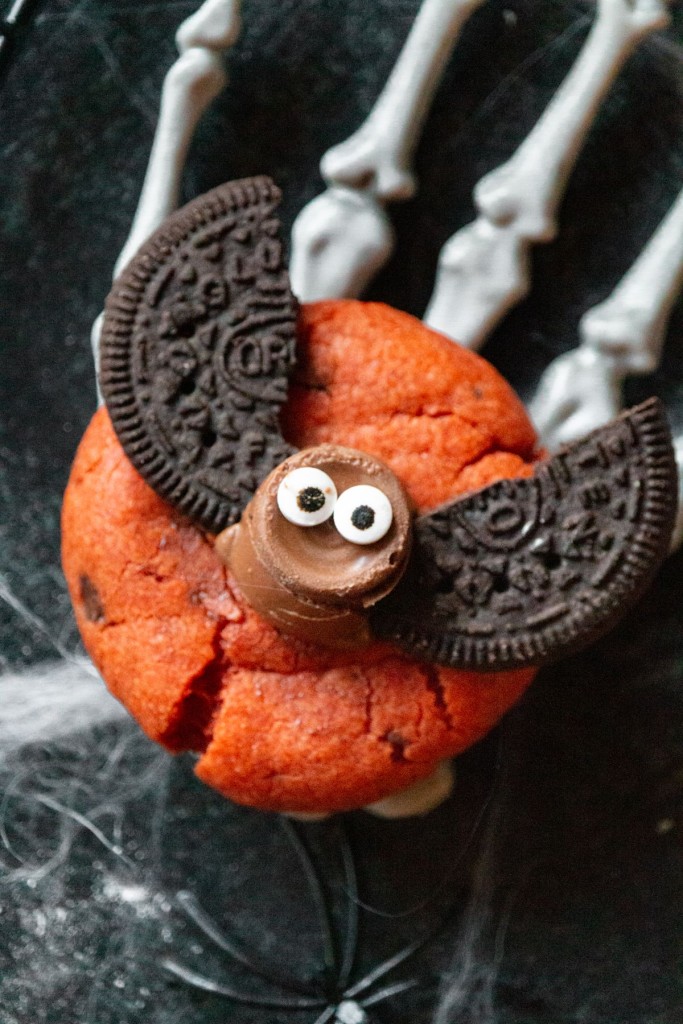 But back to Halloween! I love the little ones running around in their costumes, the decorations and all the fun foods. So of course we partake in them as well. Especially the good old fashioned chocolate chip cookies. (I will go so far as to say that cookie dough is quite possibly my favorite food ever!) But what's a guy to do when he is sick and tired of the same old thing? Well…Make bat cookies, of course!
So I thought I would share with you how I put together these bat cookies that were just so fun. They are Halloween themed cookies that your entire family is going to love. They are also a great addition to any Halloween party or just to bring some fun food to your next office potluck.
Even better is that you bring the kids into the kitchen to help you decorate the cookies! Angela had such a blast decorating these cookies, but we won't mention how many Oreo's, Rolo's and candy eyes she ate while she "decorated". If the kids are helping you might want to buy double the decorations. Angela not many decorations make it to the cookies!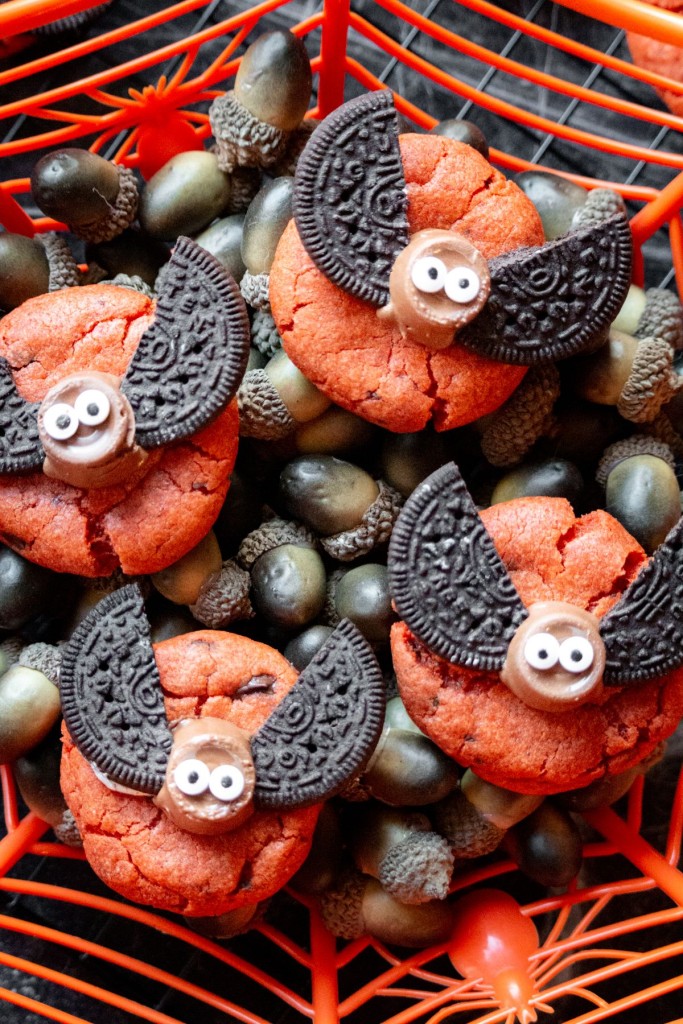 Frequently Asked Questions About My Halloween Bat Cookies Recipe
What flavor are these cookies?
These bat cookies are dark chocolate chunk cookies. Now, don't worry your pretty little heads, if you are not a fan of dark chocolate, you can use milk or even white chocolate chunks. I think milk chocolate chunks would taste so amazing!
How do I store these Bat cookies?
Store these Halloween Bat cookies in a cool dry place for up to five days. There is no need to put these cookies in the fridge, however I do recommend that you keep these cookies away from the oven because you don't want to melt your Rolo's.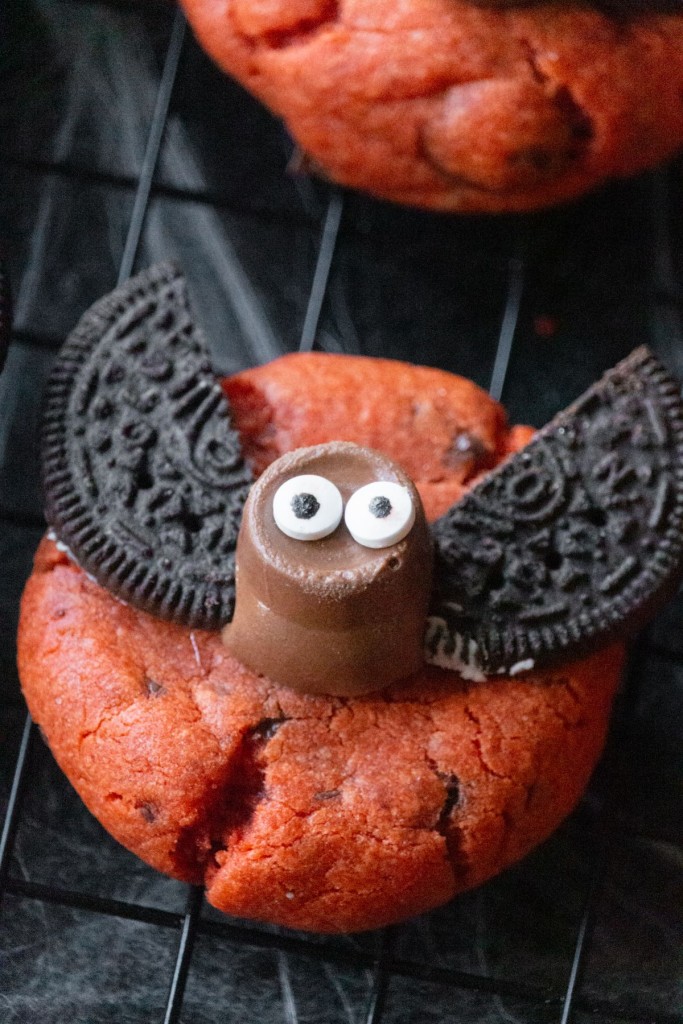 Can I freeze Your Halloween Bat Cookies
Yes, you can freeze these cookies, however you will need to freeze your cookies without the decorations. Do not freeze your bat cookies with the Oreo's, Rolo's and candy eyes. To thaw your frozen cookies simply place them on the counter for a couple of hours until they are thawed completely.
Where do I buy candy eyes
You can buy your candy eyes online on Amazon like I do. Y'all know me, I like to order things online so that I don't have to put on pants! It's always a good day when I don't have to squeeze myself into jeans! If you don't want to order online you can candy eyes at your local big box.
Halloween Bat Cookies Ingredients:
Sugar: Use granulated sugar or pure cane sugar.
Brown Sugar: Light brown or dark brown sugar will work for this recipe. Make sure to pack your brown sugar tightly.
Eggs: Eggs are packed with protein and make for a great binder in baking.
Butter: I used salted butter but you can also use unsalted.
Flour: For this recipe you will need all purpose flour.
Salt: Table salt or kosher salt for this recipe.
Baking soda: Baking soda is used as a leavening agent in this recipe.
Baking Powder: Baking Powder is used as a leavening agent in baking.
Extract: Vanilla extract brings a great flavor to this recipe.
Chocolate: dark chocolate is so flavorful, I used chunks in this recipe.
Food coloring: Use liquid or gel. Gel gives the best color.
For the Decorations:
Candy Eyes: Look at your local craft store for these edible eyes.
Oreos: Oreos are a chocolate sandwich cookie with a white cream in the center.
Rolos: Rolos are chewy caramel that is coated in chocolate. Literally one of my most favorite childhood treats that I loved so much…and still do, once in a while.
How To Make
Preheat the oven to 375F.
Combine sugar and butter in a stand mixer and beat until fluffy. Add in the eggs and then vanilla.
Combine all dry ingredients into a separate bowl first and then slowly add to the mixture while the mixture is on a medium speed.
Reduce the stand mixer speed to low and add in the chocolate chunks. Allow the chocolate to combine well.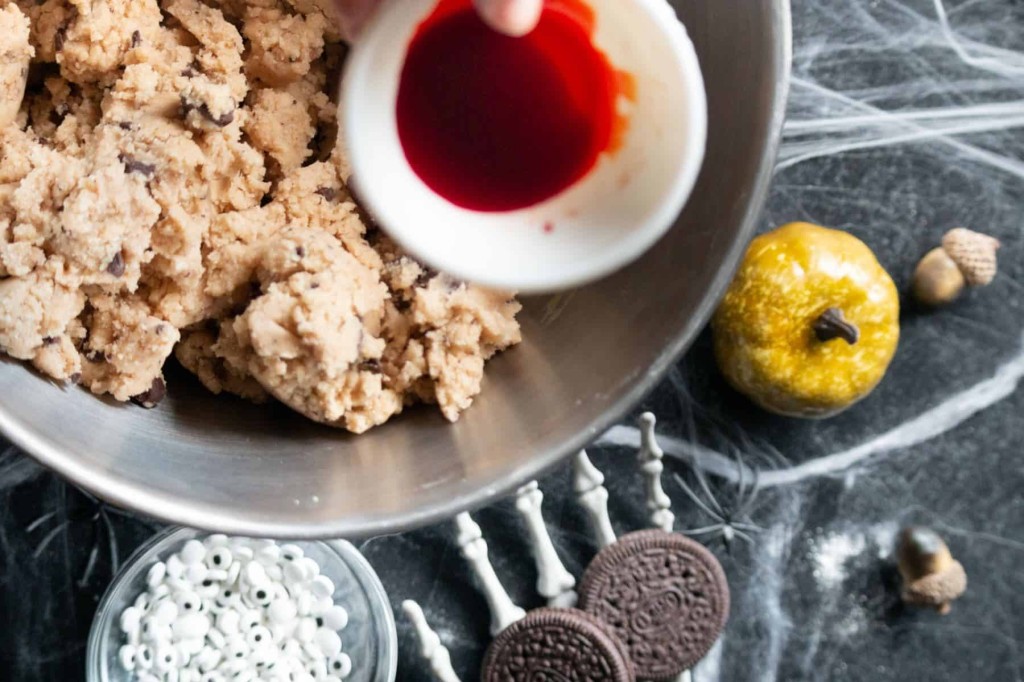 Add in the orange food coloring. For a more vibrant orange, mix yellow and red to reach your desired pigment and then pour into the dough.
Allow the mixer to combine the food coloring until all of the dough is orange.
Roll the dough into 2 tablespoons worth of balls per cookie. Place the cookie dough balls an inch or two apart on a cookie sheet.

Bake for 10-12 minutes. Because of the food coloring it can be difficult to see the coloring of the cookie to tell when it's done, but the bottom will still brown.
Let the cookies sit in the pan on the stovetop for a few minutes once they are done before moving them to cool.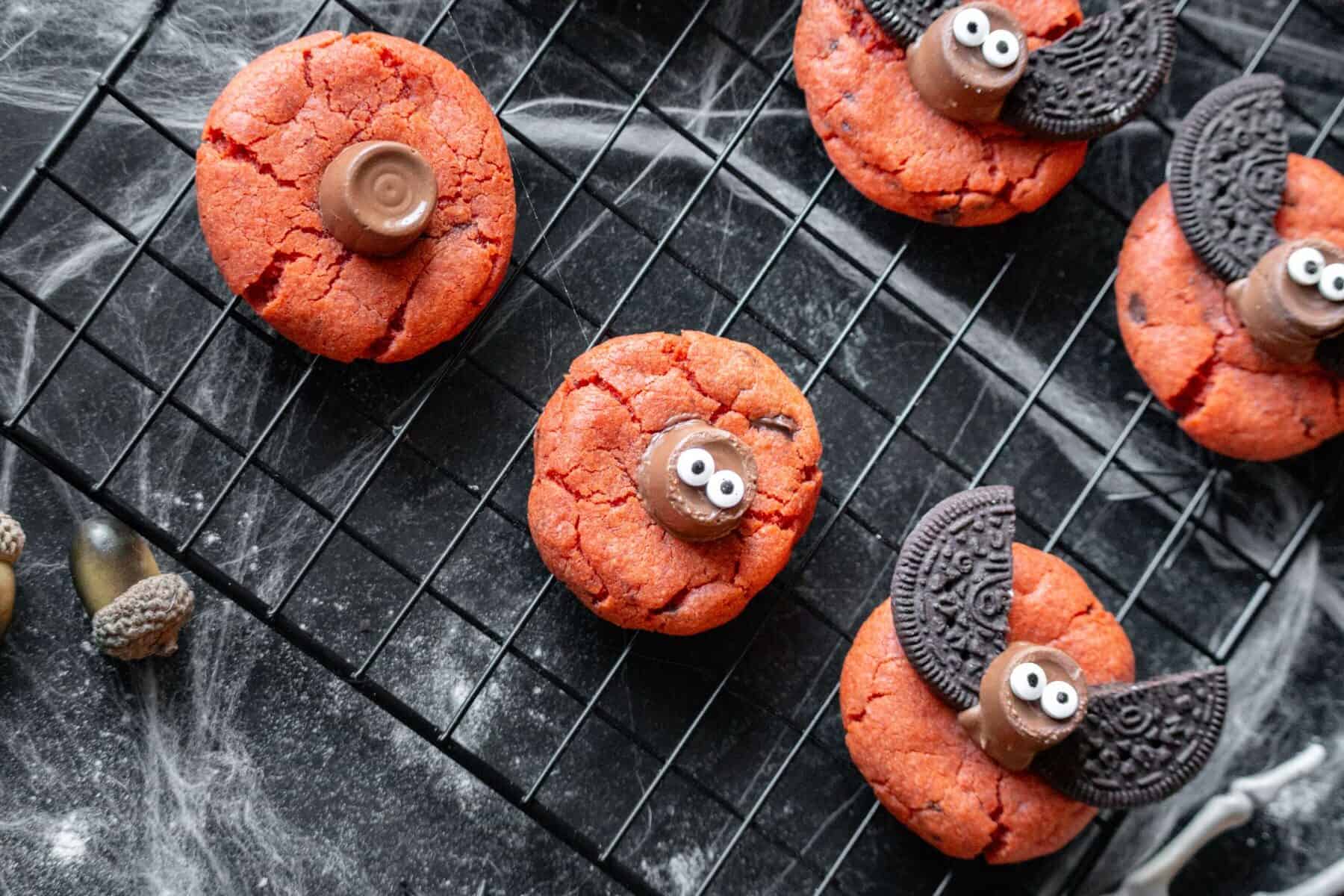 When the cookies are still warm, but not hot, add your Rolo chocolate to the cookie. The heat of the cookie will be enough to slightly melt the chocolate into sticking to the cookie.
Further assemble your cookie by adding eyeballs to the top of the Rolo.
Fully take an Oreo apart. Cut one side of just the cookie part of the Oreo in half for the 'wings'. Stick the bottom corners of the Oreo into the bottom of the slightly melted Rolo in order for the wings to stay in place.
More Cookie Recipes