Mornings are incomplete without making this easy air fryer bacon recipe! It's the quickest and tastiest meal item after eggs. The fact that it is ready in under 10 minutes makes it the most-used ingredient for breakfast.
Want to incorporate bacon with eggs? Whip up some bacon and eggs! Craving a sandwich? Hello, BLT sandwich! Don't have time to make something fancy? Fried bacon strips will do!
In short, you can eat bacon with anything and everything.
However, if you're looking for a relatively healthy recipe that gives you the same umami taste and crispiness, here's a quick-as-flash air fryer bacon recipe with a twist!
We're gonna air fry them salty strips o' bacon!
You heard me! Here's the ultimate healthy air fryer bacon recipe. The same taste and some extra crisp, but with no oil!
Why We Love Air Fryer Bacon?
Bacon in any form is love!
However, we love air-fried bacon more because it's quick! I mean, you just have to put the bacon in the air fryer, and that's all! 10 minutes later, you have yourself the savory, crispy, and well-cooked bacon strips we all love and crave.
Secondly, it's healthy! Regular fried bacon strips require more oil to cook. Plus, they absorb the oil too. Air-fried bacon requires little to no oil because the bacon strips get cooked in their own melted fat.
Thirdly, there's no mess! You just have to clean the air fryer basket, and that's all the cleaning there is. No scraping bacon bits off your pan and no cleaning oil from the stove. That makes the whole cooking process a lot easier and quicker.
And lastly, you don't have to compromise over the taste! The smoky, sweet, and sour umami flavor from fried bacon is not lost when we air fry it. In fact, it is more succulent and crispy in a healthy way.
Also, air fryer bacon is one of the most versatile dishes out there. I mean, you can add bacon to literally anything! Eggs, sandwiches, rice, salads, pasta, tacos, pizza, you name it! Isn't that reason enough to love this dish?
So, if you're craving flaky bacon strips, you have to give this recipe a try!
Ingredients for Air Fryer Bacon Recipe
1 pack of bacon: Yes, that's all you need. No salt, pepper, or seasoning because the bacon itself is packed with a unique sweet and salty taste enhanced by the scrumptious taste of fat content in the bacon.
Frequently Asked Questions
Are you trying this recipe for the first time? Was your previous attempt not up to the mark? Well, here are some frequently asked questions that I have answered for your guidance:
Q. How long do I have to cook bacon in the air fryer?
The time of cooking depends on the bacon's thickness. A regular piece of bacon can be ready in around 7 minutes at 350 degrees F in an air fryer. However, if your bacon strip is thick-cut or uncured, it might take 9 minutes to cook evenly.
And, if you want your bacon strips to be extra crispy, just add a couple more minutes for each type of bacon.
Q. Do I have to pre-heat the air fryer?
You do not have to pre-heat an air fryer; however, there are some air fryers that require preheating. But, even in those models, you don't have to do it for bacon.
Q. Should I add oil to the bacon?
That's the plus point of cooking in an air fryer: You don't need oil! The bacon releases grease, which then helps it cook. So, you don't have to add extra oil to the bacon.
Q. Can we use turkey bacon for this recipe?
Yes, you can use turkey bacon for this recipe. Cook it exactly like you would cook regular bacon, and it turns out great!
Q. How to store air fryer bacon?
You can store them in a glass container in the fridge for 4 to 5 days and the freezer for up to one month.
Tips and Tricks
1. Always cook the bacon at 350 degrees F to prevent the air fryer from smoking.
2. If you're making bacon in batches, wipe the grease from the previous batch before adding the new one.
3. Always add only one layer of bacon to the air fryer basket to cook evenly.
Easy Recipes to Make
Yield: 1 pack
Air Fryer Bacon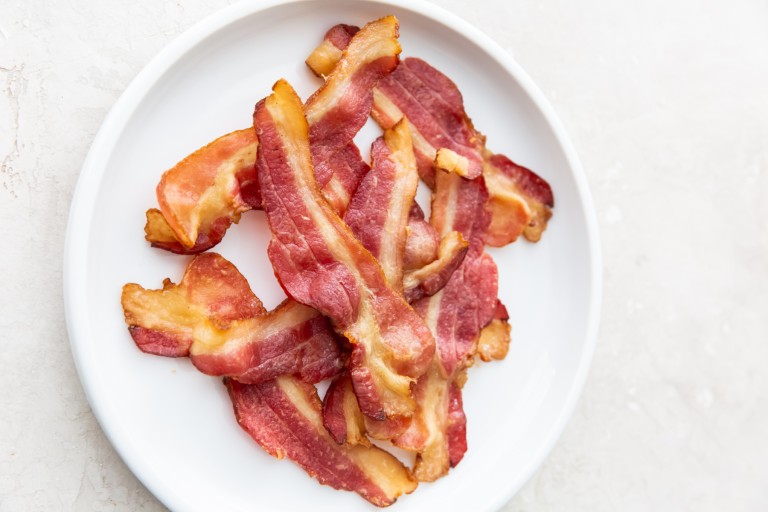 Make delicious bacon in the air fryer in less than 10minutes! You won't believe how easy it is to make air fryer bacon! Cook up a whole pack of bacon, and save for meal prep, salads, or top veggies with it!
Instructions
Place 4-5 bacon slices in the air fryer basket (amount depends on how big your basket is). Make sure to only place a single layer of bacon in the bottom of the basket.
Turn temperature to 350F and cook for 7 minutes for normal bacon and 9 minutes for thick cut or uncured bacon.
After it's done cooking, carefully transfer the bacon to a paper towel to absorb some of the oil.
Enjoy! Store leftover pieces of bacon in a glass container in the fridge.