There's nothing quite like the flavor of a freshly made pineapple salsa. It can easily put your store-bought and jarred salsas to shame, and you'll find yourself making it again and again. This tangy pineapple salsa recipe is just that and more. You'll definitely want to make my Instant Pot Pineapple Chicken!
What is Pineapple Salsa?
Pineapple salsa is exactly what it sounds like- a delicious sweet and tangy version of your classic tomato salsa. It uses pineapple as the hero ingredient, and is a great way to use up any of the leftover fruit that you might have.
Why We're Absolutely Crazy About this Pineapple Salsa
Incredibly easy to put together, full of fresh ingredients and packed with a flavor punch- that's just a few of the reasons why we're kind of obsessed with the pineapple salsa. But before you jump right into it, here's everything you need to know about it.
I love cooking with this salsa, and also love making it a great accent on cooked items, like fish and even steaks!
Can I Use Frozen or Canned Pineapple to Make the Salsa?
While this recipe calls for the use of fresh pineapple, you can actually make use of canned pineapples too, if you aren't able to source the fresh variety. Just remember to drain off all the excess liquid, give the pineapple slices or cubes a quick rinse and pat them dry before you use them for the recipe.
You don't have to press the pineapple to get it dry. You simply want to remove excess liquid from being stored in the can.
For frozen pineapple, you're basically doing the same thing as canned. It's best to wait for it thaw. Place frozen in a colander, and allow to thaw and drain at the same time. You don't want this salsa to have extra liquid because it will distract from the flavors!
Most fruits, like pineapple, will naturally release juices. That's totally okay! Just be sure to stir so the flavors can be mixed around evenly.
What Else Can I Add?
This pineapple salsa recipe is fun and flexible- there's a lot more you can add into the salsa apart from what's already on the ingredients list. If you love your spice, you can throw in some more jalapeño peppers.
Want to enjoy a little crunch factor and some mild sweetness to the salsa? Chop some red bell pepper and add it in. Spring onion greens, chopped finely, can also add a little extra flavor and deliciousness.
How Do I Store the Pineapple Salsa?
Planning to make the salsa ahead of time? Got some leftovers that you want to store? Just transfer the salsa to an airtight container or a glass jar and refrigerate it for upto 3 days.
In fact, making the salsa beforehand helps all the flavors mingle well, and the texture perfect.
Tips & Tricks to Nail the Recipe
While making the pineapple salsa is fairy easy, keeping these little tips and tricks in mind can really help.
Chopping all the ingredients finely is the key to getting the flavors and textures right. It might be time consuming, but it can really make a huge difference. You can always use the food processor to chop all the ingredients into the perfect size.
Not a fan of cilantro? You can make do with mint leaves instead. Not only does it lend a nice pop of color and freshness, but also lends a little zing to the base flavors of the salsa.
You can also add some chopped ripe mango to the salsa along with the pineapple- it has a similar sweet tropical flavor.
Got a few extra minutes? Grill the peppers and the pineapple in a pan until they develop a slight char, allow them to cool down and then use them for the recipe. This will lend a bit of smokiness to the salsa and really take the flavors to the next level.
Chopped cucumbers can also be thrown in for some extra crunchiness- if you can, use English cucumbers and keep the peel on.
Black beans and boiled corn can also be added- they can also add a little bulk to the salsa.
Got sea salt? Use it instead of regular salt to season the salsa for some extra depth of flavor.
Serving Ideas & Suggestions
This juicy and flavor loaded pineapple salsa can be a nice savory accompaniment for your grilled veggies and meats, or as a side to any Mexican inspired foods like tacos, burritos and tortilla chips.
It is the perfect recipe to whip up in minutes and take along at a potluck or serve at a BBQ you're hosting. You can also team it up with this delicious avocado salsa to enjoy a bit of variation.
Yield: 1
Pineapple Salsa Recipe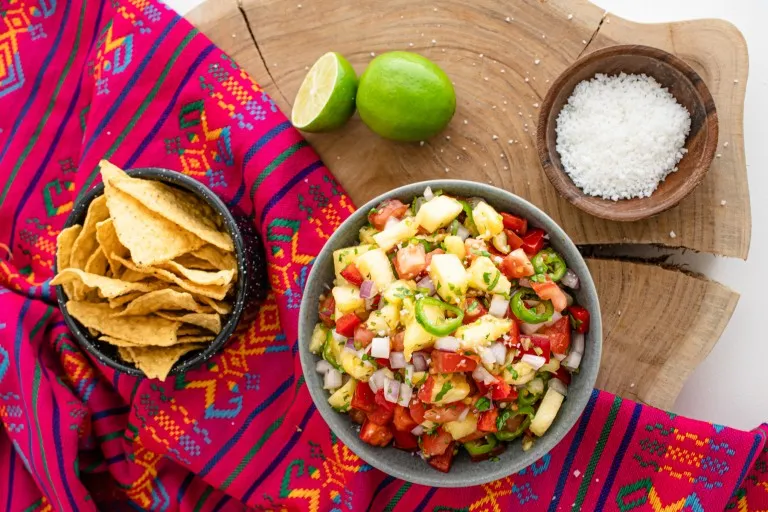 You'll love all of the flavors packed in this easy to make delicious pineapple salsa!
Ingredients
1 cup Fresh Pineapple (Diced)
1 Tomato (Chopped)
1 Red Bell Pepper (Chopped)
¼ Red Onion (Chopped)
10 Cilantro Sticks (Minced)
1 Serrano or Jalapeño Pepper (Sliced or Minced)
2 Limes (Lime Juice)
Salt to Taste
Instructions
Wash and cut the pineapple, tomato, red bell pepper, red onion, cilantro, serrano pepper and limes.
Mix all your ingredients in a large bowl.
Add lime juice and salt to taste.
Serve and enjoy with tortilla chips or your favorite protein!
Notes
For best results, cover salsa and store in fridge for 1-2 hours, to allow flavors to fully develop.
Make sure to use gloves when cutting serrano or jalapeño peppers. If you want your recipe to be spicy, leave the seeds when cutting the peepers. To make your salsa milder, remove some or all the seeds before slicing or mincing the serrano/jalapeño peppers.