Peach French Toast Casserole
This peach french toast casserole is a fabulous breakfast recipe that's great to enjoy for the weekends, an amazing brunch over mimosas, or for your next holiday gathering with friends and family members!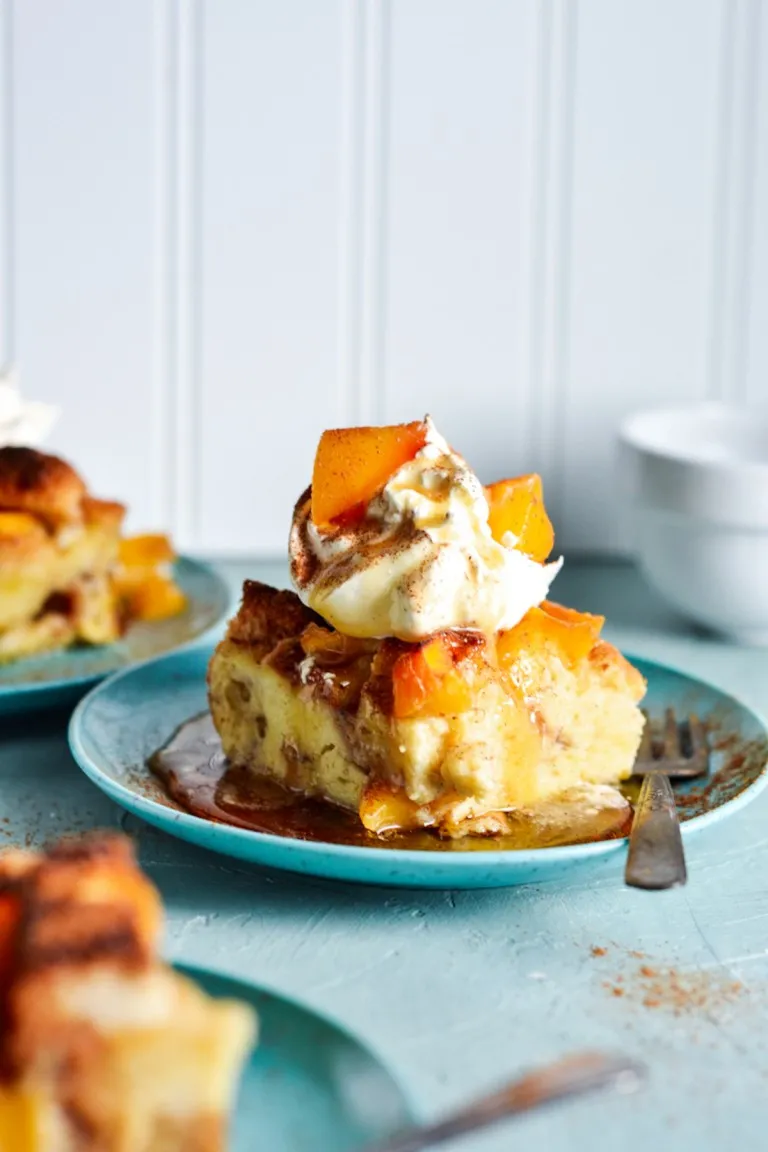 Growing up, French toast has been one of my favorite breakfasts on the weekend. We would wake up to the sweet smell of vanilla and cinnamon wafting from the kitchen and hurry downstairs to bite into the tender slices of French toast dripping with maple syrup.
So, I decided to take my favorite childhood breakfast recipe up a notch by tweaking it a bit and turning it into the peach French toast casserole! I had to bring in peaches from my Georgia roads history.
And do you know what the best part was? The crispy edges of the French toast!
Why We Love Peach French Toast Casserole?
The peach French toast casserole is an upgraded version of the regular French toast. Instead of bread slices, we use bread cubes, and instead of dipping the bread into the egg and milk mixture, we layer the ingredients. Then we bake the whole thing until it becomes a delicious golden brown shade.
But what makes this version of french toast a family favorite? The warm, delectable, slightly sweet French toast with juicy peaches, soft velvety cream in every bite, and the slight hint of sweet vanilla and cinnamon make this recipe a hit!
Whether it's the weekend, you're whipping up a special breakfast for someone's birthday, or when you're in the mood to treat yourself to a fancy breakfast, this French toast casserole is just what you need!
The best thing about this recipe is that it's a simple layer-and-bake recipe. Just layer the brioche bread cubes and sliced peaches in a baking dish, and cover the whole thing with the egg and cream mixture. Pop it in the oven for an hour or till the casserole turns into a tempting golden brown color, and dig in!
This warm, melt-in-the-mouth peach French toast casserole is sure to give a beautiful start to your day!
Peach French Toast Casserole Recipe Ingredients
6 cups cubes of brioche bread: The light and puffy sweet brioche bread, rich in butter and eggs, is the perfect choice for French toast casserole.
2 cups sliced peaches: I used fresh peaches; however, you can also use frozen or canned peaches.
2 cups heavy cream: Heavy cream makes the French toast casserole soft and moist.
1 cup milk: You can use any kind of milk for this recipe.
4 eggs: Eggs add fluffiness and texture to the casserole.
1 teaspoon vanilla extract: It enhances the flavor of the French toast casserole.
2 teaspoons ground cinnamon: Adds a unique blend of sweet, woody, and citrusy taste.
½ teaspoon nutmeg: For a tinge of aromatic, warm, and nutty flavor.
Pinch salt: A little seasoning never hurt anybody.
Frequently Asked Questions (FAQs)
Q. Which bread can I use for making the peach French toast casserole other than brioche?
I used brioche bread for this recipe, but you can use plain white bread, sourdough bread, French baguette, or challah. Regardless of which bread you use, ensure it is a day old, as dry and crusty bread absorbs the milk and egg mixture without getting too soft when baking.
Q. What can we use as toppings for the French toast casserole?
This recipe has endless topping options, including fresh fruits like bananas, strawberries, blueberries, or raspberries. You can also use maple syrup, powdered sugar, chocolate syrup, lemon glaze, chocolate chips, peanut butter, and jelly. If it goes well with the taste of your French toast casserole, top it up!
If you don't have peaches, you can definitely change up the flavor profile and use fresh berries, apples, pears, or your other favorite pieces of breakfast fruits in lieu! So many flavors to make!
Q. How to store leftover Peach French toast casserole?
You can store the leftover in an air-tight container in the fridge for up to 2 or 3 days and the freezer for up to 2 months.
Tips and Tricks
Here are some tried and tested tips and tricks to whip up the tastiest and moistest peach French toast casserole:
1. You can omit the heavy cream and use milk to reduce the calories and make a lighter version of this recipe.
2. If you can't find brioche bread cubes, you can get regular bread and cut it into 1 ½ inch cubes.
3. If you're using frozen peaches, make sure to thaw them completely to be able to cut them in half.
4. If you're using fresh peaches, peel them for a smooth texture.
5. When pouring the egg and cream mixture on the bread cubes, make sure to soak them just enough so they absorb the mixture and don't get too soggy.
Try These Easy & Delicious Recipes
Yield: 6
Peach French Toast Casserole
Why not try this peach French toast casserole recipe and put a delicious twist on your brunch. You'll love this holiday breakfast recipes!
Total Time
1 hour
20 minutes
Ingredients
6 cups cubes brioche bread
2 cups sliced peaches
2 cups heavy cream
1 cup milk
4 eggs
1 teaspoon vanilla extract
2 teaspoons ground cinnamon
½ teaspoon nutmeg
Pinch salt
Instructions
Preheat your oven to 350 degrees F.
Butter or spray an 8x8 or 9x9 baking dish and layer the bottom of the dish with half of the bread cubes.
Scatter half of the sliced peaches over the bread cubes.
Repeat steps 2 & 3 with the remaining half of the bread cubes and peaches.
In a large bowl, whisk together the cream, milk, eggs, vanilla extract, cinnamon, nutmeg, and salt.
Pour the egg/cream mixture over the bread cubes and peaches.
Gently toss the mixture to ensure that the bread is evenly saturated with the liquid.
Bake for an hour or until the casserole is golden brown on top and set in the center, with no liquid remaining in the bottom of the dish.
Slice into squares and serve hot with your favorite toppings.

Notes
●If you don't have access to brioche, you can use Texas Toast or any other thick sliced bread instead.
●You can use fresh or frozen peaches.
●Don't have heavy cream? Feel free to substitute half and half.
●I used 2% milk. You can use whole milk if preferred.
●If the top of your casserole seems to be browning too quickly, you may need to cover it with foil for the last half of baking.