Instant Pot Arroz con Gandules
Maybe you have never heard of Arroz con Gandules, but I guarantee that if you are a foodie, like me, you'll be adding this dish to your go-to list of easy Instant Pot favorites.
Served as a side dish or as a main, Arroz con Gandules is sure to please. Traditionally prepared in cast iron pots, this time-saving Instant Pot version will make busy family nights a breeze. From start to finish you can have a filling, nutritious, and most importantly, delicious dinner on the table in about 20 minutes.
What is Arroz con Gandules?
Arroz con Gandules is considered Puerto Rico's national dish. This traditional staple will show up at holiday gatherings, birthday parties, baby showers, and more.
Arroz means rice, and Gandules, aka pigeon peas, are a popular pea grown in the Caribbean and loved for their bright green color and exotic, nutty flavor.
Served up with some roasted pork, salt pork, or even some bacon, this dish will knock your socks off!
How Do I Store Arroz con Gandules?
Keep leftovers in the refrigerator for up to 3 days. Reheat in the microwave on medium heat, stirring every 30 seconds to fluff it up, until hot.
Can I Freeze Arroz con Gandules?
Absolutely! In fact, why not make a double batch and freeze some for an even simpler meal in a pinch, or, in smaller containers for lunches to take to work? Your co-workers will be so jealous!
Can I make Arroz con Gandules if I don't have an Instant Pot?
Instant Pots are a relatively new invention, and not every cook owns one. Traditional versions were prepared in cast iron pans or dutch ovens. Use what works for you. This recipe is pretty foolproof.
Tips for Making Arroz con Gandules
Avoid stirring your rice too much. This will release more of the starch and make your rice sticky.
Using parboiled rice is a good way to prevent mushy rice.
If you make a half batch of Arroz con Gandules, you can freeze the remaining ½ can of beans in water for up to 6 months.
Recommended
Instant Pot Squash Casserole
Instant Pot Black Eyed Peas
Instant Pot Chipotle Rice
Notes
While this recipe only takes minutes to prepare you will need some specialty ingredients used in Caribbean cooking.
Specialty markets will carry everything you may need. Some items, such as Sofrito and Sazon can be homemade and stored to use as needed.
Substitutions
Gandules – keep frozen Gandules on hand. They'll work great in this recipe.
Sazon – You can make a homemade version of Sazon (Spanish for seasoning) to keep in your pantry so it's readily available using ingredients you probably already have.
You can make a homemade Sofrito to have on hand for making Arroz con Gandules.
Substitute canned pinto beans or red beans in place of Gandules.
More Yummy Instant Pot Recipes You'll Enjoy
If you like this delicious Arroz con Gandules recipe, you'll want to try some of our other easy Instant Pot dinner recipes! Try any from the list below.
Instant Pot Key Lime Chicken Tacos
Instant Pot Hamburger Helper
Instant Pot Broccoli Cheddar Soup
Instant Pot Pork and Beans
Instant Pot Taco Pasta
Yield: 6-8
Instant Pot Arroz con Gandules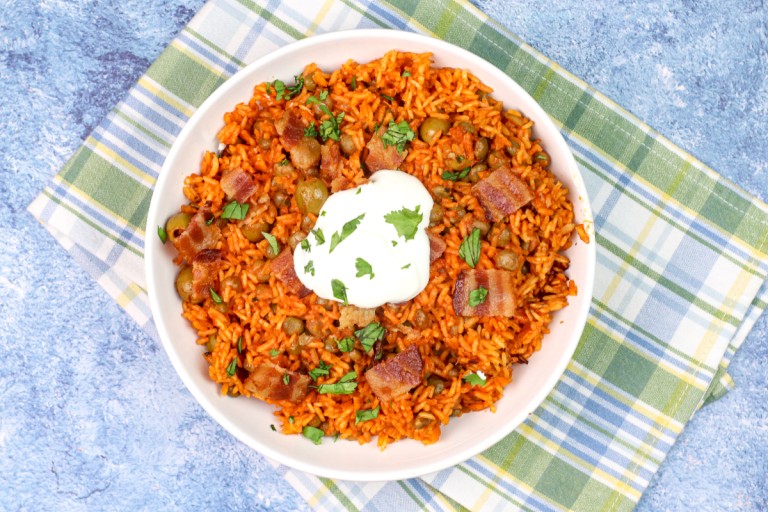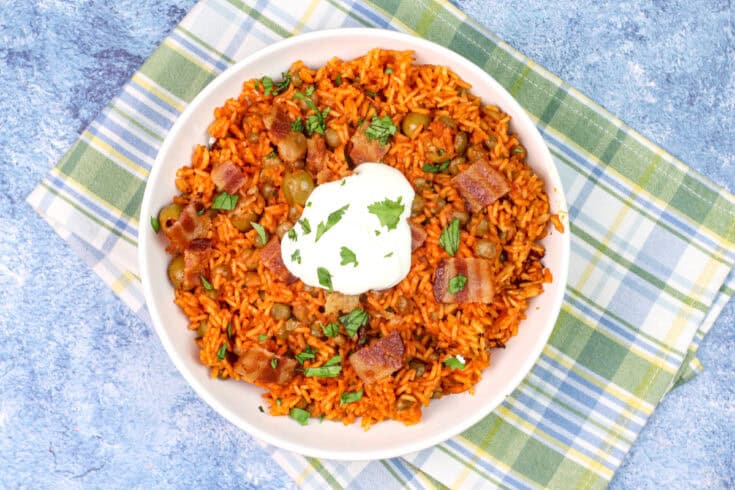 Arroz con Gandules is a Puerto Rican dinner or side dish your family will devour. With is rich flavors and perfectly cooked rice, it's a traditional Spanish food you must try!
Additional Time
10 minutes
Ingredients
2 cups of white rice
2 Tablespoons of Sofrito
1 (15 oz) can of gandules (pigeon peas)
1 Packet of sazon
4 ounces of tomato sauce
2 cups of chicken broth
2 Tablespoons of olive oil
2 Tablespoons of olives
Salt and pepper to taste
Optional - Country ham or cooked bacon
Instructions
Hit the Sauté button and add olive oil, sofrito, olives, tomato sauce, sazon, and grandules. Cook for approximately 5-6 minutes, while gently stirring.
Add the chicken broth and rice and stir. Be sure to scrape the bottom for any bits that might have gotten stuck. Cancel Sauté mode.
Place the pressure cooker lid on top, lock in place, and close the vent. Press the Rice button and allow it to cook with preset timing. Once done, allow to set 5-6 minutes, and then release remaining pressure.