When we talk about warm, cheesy, and creamy comfort food, we can't possibly leave out this Instant Pot lasagna soup! However, regular lasagne is made of ground meat. What we're making today is lasagna for sure, but with a twist: Instant pot lasagna soup!
That's right! Everything you love about lasagna is put together in a warm and comforting bowl for you to devour. You can make it using leftover lasagna strips or the broken lasagna pieces that you don't use.
Why We Love Instant Pot Lasagna Soup?
The instant pot lasagna soup is quite a quick and easy recipe, and it is vegetarian recipe you'll love! However, if you're vegan you can swap out the pasta for vegan friendly pasta, and the leave of the mozzarella.
How truly easy is this recipe? All you need is to sauté the onion until it turns translucent, add all the other ingredients to the instant pot, and let it do the pressure cooking.
For this recipe, we're using brown lentils in place of ground meat and vegetable broth as the soup base. Besides this, we're adding diced tomatoes and tomato paste along with the lasagna strip pieces to give it the traditional lasagne taste we all love and crave.
But wait! While we won't be adding cheese in the soup directly, we'll add it on top right before serving. The warm instant pot lasagna soup will melt the cheese slowly into the soup, making it creamier the more it melts.
As a result, you get a steaming bowl of warm, cheesy, and creamy deliciousness; that's just the thing you need to brighten up your day!
The instant pot lasagne soup is an ideal starter option for a 3-course dinner, something to sip on rainy days, or a savory afternoon snack option. Plus, there's no right to have soup. You want soup; you make soup. Period!
Ingredients for Vegetarian Instant Pot Lasagna Soup Recipe
1 tbsp olive oil: For sauteing the onion.
1 yellow onion, finely chopped: The caramelized onion adds immense flavor to the soup.
¾ cup dry brown lentil: We're not using meat; therefore, lentils will add texture and flavor to the soup.
2 tbsp oregano and garlic powder: You can't leave out the seasonings!
1 can (14 ounces) tomato: Use diced tomatoes to save time.
1 can (6 ounces) tomato paste: Tomato paste adds consistency to the soup, as we're not using cornflour or heavy cream to thicken it.
4 cups vegetable broth: Use low-sodium broth.
8 lasagna pasta: Break the lasagna strips into small 2-inch pieces. You can use gluten-free lasagna also if you prefer.
Fresh mozzarella for garnish: Lasagna without cheese is incomplete!
Recommended
Instant Pot Kung Pao Cauliflower
Instant Pot Korean Cauliflower
Instant Pot Vegetarian Moroccan Stew
Frequently Asked Questions (FAQs)
As the instant pot lasagna soup recipe is a relatively new recipe for many, I have answered some common queries regarding it.
Q. Can we add ground beef or Italian sausage to this recipe?
My version of the instant pot lasagna soup recipe is vegetarian; however, if you're not vegan, you can use ground meat or Italian sausage in the recipe by all means. The cooking time might increase by several minutes due to sauteing the beef.
Q. Can we add vegetables to the instant pot lasagna soup recipe?
If you want to make your lasagna soup healthier and more nutritious, you can add some vegetables to it. I would recommend adding zucchini, baby spinach, and sweet corn.
Q. What other cheese can we use for garnishing?
That totally depends on what you prefer. This recipe can use mozzarella cheese, ricotta cheese, or parmesan cheese.
Q. How can I store the instant pot lasagna soup?
You can store it in an air-tight container in the refrigerator for up to 3 days.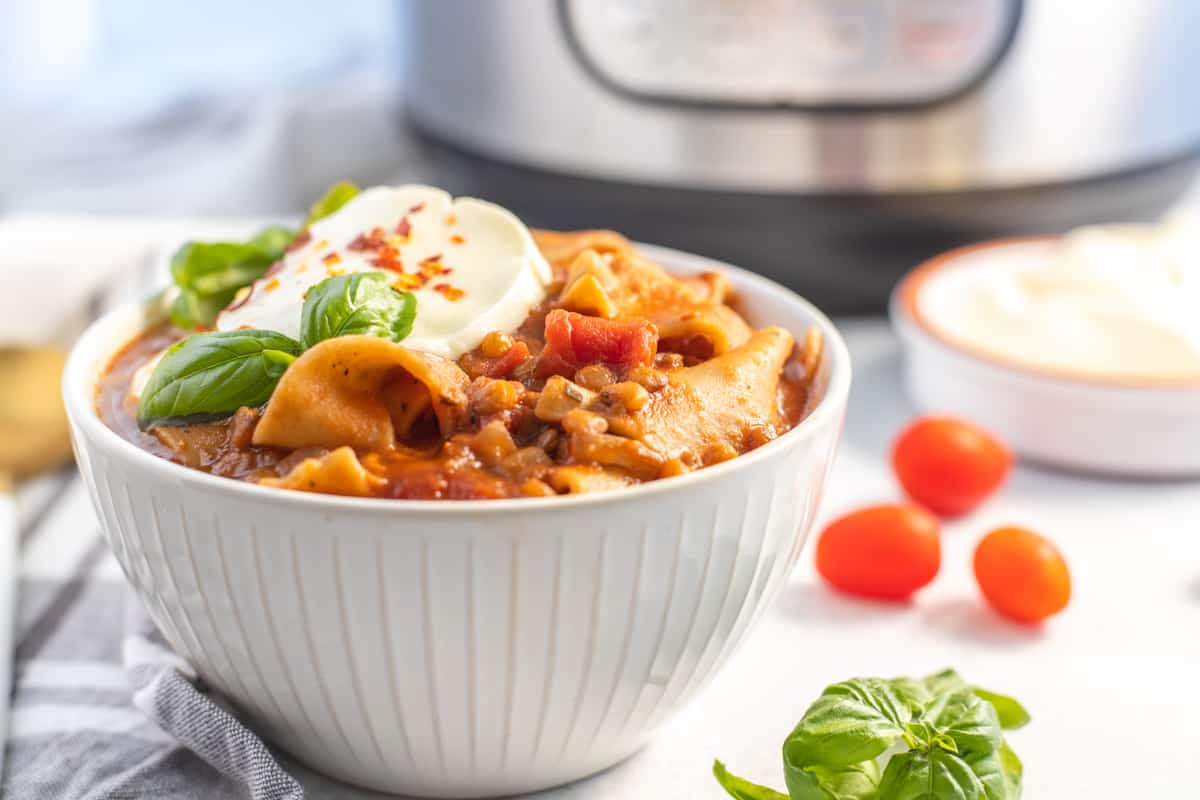 Tips and Tricks
Here are some useful tips and tricks for a lip-smacking lasagna soup recipe:
1. You can use store-bought tomato paste or homemade for this recipe, based on what you find convenient.
2. Cheese is an important ingredient for this recipe to make the soup tasty and creamy, so I suggest not leaving it out. You can opt for low-fat or some other cheese if you think regular cheese is too heavy.
3. Add an extra cup of vegetable broth to the soup if you prefer a high liquid to noodle ratio.
4. If you store and reheat the soup, add extra broth as the lasagna strips tend to soak up all the liquid.
5. For added flavor, you can switch vegetable broth with chicken broth.
More Easy Instant Pot Recipes