A beautiful blend of orange and fig flavor comes together beautifully with the creamy frosting in this ridiculously easy fig loaf cake recipe. Don't be fooled by how it looks- this unassuming cake is sure to knock your socks off.
But before you jump right into the recipe, here's a bit more that you should know about it.
What is a Fig Loaf Cake?
The fig loaf cake is actually just a simple, classic loaf cake packed with the flavors of fig and orange, and topped with a cream cheese frosting.
If Love Fig Bread, then you'll Love this Fig Loaf Cake Recipe
One of the best things about this recipe is the fact that this loaf cake is actually pretty easy to replicate in your kitchen. It just a few kitchen essentials and a little time to put together, and it tastes absolutely divine!
A traditional fig bread is a quick bread recipe that everyone loves making in their homes. Quick bread recipes don't require yeast, so there's no waiting the yeast to rise for a delicious bread to enjoy!
Can I Prep the Fig Loaf Cake in Advance?
You sure can! The cream cheese frosting can be prepared upto 2 days in advance and refrigerated. You can also bake the cake (or section out the batter into muffins), allow it to cool down and refrigerate (or even freeze it) entirely for upto 3 days before frosting it and giving it those finishing touches.
This recipe is particularly great if you are planning to bake this cake for a house party you're hosting, and a spectacular holiday dessert to make for your home or to give as a gift!
What Else Can I Use as a Frosting?
While this recipe calls for the cream cheese frosting to be prepared from scratch, you don't necessarily need to do that. You can use packaged cream cheese frosting or even vanilla frosting if you want to.
Another great idea is to entirely skip the frosting and prepare a simple glaze using orange juice, sugar, butter and some orange zest, and drizzle it over the cake after it has cooled down.
How Do I Store the Leftovers?
Just like any other cake, the fig loaf cake can be refrigerated for up to 5 days. Remember to transfer the leftovers to an airtight container to preserve its freshness.
Tips & Tricks to Make the Fig Loaf Cake
While making the fig loaf cake is a straightforward process, you might want to keep these additional tips and hacks handy.
Want to lend the cake an extra citrusy, orangey flavor? Throw some orange zest into the mixture.
Remember to allow the cake to rest on a cooling rack for at least an hour, if not more, before you frost and serve it. The residual heat will cook the cake thoroughly, and the frosting won't end up melting as well.
Don't have sour cream? You could use Greek yogurt instead. The sour cream does lend a bit of tanginess to the cake, but Greek yogurt is the next best alternative.
Got some extra fresh figs? You can peel and chop them and add some of them into the batter as well.
Looking for a healthier alternative to unsalted butter? Olive oil is a great choice.
Are you a fan of super fluffy and spongy cakes? Just separate the egg yolks from the whites, and beat the whites separately in a large bowl until they reach the stiff peak consistency. Then, fold in everything together. This extra step will help you get that extra soft and spongy texture to the cake.
Serving Ideas & Suggestions
The fig loaf cake is best served warm, right out of the oven (if you're planning to glaze it) or cold (if you're planning to frost it). To go the extra mile, you can also team it up with a scoop of vanilla ice cream.
Loved how easy it was to whip up this delicious sweet treat? On the hunt for some more fantastic cake recipes to try out? Here are a few good ones you might want to take a look at.
Yield: 1 Loaf
Fig Loaf Cake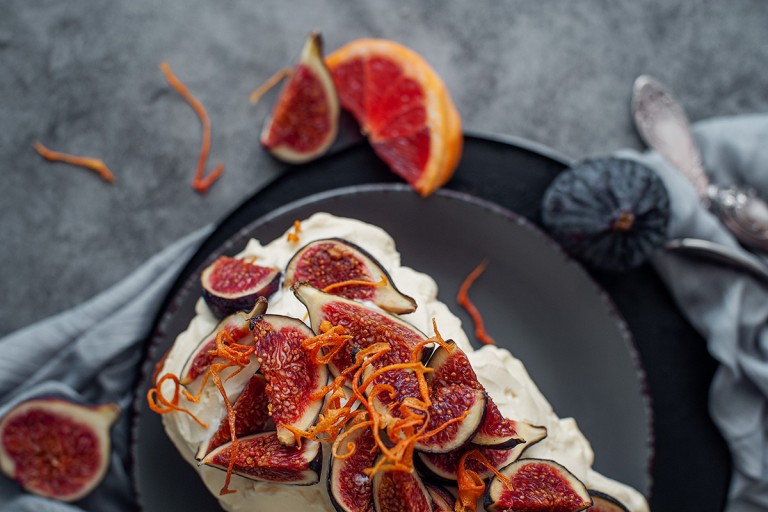 You'll love this fig loaf cake topped with fresh slices of fig and a cream cheese icing.
Total Time
1 hour
15 minutes
Ingredients
For Cake
1 3/4 cups all purpose flour
2 tsp baking powder
3/4 cup sugar
3/4 cup unsalted butter, softened at room temperature
1/2 cup sour cream
3 eggs at room temperature
2 tsp vanilla extract
2 tablespoons fresh orange juice
1 tsp cinnamon
1/2 tsp nutmeg
1/2 tsp salt
For Frosting
8oz cream cheese
1/2 cup unsalted butter, softened at room temperature
1/4 cup sour cream at room temperature
1/2 cup powdered sugar
For Garnish
Instructions
Preheat the oven to 350 degrees F (176 C) and line a standard-sized loaf pan with parchment paper.
In a large bowl, combine all dry ingredients: flour, sugar, baking powder, and spices.
In another bowl combine wet ingredients: butter, sour cream, vanilla extract, orange juice, and eggs.
Pour the wet ingredients into a bowl with the dry ingredients and stir everything well until combined and you have a thick batter.
Spoon the batter into your prepared tin. Smooth the surface and bake in the preheated oven for 50-60 minutes or until browned and a skewer or toothpick inserted in the center comes out clean.
As it bakes, prepare the frosting. In a bowl mix cream cheese, butter, powdered sugar, sour cream, with a handstand blender until smooth.
Remove the loaf from the oven and let it cool for about 1 hour.
Spread the frosting on top using a spatula. You may have some left over.
Garnish with fresh fig slices and orange zest.