21 Trader Joe's Cookie Butter Recipes
I love these Trader Joe's cookie butter recipes, and fell in love with the different cookie butter recipes there are out there! If you've ever been to a Trader Joe's, then you must have come across their coveted jars of delicious and highly addictive Cookie Butter. This stuff is like a jar of pure delight, and you can eat it right out of the jar or on just about anything.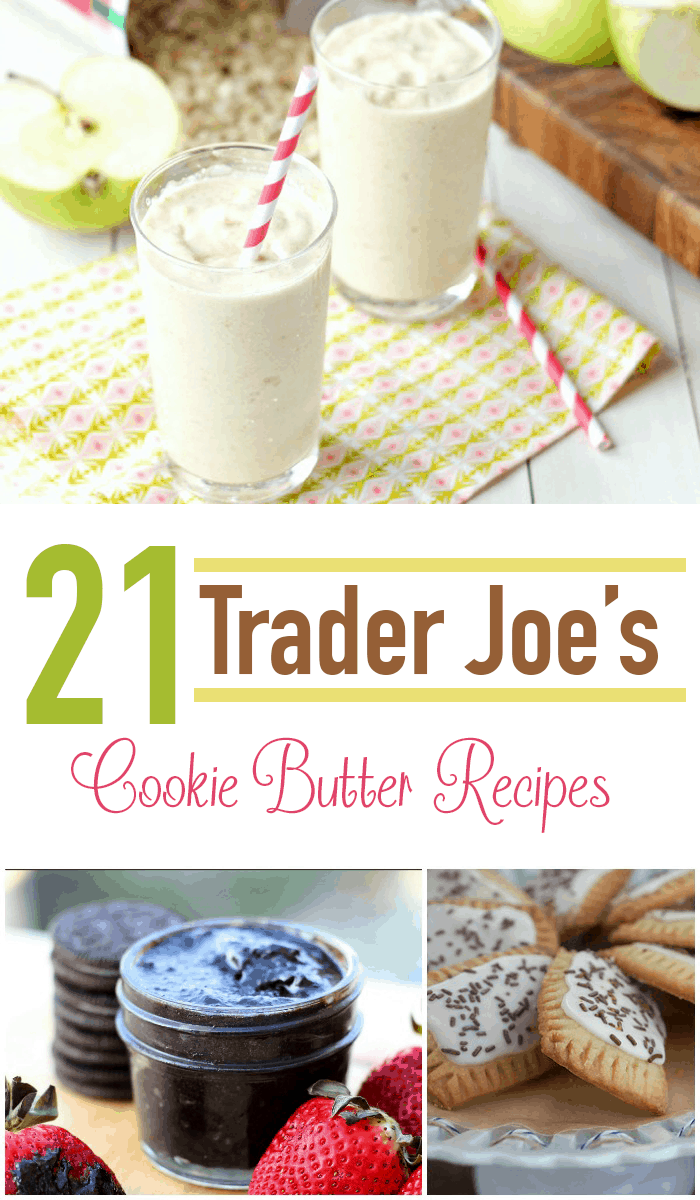 Then I froze in my tracks and wondered what kind of Trader Joe's Cookie Butter recipes there were on there in the world. Holy crap, I'm telling you…there's a lot!
With each new Trader Joe's Cookie Butter recipe I found, I drooled and then realized how I gained all this extra weight sitting on my belly. If you don't have a Trader Joe's around you, then your grocery store might carry the Biscoff brand of cookie butter. Last resort? You can find the Cookie Butter here on Amazon!
I recently introduced my nephews to Cookie Butter when they first moved in, and we kinda went through a whole case of it within a month! Luckily, my honey works there…so we get that grateful discount when we buy them! However, I was trying to find ways to eat the cookie butter then just straight out of the jar. I am so amazed by these recipes with cookie butter, and can't wait to make more!
These recipes are insanely delicious! I have this fabulous Cinnamon Raisin Peanut Butter Rolls that I made before, and you can easily take out the raisins and peanut butter, and fill it up with cookie butter! OMG…what an amazing cookie butter recipe that can turn out to be so deadly for the waistline lol.
Insanely Delicious Recipes with Cookie Butter Recipes
Extra gooey chocolate chunk cookie butter bars! Made with that jar of random, but delicious, cookie butter you have sitting in your pantry. It is loaded with flavor and will be perfect if you get the next craving.
The cookies are so soft and chewy. They are made with spreadable cookie butter that you can only find at the store or online. They're not too sweet, but they taste like sugar cookies because of the caramel flavor. If you love cinnamon, gingerbread men, molasses cookies, or anything that is related to Cookie Butter/Biscoff then these will be your new favorite ones to make for the holidays.
This cookie butter pie is an outstanding, decadent dessert. The crust is made out of cream cheese and the filling is cream with five ingredients. You can eat this pie alone or you can put it on ice cream. It tastes really good!
The Biscoff Coffee Cake Muffins are a delicious breakfast. They can be sweet and are perfect for when you want something to eat in the morning.
A gooey butter cake is already a great dessert, but adding Biscoff Cookie Spread takes it to another level. I came up with this idea while working on my favorite theme and the response has been incredible!
This dessert is easy to make. It has a tasty cookie-crumb base. The top can be made from Biscoff Spread, cream cheese, and Cool Whip. This will look nice when it comes out of the oven.
This cake is perfect for somebody who only needs one serving. It is fluffy, moist, and sweetened with cookie butter spread. You can eat it in a bowl or from the mug, but be careful because it tastes really good!
These fluffy donut holes are the perfect addition to a breakfast or afternoon snack. If you eat more than two, they are too sweet. The creamy Biscoff spread is sweet enough that just two is enough.
This banana and cheesecake-flavored dessert taste really good. It is moist and fluffy from the banana flavor, and creamy from the cheesecake flavor. We pour cookie butter over it before we slice it into each loaf. Then you can eat it because it is tasty!
This three-ingredient dessert is delicious. You will get sweetness, creaminess, and crunchy texture from the crispy edges on top of each layer. It is an easy item to make that will satisfy your sugar craving in no time!
The Cookie Butter Tini is here! It tastes like cookie butter, and it is made with milk, vodka, and simple syrup. You can drink it during the day or at night.
I love cookie butter! It's hard to find, but I found it and now I can make these delicious cookies that taste like my favorite treat.
This is a great dessert that has the perfect balance of sweet and salty. It has a chocolate chip cookie base, a rich Biscoff cheesecake filling, and an irresistible drizzle. With just a few ingredients, it is ready to eat quickly!
These rice crispy treats are very tasty. They have cookie butter in them if you don't live near Trader Joe's. You can also use Biscoff Spread from Wal-Mart!
Do you want to make ice cream? You can with this easy recipe. You just need to mix all the ingredients together and put them in the freezer. No complicated machine is needed!
If you want a tasty and easy treat for the holiday, these salted dark chocolate cookie butter cups are perfect. They make good homemade gifts!
In less than 2 minutes, you can mix up a frosty green apple cookie butter oat smoothie. This creamy concoction is made with almond milk, frozen bananas, and oats.
If you want a dessert that will fill up your stomach, you should try this one. It is sweet and tastes good.
These Biscoff White Chocolate Gooey Bars are so good. They are sweet and spicy and gooey. They have white chocolate in them, too! This recipe is easy, too because it only takes a few minutes to make.
Milk chocolate cookie butter crunch cups are really easy to make. You need six ingredients and you can make them in 30 minutes. So, these are a good recipe when you don't have time or energy to start from scratch.
Cookies that taste like the cookie butter from a jar! Cookies have the same soft and creamy flavor, with more crumbles to make them crunchy.
This treat has a gooey filling of Biscoff Cookie Butter for the ultimate sweet taste. There are butterscotch brownies and they are filled with cookie butter.
Bake up some of the best chocolate chip cookies you have ever had with the addition of cookie butter. They are really good, and not too sweet.
I love cookie butter, and so does my family. It has quickly become a staple in our home. We've been using it to make all sorts of recipes. One day we were eating some pumpkin bread with cream cheese frosting when the idea for this recipe popped into my head! I hope you enjoy these as much as we do!
If you don't have a Trader Joe's around you, no worries! You can always purchase the Cookie Butter Online!