This zucchini ravioli recipe with dried tomatoes, ricotta, mozzarella, and herbs is packed with delicious flavors. This is a healthy low-carb twist on an Italian classic.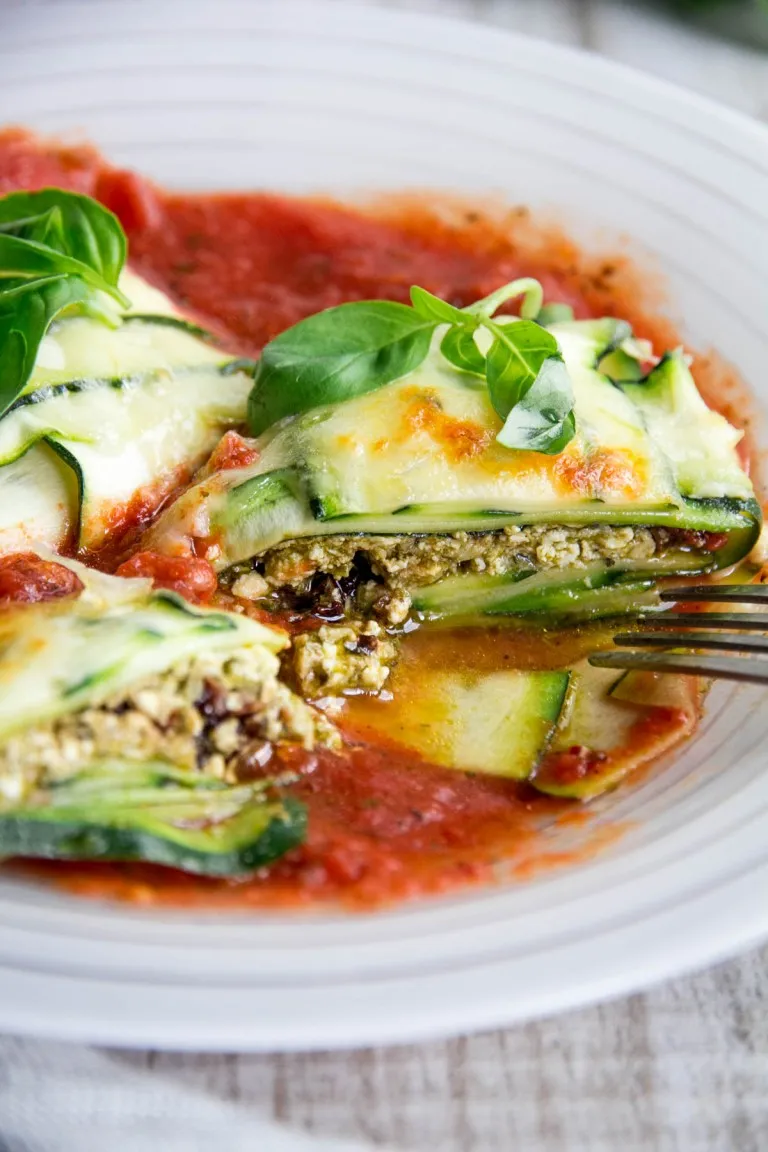 This zucchini ravioli is one of the best ways to enjoy a gluten-free, low-carb, vegetarian dinner. Made with simple ingredients, it is an easy weeknight meal that you can whip up in just 30 minutes. Super fresh, light, with an added zing. This is a recipe your whole family will love!
Regular pasta is full of carbs, it might not be a healthy choice to have every day. However, as my family loves ravioli, I decided to switch pasta with something healthy and tasty, like zucchini. And thus, I came up with this zucchini ravioli recipe that is now a family favorite!
It's cheesy, it's creamy, it's tasty, and it's healthy! So, why not?
Why We Love Zucchini Ravioli Recipe?
This zucchini ravioli recipe is quite a simple recipe that you can prepare in under 30 minutes. Plus, it tastes great!
We love this recipe because it is the ultimate alternative to regular ravioli with more health and nutrition. Zucchini is a fiber-rich vegetable with a healthy amount of vitamins A, B, and C, which makes it healthier than flour-based pasta.
This recipe does not require much work except peeling and cutting the zucchinis. After that, you just have to place the filling between the zucchini strips and fold it like ravioli. The only thing that remains now is for the dish to bake to golden brown cheesy perfection.
The ingredients for the zucchini ravioli recipe are also quite basic. I've used ricotta cheese, mozzarella cheese, and basil pesto for the filling with sauteed garlic and sun-dried tomatoes. These items are enough to give it the savory taste we all look for; however, a little seasoning and a layer of marinara sauce enhance the flavor and make this dish even more creamy and tempting.
So, whether you're having guests over for dinner, making something for a potluck supper, or just craving something cheesy and comforting, the zucchini ravioli is a great option.
Ingredients for Zucchini Ravioli Recipe
2 zucchinis: Cut the zucchinis into wide strips.
6 oz ricotta cheese: The thick creamy texture and mild taste of ricotta make it ideal for ravioli filling.
6 oz shredded mozzarella cheese: Mozzarella melts while cooking, giving the dish a rich, creamy, and cheesy flavor.
½ cup sundried tomatoes: The tart flavor and chewy texture of the sun-dried tomatoes add a distinct savory taste to the dish.
1 clove of garlic: Use freshly minced garlic to enhance the flavor of the filling.
Olive oil: A healthy option for sauteeing tomatoes and garlic.
2.5 oz green basil pesto: The bright green color of the pesto makes the dish tempting, while the garlicky and cheesy flavor is what everyone loves about it!
2 cups marinara sauce: Any Italian dish is incomplete without a touch of some marinara sauce!
Frequently Asked Questions (FAQs)
Here are some common queries regarding the zucchini ravioli recipe:
Q. How can I cut the zucchini into perfect strips?
If you aren't skilled at using a knife to cut perfectly thin strips, you can use a mandoline slicer. It cuts the zucchini into thin strips that are easy to roll into ravioli.
Q. Do we have to peel the zucchini?
I suggest not peeling the zucchini for this recipe as it helps the ravioli hold its shape. Also, the skin of the zucchini is rich in fiber and edible.
Q. Can I store the leftover zucchini ravioli in the fridge?
You can store the leftovers in the fridge in an air-tight container for up to 4 days.
Q. Can we freeze the zucchini ravioli?
I recommend not freezing it as the zucchini releases water when thawed, which might change the texture. However, if absolutely necessary, you can freeze it for up to 3 months.
Tips and Tricks
Here are some valuable tips and tricks for the zucchini ravioli recipe:
1. Use thick and wide zucchinis for this recipe to keep the filling inside.
2. Sprinkle some salt onto the zucchini strips before wrapping to absorb the excessive moisture.
3. If you don't have a mandoline slicer, you can use a regular vegetable peeler to cut the zucchini into strips.
4. To make the dish creamier and saucier, you can add a little more marinara sauce on top of the cheese layer.
5. You can add baby spinach to the recipe for added nutrition and taste.
Easy Recipes You Need to Make
Yield: 2
Zucchini Ravioli Recipe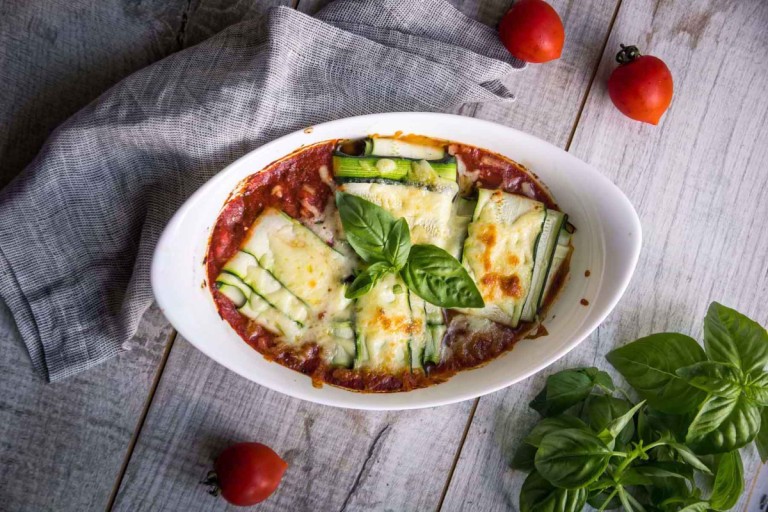 Ingredients
2 zucchinis
6 oz ricotta cheese
6 oz shredded mozzarella cheese
½ cup sundried tomatoes
1 clove garlic
Olive oil
2.5 oz green basil pesto
2 tbsp Italian seasoning (basil, oregano, rosemary, thyme, garlic powder, sage)
Bunch of fresh basil
1 tsp salt
1/2 tsp pepper
2 cups marinara sauce
Instructions
Preheat the oven to 350 F.
Cut off the end of each zucchini then using a vegetable peeler or mandolin, cut each zucchini into wide strips.
Cut the sun-dried tomatoes into small chunks. In a small skillet, preheat olive oil then add chopped garlic and sun-dried tomatoes. Sauté for 3 mins.
Make the filling: In a medium bowl, mix ricotta, ⅔ of shredded mozzarella, basil pesto, few fresh chopped basil leaves, seasoning and sautéed sun dried tomatoes with garlic. Mix everything well.
Assemble the ravioli: Lay two strips of zucchini noodles so that they overlap lengthwise. Spoon about 1-2 tablespoons of filling in the center of the zucchini. Bring the ends of the strips together to fold over the center, working one side at a time. Turn ravioli over, seam-side down. Repeat with remaining zucchini and filling.
Spread marinara sauce in the bottom of a baking dish. If you want it to be spicy, mix in 1 tsp of chili powder.
Place zucchini ravioli in the dish and top with remaining mozzarella. Bake about 25 mins, until the cheese is melty and golden on top.
Garnish with fresh basil leaves before serving. Enjoy!