If you're looking for a quick and delicious recipe that tastes great and is loved by all, try this puff pastry tomato tarts recipe. It is a light, flaky, and healthy dish you can prepare in less than 30 minutes, minus the baking time.
These tomato tarts serve as the perfect appetizers, quick snack options, and something you can serve with afternoon tea or take to a BBQ party. It can also work as a side dish for an event or party you're hosting at home.
The best part? It requires minimum ingredients yet turns out lip-smackingly delish!
Why We Love Puff Pastry Tomato Tarts with Caramelized Onions?
Puff pastry tomato tarts are one of the healthiest options out there. It is easy to make and requires just a few basic ingredients to turn a plain puff pastry sheet into a savory dish.
This quick recipe combines the sweet and flavorful taste of caramelized onions, with the succulent roasted tomatoes, and creamy provolone cheese, on top of light, flaky, and crispy puff pastry.
Puff pastry is already quite buttery, with crunchy layers of dough and an airy texture. We can use it for sweet treats also; however, when we incorporate it with flavorful caramelized onions, soft baked tomatoes, and shredded cheese, the result is a satisfying, mouth-watering, and tempting bite-size tart, bursting with the sweet and tangy flavor of tomatoes.
We love this recipe, because it can be whipped up in very less time with the ingredients usually present in our kitchen. It can be served as a side dish with dinner, or on it's own, or with soup. It's ideal for when your kids' friends are coming over for a play date, or when you're just craving some cheesy and savoury comfort food.
There are endless possibilities of how to devour this flavorsome tart!
Ingredients for Puff Pastry Tomato Tarts Recipe
2 tablespoons butter: Use unsalted butter softened at room temperature.
1 tablespoon olive oil: I used olive oil for frying the onions; however, you can use vegetable oil or which ever oil is available at home.
½ onion sliced: Caramelized onions are perfect to heighten the flavor of these tomato tarts.
Salt and pepper to taste: A little seasoning never harmed anybody!
2 sheets puff pastry: I used store-bought puff pastry and thawed it according to package instructions.
1 large egg plus 1 teaspoon water beaten: To give the pastry a nice golden color and shine.
2-3 large Roma tomatoes: Roma tomatoes are flavorful, tangy, and have a fresh taste.
1/2 cup provolone: Shred the cheese using a grater.
Fresh parsley and herbs: To give the tomato tarts some color and complement the taste of tomatoes.
Frequently Asked Questions
I have answered some common queries from people attempting to make these puff pastry tomato tarts:
Q. How do I store leftover puff pastry tomato tarts?
Puff pastry tomato tarts should be eaten fresh, as the tomatoes release their juices and make the tart soggy. However, if you do have some leftover tarts, you can keep them in the refrigerator for up to 2 days.
Q. Can we use other tomatoes instead of Roma tomatoes?
If you don't have Roma tomatoes, you can use any other tomatoes that you have available, like cherry tomatoes, Perino tomatoes, better boy tomatoes, or other varieties. The trick is to thinly slice the tomatoes and lay them on the puff pastry.
Q. How can I reheat a puff pastry tomato tart?
The easiest way to reheat a puff pastry tomato tart is in the microwave. You can also reheat the tarts in an oven for 5 to 7 minutes at 350 degrees F.
Q. Can I prepare the puff pastry tomato tarts ahead of time?
As tomatoes tend to get soggy over time, it is best to prepare the tarts right before serving.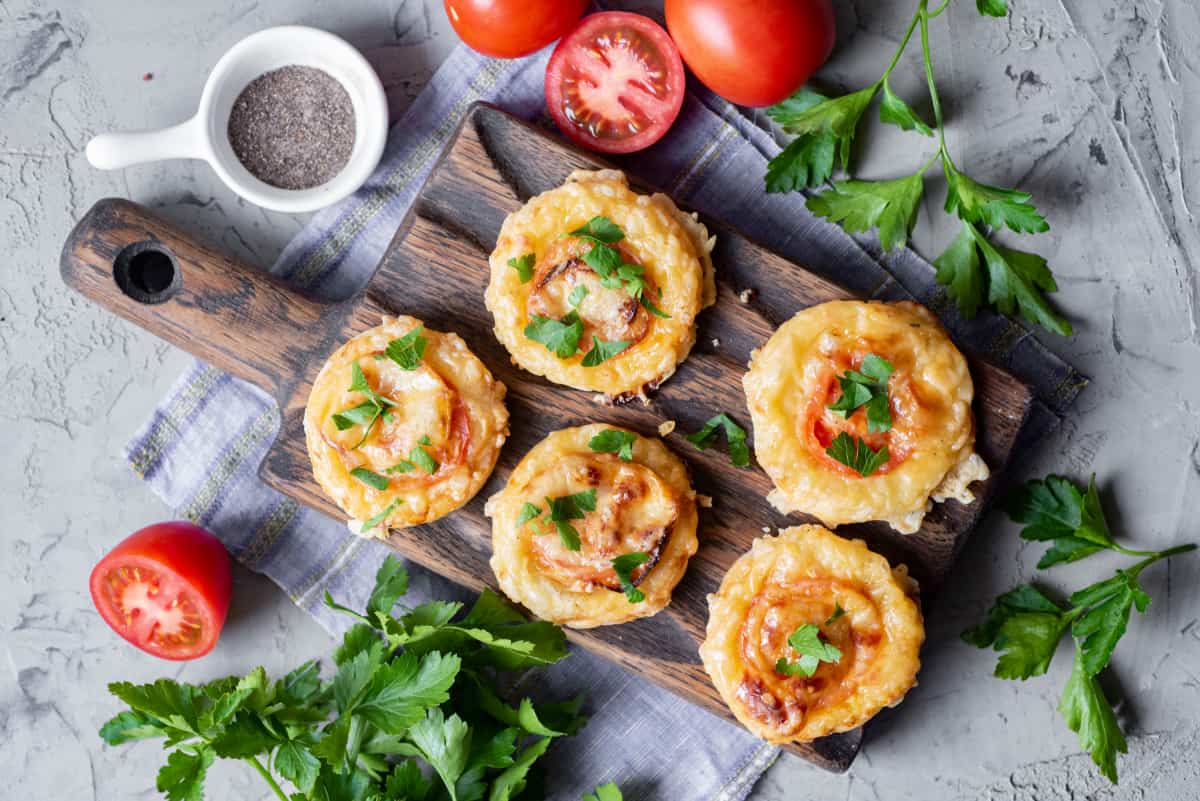 Tips and Tricks
Here are some helpful tips and tricks to make your puff pastry tomato tarts perfect:
1. Thaw the puff pastry sheet before baking to avoid it from breaking and cracking.
2. Always use fresh ripe tomatoes for the recipe for a nice sweet flavor and for the seasonings to blend in for added taste.
3. If you're using cherry tomatoes, lay them on the puff pastry with the cut side facing down to preserve more flavor.
4. You can also use mozzarella cheese or cream cheese or a mix of different cheeses, to make the tomato tarts creamy and more succulent.
More Delicious & Easy Recipes to Enjoy
Yield: 24
Puff Pastry Tomato Tarts
These puff pastry tomato tarts make a perfect party appetizer or brunch treat!
Ingredients
2 tablespoons unsalted butter
1 tablespoon olive oil
1/2 onion sliced
Salt and pepper to taste
2 sheets puff pastry thawed according to package instructions
1 large egg plus 1 teaspoon water beaten
2-3 large Roma tomatoes, thinly sliced
1/2 cup provolone, shredded
Fresh parsley and herbs
Instructions
Melt butter and olive oil in skillet over medium heat.
Add sliced onions to pan, season with salt and pepper and cook, continuing to stir, until tender and golden brown (this process takes a while- up to 20 minutes) then set aside.
Preheat oven to 425 degrees.
Using a round cookie cutter, cut circles of dough out of puff pastry and place on a parchment paper lined baking sheet.
Brush egg wash on each pastry circle then top each with a tomato slice in the direct center.
Next add caramelized onions on top of each tomato slice and sprinkle shredded cheese.
Bake for 16-20 minutes or until tarts are puffy and golden brown and cheese has turned golden and melty. Top with parsley and herbs if you would like. Cool for a few minutes then serve.