Easy to Make Instant Pot Blueberry Compote
This Instant Pot blueberry compote is so easy to make, and you'll make this a part of your new breakfast addition. Classic compote recipes include large amounts of white sugar, but this version relies on a more modest amount of real maple syrup for a bit of sweetness. Although this recipe uses fresh blueberries, lemon juice, and cinnamon, feel free to add any combination of fresh berries, citrus juice, and seasonings to create your own tasty flavor variations.
This blueberry compote goes fabulous over waffles, pancakes, and so much more. You can even pour over a fabulous pork tenderloin if you want. If you make my Instant Pot Steel Cut Oats recipe, then you can EASILY add this on as a fabulous topping.
I Love How Easy This Instant Pot Blueberry Compote Recipe is to make
In fact, you can easily swap out the blueberries for: strawberries, blackberries, raspberries, and more. I love recipes that you don't have to worry, stress, and fuss over. This is a super easy "set it and forget it" recipe. If you love making your own little gifts for people, then this is one of those perfect gifts that you can make in batches. Looking for a great little baby shower gift? Then this is your answer. You can buy little mini mason jars to put them in. They'll be totally cute!
Can I use other Fruits to Make a Compote?
You totally can! However, I would keep it to the berry family: Raspberries, blackberries, mulberries, etc. Those will work best as replacement fruits!
Instant Pot Recipes & News You'll Love
Yield: 3 Cups
Instant Pot Blueberry Compote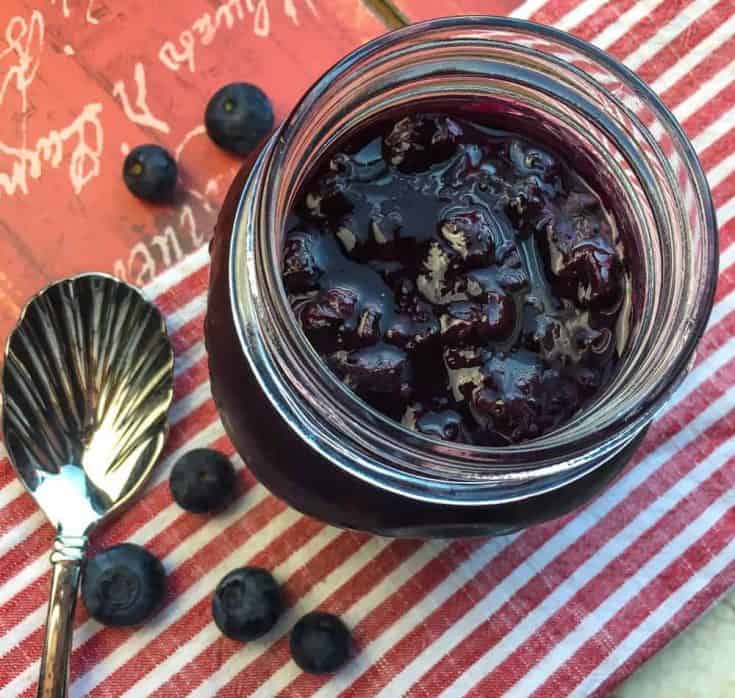 This Instant Pot Blueberry Compote is easy to make, and goes great with so many different foods!
Additional Time
5 minutes
Ingredients
3 cups fresh or frozen blueberries
¼ cup real maple syrup
2 tablespoons fresh lemon juice
1 teaspoon vanilla extract
1 teaspoon ground cinnamon
¼ teaspoon salt
Instructions
1. Add all ingredients to Instant Pot container and stir to combine. Add the lid and lock into position.
2. Set the pressure valve to the "Sealing" position and press the "Manual" button. Adjust the setting to high and select 3 minutes for the cook time. After a brief pause, the Instant Pot will automatically start building pressure at this point.
3. When the cook time has finished, turn the Instant Pot off to prevent scorching. Allow the pressure to release naturally for 10 minutes, then manually release the remaining pressure by carefully moving the valve to the "Venting" position.
4. Optional: To thicken the compote, select the "Sauté" function and cook over high heat, stirring constantly, until excess liquid is reduced. Turn the Instant Pot off and immediately remove container from the unit to cool.
Notes
Serve immediately or transfer to an airtight container and store in the refrigerator for 7 to 10 days. Serve over ice cream, yogurt, waffles, French toast, pancakes, oatmeal, pound cake, cheesecake, or rice pudding with a dollop of whipped cream, if desired. Enjoy!