The Best Instant Pot Spanish Rice
I love making my Instant Pot Spanish Rice recipe! It's super flavorful with the right amount seasonings that hits all of those fabulous parts on your palate, and my family is kinda fond of it. The Instant Pot allows me worry about everything else while it's cooking for me.
Throughout my life, I've made this Spanish rice recipe way too many times…and my family has loved it each time. However, I want to try to find a make an an Instant Pot Spanish rice recipe version of it.
If I can find a way to convert a recipe into an Instant Pot Recipe, then I'm totally going to try to do it!
My Instant Pot Spanish rice recipe turns out so fabulous! The rice doesn't turn out to be mushy from cooking it in the Instant Pot, so that's a win-win for everyone.
Can you make Instant Pot Spanish Rice with Ground Beef?
Yes, you totally can! However, I definitely recommend in cooking the the ground beef first before using it with the Spanish rice recipe. Otherwise it will turn out super greasy, and almost slimy tasting. Beef grease and bacon grease are two different things when cooking any type of rice with.
You CAN cook the ground beef in your Instant Pot, drain the grease out of it, and then cook your bacon. That's something I would totally do…and in that order.
Is your Instant Pot Spanish Rice Easy to Make?
That's another huge yes! It's super easy to make, and this Spanish Rice recipe is very versatile. You can add in just about any ingredient in with your Spanish rice, and you should be fine. Everyone gets scared a little bit when the try to make rice in their Instant Pot, but I promise you that you'll be fine!
Sometimes, you might get a burn message, depending on which model you have (some are a little sensitive then others). You shouldn't get that message at all! 
Why am I getting a Burn Message?
Well, it could be because of a few different reasons, but here are the most note worthy ones:
The "Burn" warning seems to be prevalent to the newer models, and there are several possible causes when making Spanish rice.
1. The pot is too hot from sautéing, should this happen in the future simply turn off the unit and wait a few minutes. In the directions, I actually tell you to press the Cancel button at a certain stage because I want the unit to start cooling down before using it to Pressure Cook. Instant Pot states that you should wait at least 5 minutes so your unit doesn't over heat.
2. The gasket in improperly inserted in the lid. This means that it's cooking, but you get the steam released around the edges of the lid, and you're not able to build up pressure…so it burns.
3. There are bits stuck to the bottom of the pot after cooking the bacon pieces and onions. Please note that I stated to scrape the bottom of the pot to help release those bits. You can also scrape the bottom of the pan again when you pour in the remaining liquid into your Instant Pot liner.
Can I add beans with this Spanish Rice Recipe?
Of course you can! The only thing is that you can use dried beans or a pureed bean, such as refried beans, in it. The dried beans won't cook because there's not enough time nor liquid to properly cook them.
You can make Instant Pot Pinto Beans, and then add those beans into your Spanish rice and beans. Add the beans in last. You won't have to add on extra time at all. Just let it cook as according to the directions I'm giving you. 
Instant Pot Spanish Rice Recipe
Yield:

6
Instant Pot Spanish Rice
Additional Time:
17 minutes
This is the easiest Instant Pot Spanish Rice recipe that you'll make. Your family will totally love it!
Ingredients
1 cup sweet onion, chopped
7 slices thick cut bacon, cut into 1" pieces
1 cup organic chicken broth
1 cup water
8 ounce can tomato sauce
1/2 teaspoon garlic powder
1/2 teaspoon herbes de Provence
1 teaspoon chili powder
2 cups long grain rice, washed thoroughly
Instructions
Press Sauté button on your Instant Pot, and set the time for about 15 minutes. Once heated, add your bacon and cook until bacon is at a nice crispy stage. Remove bacon and set to the side.
Add in diced onion and stir. Cook until softened and slightly translucent. Scrape the bottom of the pot to release the browned bacon bits.
Add in your rice, and stir well.
Add in seasonings, and give it stir well to distribute the flavorings. Press the Cancel button on your Instant Pot.
Then add in your tomato sauce, and lightly stir.
Finally, add in your chicken broth and water. Stir the mixture well so the liquids are combined thoroughly.
Cover with lid, lock in place, and close vent. Press the Rice button and cook for 5 minutes. Once done, allow to NPR for 7 minutes. If you do it longer than 5 minutes, then you might have mushy rice, and NOBODY wants that.
Add bacon to rice and give it a nice stir. Enjoy!
Notes
I love eating this topped with sour cream and shredded cheese on top! You can side it with refried beans, avocado, fresh limes, and so much more.
I use a 1:1 ratio of water and chicken broth; however, you can use 2 cups of either liquid for your choice.
Recommended Products
As an Amazon Associate and member of other affiliate programs, I earn from qualifying purchases.
Nutrition Information
Yield
6
Serving Size
1
Amount Per Serving
Calories

157
Total Fat

5g
Saturated Fat

2g
Trans Fat

0g
Unsaturated Fat

3g
Cholesterol

15mg
Sodium

600mg
Carbohydrates

20g
Fiber

1g
Sugar

3g
Protein

7g
Step 1: Cook Bacon for Spanish Rice.
Step 2: Cook Onions until soft.
Step 3: Add Rice and stir well.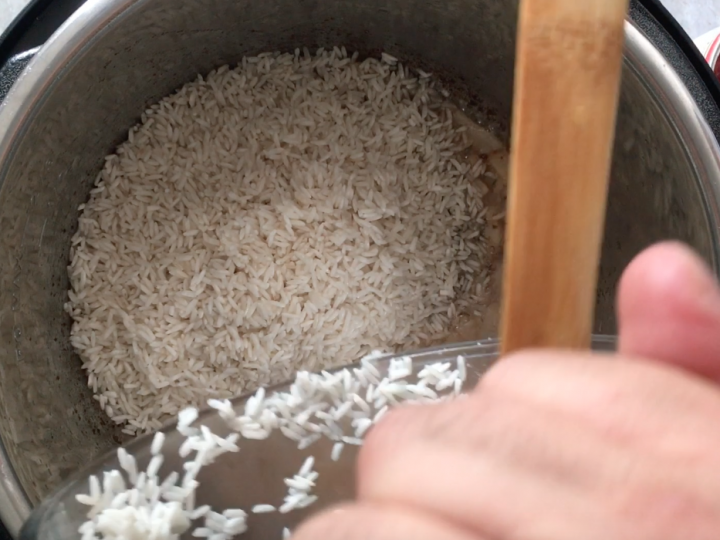 Step 4: Add seasonings and tomato sauce, then stir well.
Step 5: Add in chicken broth and water, then stir well.
Step 6: Close lid and cook according to directions.
More Easy Instant Pot Recipes
I hope you enjoyed this recipe! Here are some more fabulous & easy Instant Pot recipes that I know your whole family will love. If you don't see a recipe that you're looking for, send me an email and I will see what I can do about creating one for you or finding a fabulous recipe that I've found from someone else. Sharing is caring!
Great Instant Pot Reads
If you want to stay in the know of new recipes, DIY craft projects, and more, then be sure to sign up for my email newsletter! You'll get some of the great information that I have to give.