Homemade Chocolate Granola
Almond Chocolate Chip Granola is a crunchy, flavor-packed homemade granola recipe that anyone can make in under an hour!
This delicious granola consists of old-fashioned oats, crunchy sliced almonds, coconut oil, maple syrup, chocolate chips, vanilla extract, cinnamon, and cocoa powder. Once combined, the granola is baked, cooled, and then sprinkled with a generous amount of chocolate chips before being enjoyed with milk, yogurt, or used as a topping in smoothie bowls or over ice cream!
WHAT YOU SHOULD KNOW ABOUT ALMOND CHOCOLATE CHIP GRANOLA?
Dr. James Caleb Jackson was the first to create granola in 1863, made from baked crumbled graham flour and called 'granula'. It had to be soaked in water before being eaten.
Shortly afterward, Kellogg's ready-to-eat cereal surfaced on the market, made from oatmeal, wheat flour, and cornmeal. The name was changed to 'granola' to prevent possible lawsuits, but the concept was the same and inspired by Jackson's granula!
HOW SHOULD I STORE THIS ALMOND CHOCOLATE CHIP GRANOLA?
Store leftover almond chocolate chip granola in an airtight container or Ziploc bag at room temperature for up to 2 weeks or in the freezer for up to 6 months.
WHAT CAN I SERVE WITH THIS ALMOND CHOCOLATE CHIP GRANOLA?
Enjoy a bowl of this homemade granola with milk or Greek yogurt. You can also use this granola in other recipes such as smoothies, parfaits, trail mix, or as a topping over ice cream.
IS THIS GRANOLA GLUTEN-FREE?
Yes, it is! Oats are naturally gluten-free. All the other ingredients are gluten-free, making this recipe completely gluten-free.
Regardless, check the packaging on the oats, as these can be stored in a facility with gluten-based products.
IS THIS GRANOLA VEGAN-FRIENDLY?
Definitely! I've used maple syrup when making this granola instead of honey and coconut oil instead of butter.
WHAT VARIATIONS CAN I MAKE TO THIS RECIPE?
Add dried fruit to this granola or other nuts such as cashews and walnuts. Coconut flakes are another delicious add-in.
Change chocolate chips to white chocolate chips, dark chocolate chips, or butterscotch chips.
If you don't need this granola to be vegan, you can use honey instead of maple syrup or butter instead of coconut oil.
I've included cocoa powder in this recipe as a way to give it even more of a chocolate flavor. You can omit this if you want.
ARE OLD-FASHIONED OATS THE SAME AS ROLLED OATS?
Yes. These terms are used interchangeably and are the same ingredient.
TIPS FOR MAKING ALMOND CHOCOLATE CHIP GRANOLA
Old-fashioned oats (also known as rolled oats) are the best for making homemade granola. Don't use quick-cooking oats – these are not a good substitute.
Allow the granola to cool completely before stirring the chocolate chips into the mixture and storing it in your container. If you don't, the chocolate chips will melt instead of having delicious, whole chocolate chips sprinkled throughout the granola mixture.
You can double this recipe for a larger quantity of granola, but I recommend making it in batches so that the mixture can spread out enough on the baking tray and get a good crunch.
More Breakfast Recipes You'll Love
Yield: 3 cups
Homemade Chocolate Granola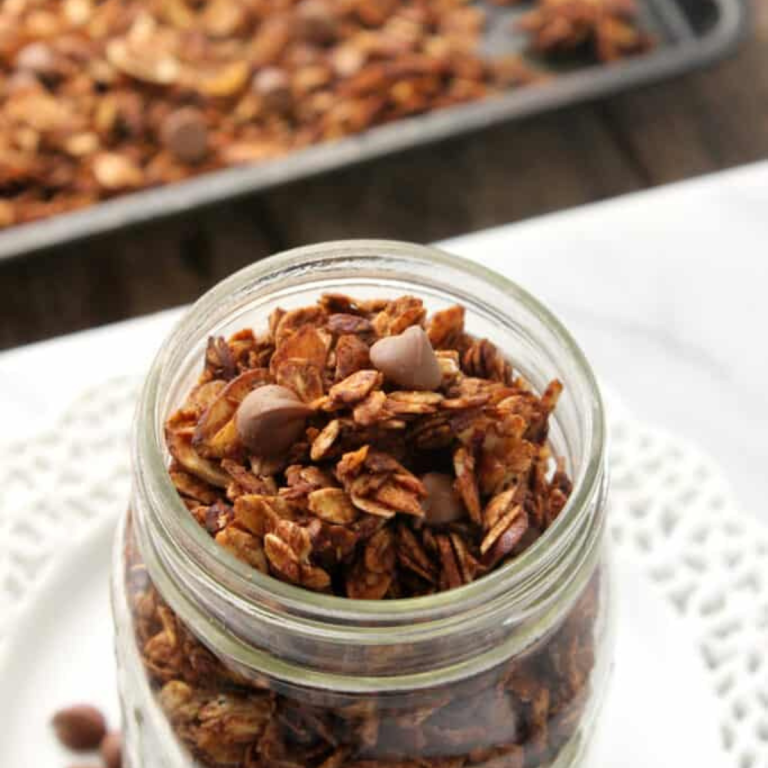 You'll love this Delicious Homemade chocolate granola for breakfast or a snack to mix with your favorite yogurt.
Ingredients
2 1/2 cups old fashioned oats
3/4 cup sliced almonds
1/4 cup cocoa powder
1/2 teaspoon ground cinnamon
1/4 cup coconut oil, melted
1/2 cup maple syrup
1 teaspoon vanilla extract
3/4 cup chocolate chips
Instructions
Preheat the oven to 300° F. Line a baking sheet with parchment paper or a silicone baking mat.
In a large bowl, combine the oats, almonds, cocoa powder, and cinnamon. Stir to combine.
In a small bowl, combine the coconut oil, maple syrup, and vanilla extract and stir.
Pour the mixture over the dry ingredients and stir to combine.
Pour the granola onto the prepared baking sheet and spread into an even layer.
Bake for 45 minutes, stirring after 20 minutes to keep the granola from clumping too much. Take out of the oven and let cool. The cold air will help the granola to crisp up and become crunchy.
Once completely cooled, sprinkle the chocolate chips over the granola and gently toss to combine.
Place the granola in an airtight jar or bag and store for 2 weeks.