These Lavender Macarons are uniquely flavored and an absolute show stopper. Use my easy to follow steps to make the perfect macarons every time!
WHAT IS THE DIFFERENCE BETWEEN A FRENCH MACARON AND A MACAROON
Let's start off by talking about how they are two completely different (while both absolutely delicious) cookie recipes.
Here's a breakdown of what makes them different:
MACARONS
A Macaron is a bite-sized cookie that is traditionally brightly colored, uniquely flavored, and uses almond flour for the base of the recipe.
They can be a variety of flavors and colors, but the overall texture of the cookie and filling will generally remain the same.
FRENCH MACAROON
Macaroons are equally as delicious as Macarons and use shredded coconut as their base ingredient. The flavor is generally the same flavor combination no matter which recipe you use.
INGREDIENTS YOU'LL NEED TO MAKE THESE LAVENDER MACARONS
These Lavender Macarons taste like they take a ton of effort and ingredients to make, but believe it or not, they're no more complicated than making a traditional macaron.
Here is what you'll need to make this yummy macaron recipe:
FOR THE MACAROON SHELLS
Almond Flour – Is the primary ingredient for the macarons.
Powdered Sugar – Adds the perfect amount of sweetness to this recipe.
Lavender Buds – Adds a delicious lavender essence. You can't have Lavender Macarons without lavender, can you?
Egg Whites – This is what makes the macaron cookies light and fluffy.
Cream Of Tartar – Helps stabilize the egg whites so your macaron shells aren't runny.
Granulated Sugar – Works with the egg whites to create the signature stiff peaks that make this recipe a success.
Purple Gel Food Coloring – Gel food coloring gives the most intense color without making the stiff peaks runny.
FOR THE MACARON FILLING
Butter – For the body of the filling
Powdered Sugar – Makes for a perfectly sweet filling
Honey – Adds some natural sweetness while complimenting the flavors of the lavender.
Heavy Whipping Cream – Makes the filling creamy and rich.
EQUIPMENT NEEDED TO MAKE LAVENDER MACARONS
Parchment Paper or Silpat Mats to prevent these delicate cookies from sticking.
Heatproof Bowl you'll need this to make the perfect meringue.
Two Large Sheet Pans to bake the
macarons on.
Piping Bags help make perfectly shaped and sized Lavender Macarons.
Small Sauce Pan to heat your batter to the perfect temperature.
Stand Mixer This isn't essential but you'll be thankful you have it because whipping your meringue can be quite the workout by hand.
Rubber Spatula helps you scrape the sides of the bowl to get every last delicious bit out.
Fine Mesh Sieve You'll want to keep any big clumps or pieces of almond flour out for the perfect macaron texture.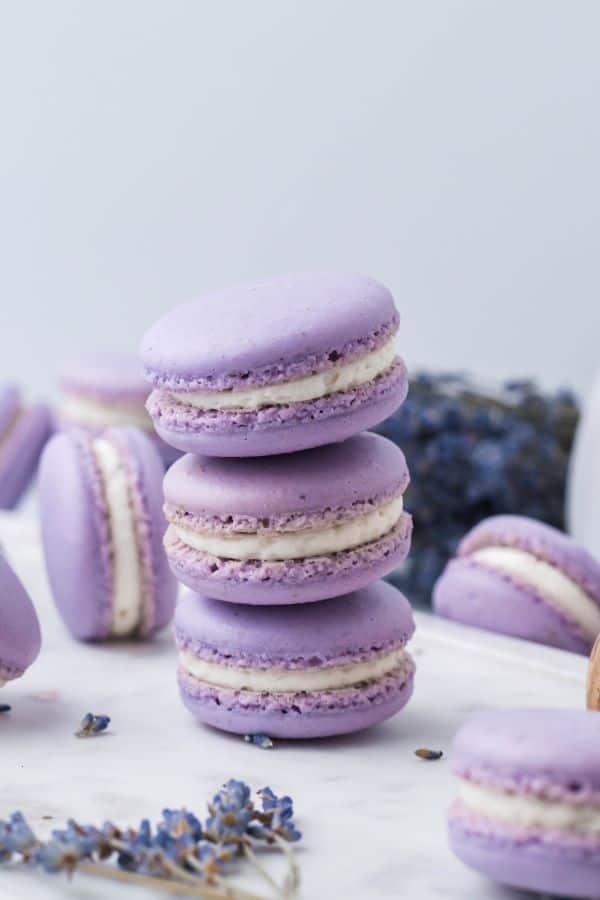 HERE'S HOW TO MAKE THESE GORGEOUS LAVENDER MACARONS
Macarons are known for being a bit of a tricky dessert to master, but if you use my easy-to-follow instructions, you'll be making these Lavender Macarons like you've been baking your whole life.
HOW TO MAKE THE MACARON SHELL
Make your almond flour extra fine. Add almond flour, powdered sugar, and lavender buds into a food processor and pulse for about 1 minute. Set aside for now.
Make your beautifully colored stiff peaks. In the bowl of a stand mixer, add egg whites and cream of tartar and whisk until bubbly.
GRADUALLY add in the granulated sugar. Mix until soft peaks form. Add in purple food color and mix on high speed until stiff peaks form. The meringue should stick straight up when you remove the whisk.
WHAT IS A "STIFF PEAK"?
Stiff peaks are the shape your egg white and sugar mixture should retain when they are mixed the proper amount for this Lavender Macaron recipe.
A stand mixer whisk attachment with lavender colored stiff peak on top
Under-mixing will result in peaks that are not stiff and still slightly runny. This will make runny macaron batter and make it difficult for the "feet" of the macarons to form.
You can either use the photo I included above to use as a reference. If you're brave, you can hold your mixing bowl upside down to test for the proper texture. If the mixture stays put, you're ready to pipe your macarons.
TIPS AND TRICKS FOR MAKING PERFECT LAVENDER MACARONS
Use a macaron template. You can either use a Silpat mat that includes a template or you can print off a template from Google Images. This keeps them a uniform size so your macarons are perfectly shaped.
Get the air bubbles out. Tap your sheet pan against the counter to help release any air bubbles that may be in the batter. Use a toothpick to pop any stubborn bubbles that rise to the top.
Smooth the top. If there are little "peaks" that stay on the top of the shells, wet your finger and gently press those into the shell.
More Cookie Recipes To Enjoy Making