Don't let the name fool you because these Coffee House Cookies are the perfect cookie for any household. Take a delicious cookie dough and load it up with chocolate and chunks of your favorite candy bar and you've got a cookie that's hard to beat.
One of the best things about this recipe is that you can experiment with different ingredients every time you make them. They are perfect for holiday cookie trays, for bake sales, or for your kid's lunch box.
People will think you worked hard in the kitchen when they bite into these easy-to-make, yet so decadent treats. Make lots because they are sure to be gobbled up quickly!
What are Coffee House Cookies?
Coffee House Cookies are the perfect compliment to the rich, bold, flavor of a cup of coffee or a glass of cold milk, or eaten simply on their own. There's no trick to these easy and delicious cookies that will suit anyone's taste. Whip up this simple cookie dough base, load it up with your family's favorite candy bar, and see for yourself.
How Do I Store Coffee House Cookies?
Coffee House Cookies can be kept at room temperature for about a week. After your cookies have completely cooled, they can be stored in an airtight container or kept covered with plastic wrap or aluminum foil.
There's an old wive's tale if you put a slice of bread in the container of cookies, that it will help make them last longer and fresher! This is something I actually do; however, the cookies don't normally last long enough to not have that fresh baked flavor.
Can I Freeze Coffee House Cookies?
Coffee House Cookies can be frozen for up to two months in an airtight container lined with foil or with plastic wrap. Keep in mind that some candy bars freeze better than others! You won't want to let any go to waste, so wrap them up to enjoy another day.
To thaw frozen cookies, take them out of the container and spread them out until they come to room temperature. From there, you can serve them right away, or, if desired, refresh them in a 325º oven for 5 to 10 minutes.
Can I Make These Cookies Gluten Free?
Try brown rice flour as a gluten-free alternative to the wheat flour in this recipe. Substitute it in ¾ cup to 1 cup proportions for a more nutty flavored cookie. You'll have to verify your candy and chocolate chips are also gluten-free, however.
You can also use Bob's Red Mill All Purpose Gluten Free Flour! You'll totally be shocked by the results in using this flour!
Tips for Making Coffee House Cookies
To soften butter, let it stand at room temperature for about 45 minutes. It should be softened, yet still firm. Using butter that is too soft will cause cookies to spread too much.
Use the convection setting on your oven to speed up cook time by as much as 25 percent. Settings can vary from oven to oven so be sure to check for doneness throughout the cooking process. If your oven does not adjust the temperature automatically, just reduce the baking temperature by 25 degrees.
You can easily double or triple this recipe. Separate the batches and change out the candy bar flavor and you've got multiple desserts to serve!
More Easy Cookie Recipes You'll Love!
Yield: 17-18 Large Cookies
Coffee House Cookies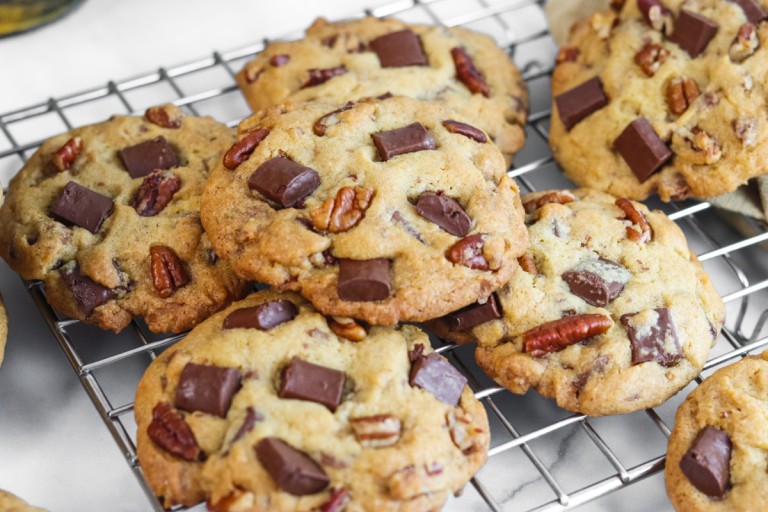 Additional Time
5 minutes
Ingredients
1 1⁄2 cup flour
3⁄4 cup brown sugar, packed
1⁄2 cup butter, softened
1 egg
1⁄2 tsp baking soda
1⁄4 tsp salt
1 tsp vanilla
1 cup semi-sweet chocolate chunks, 1⁄2 cup reserved
1 cup candy bar pieces: nugget, caramel chunks, toffee bits, peanut butter cups, snickers, etc, roughly chopped
1 cup pecans, chopped, 1/3 reserved
Instructions
Preheat oven to 350°F. In a small bowl, sift together flour, baking soda, and salt. Set aside.
In a medium bowl, beat butter and brown sugar until creamy.
Add egg and vanilla to creamed sugar and butter mixture.
Gradually add flour to creamed mixture.
Stir in 1⁄2 cup semi-sweet chocolate chunks and pecans.
Chop your candy bar pieces and mix into batter.
Use a large cookie or ice cream scoop and place cookies 3" apart on parchment lined baking sheet as these will spread.
Lightly press cookies to flatten. Press the reserved 1⁄2 cup chocolate chunks and reserved 1/3 chopped pecans into tops of cookies.
Bake 14 minutes. Cookies should be slightly under baked.
Cool 5 minutes on baking sheet. Transfer to wire rack to cool.
Notes
Supplies:
• Small bowl
• Medium bowl
• Baking sheet
• Parchment paper
• Large cookie or ice cream scoop