Chai Sugar Cookies are chewy and soft sugar cookies that are bursting with chai spice flavor. These cookies will steal the show, and you can whip up a batch in no time at all!
Angela loves cookies, and she always loves when I have a recipe that she can help with. I need a quick and easy recipe for Angela to help and this Chai Sugar Cookies recipe are just the ticket. Now, the hardest part of making these cookies is not eating them all.
Frequently Asked Questions About Chai Sugar Cookies
What is Chai spice?
Chai Spice is a flavorful mix of ground cinnamon, ground ginger, ground cardamom, ground black pepper, ground nutmeg and ground cloves. Chai is a spicy flavor that reminds me of Snickerdoodle cookies with a slight kick. Chai is a heart warming spice that feels like a hug from your Grandma.
If you love a delicious cup of chai latte, then these chai sugar cookies are going to be right up your alley. I'm always looking to add cookie recipes to my arsenal, and these are definitely a keeper.
What equipment do I need to make Chai Sugar Cookies
Cookie scoop (Amazon)
Half sheet baking tray (Amazon)
Cooling rack (Amazon)
Silicone baking mat (Amazon)
Can I freeze these Chai sugar cookies?
Yes, you can absolutely freeze these cookies. There are two different ways that you can freeze your Chai Sugar Cookies.
First, you can freeze your completely baked cookies for up to three months. Place yoru baked cookies into a freezer safe bag or container and freeze for up to 3 months. To thaw simply remove from the freezer and allow to come to room temperature and then enjoy within three days.
The second option to freezing Chai Sugar Cookies is to freeze your cookie dough raw. To freeze using this method, you will need to place your cookie dough balls into a baking sheet. Spread them at least one inch apart so they are not touching one another.
Allow your cookie dough to harden, once the dough hardens remove dough from pan and place into freezer safe bag or container. Store in the freezer for up to three months. You can bake this cookie dough directly from frozen. Just add 2 to 3 minutes to your bake time.
Chai Sugar Cookies Recipe
2¼ cups all-purpose flour
1 tsp baking powder
½ tsp baking soda
½ tsp salt
¼ tsp ground cinnamon
¼ tsp ground ginger
¼ tsp ground cardamom
¼ tsp ground cloves
Pinch of black pepper
1½ cup granulated sugar
2-ounces cream cheese; softened
6 tbsp unsalted butter, melted
⅓ cup vegetable oil
1 large egg
1 tbsp milk
1 tsp real vanilla extract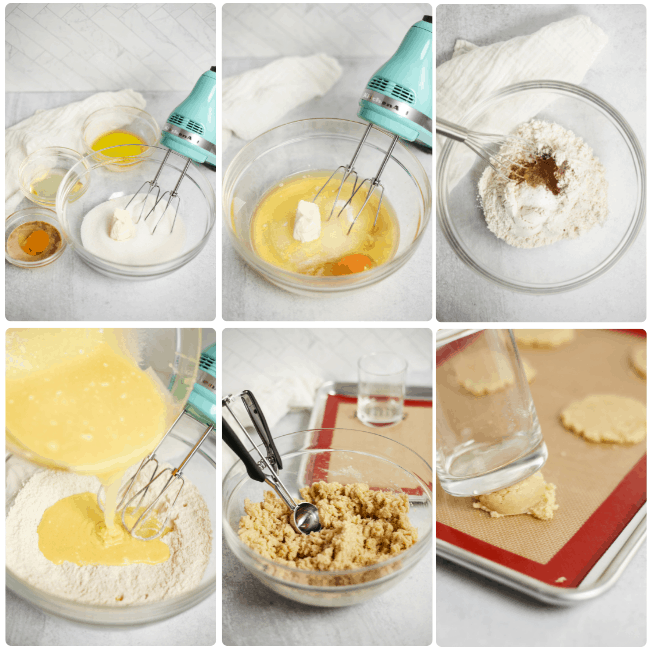 How To Make the Chai Cookies
Preheat oven to 350
Whisk together flour, baking soda, salt, cinnamon, ginger, clove, cardamom, and pepper in a large mixing bowl
In a medium bowl, mix the sugar and cream cheese until combined
Add melted butter to sugar and cream cheese and mix to combine.
Add milk, oil, egg, and vanilla to the sugar mixture and mix to combine.
Add the wet ingredients to the flour mixture, mix until combined.
Line a baking sheet with parchment paper or a baking mat. Using a spoon or cookie scoop, place about 1½ tbsp of dough on a cookie tray, about 3½ inches apart; these cookies will spread quite a bit to about 3 inches in diameter.
With the bottom of a glass or measuring cup, flatten the cookie dough to about ¼ inch.
Bake at 350 degrees for 11-12 minutes or until the edges just turn golden brown
More Dessert & Cookie Recipes
Yield: 18
Chai Sugar Cookies
I love these chai spiced sugar cookies! They're so easy to make, and I love all of the flavors that come in these delectable and addictive fun cookies.
If you love chai latte recipes, then be sure to add these fabulous cookies to your recipe list!
Ingredients
2¼ cups all-purpose flour
1 tsp baking powder
½ tsp baking soda
½ tsp salt
¼ tsp ground cinnamon
¼ tsp ground ginger
¼ tsp ground cardamom
¼ tsp ground cloves
Pinch of black pepper
1½ cup granulated sugar
2-ounces cream cheese; softened
6 tbsp unsalted butter, melted
⅓ cup vegetable oil
1 large egg
1 tbsp milk
1 tsp real vanilla extract
Instructions
Preheat oven to 350
Whisk together flour, baking soda, salt, cinnamon, ginger, clove, cardamom, and pepper in a large mixing bowl
In a medium bowl, mix the sugar and cream cheese until combined
Add melted butter to sugar and cream cheese and mix to combine.
Add milk, oil, egg, and vanilla to the sugar mixture and mix to combine.
Add the wet ingredients to the flour mixture, mix until combined.
Line a baking sheet with parchment paper or a baking mat. Using a spoon or cookie scoop, place about 1½ tbsp of dough on a cookie tray, about 3½ inches apart; these cookies will spread quite a bit to about 3 inches in diameter.
With the bottom of a glass or measuring cup, flatten the cookie dough to about ¼ inch.
Bake for 11-12 minutes or until the edges just turn golden brown