As temperatures start to rise, nothing quite beats a simple and refreshing Summer Couscous Salad that can be enjoyed at cookouts with family and friends.
This Summer Couscous Salad is loaded with flavor and the contrasting texture of soft pillowy couscous with crunchy cucumber and bell peppers.
With the couscous being made a couple of hours ahead of time to chill, you get to assemble and serve this couscous salad in a matter of minutes!
WHAT YOU SHOULD KNOW ABOUT SUMMER COUSCOUS SALAD
This recipe requires a little planning ahead since it is best that the cooked couscous has a slight chill to it by storing it in the fridge. I recommend cooking the couscous the night before and storing it in the fridge in an airtight container. The chilled couscous will absorb the flavors of the other ingredients far better than warm couscous.
HOW DO I COOK COUSCOUS PERFECTLY?
While couscous may appear straightforward to cook, there are a few tricks you should apply to ensure you get fluffy and properly cooked couscous. These include:
Use the correct ratio of water to couscous. The typical ratio is 1:1, meaning one cup of water for every cup of couscous.
Bring the water to a boil before adding the couscous. Once the water is boiling, remove it from the heat, add the couscous and stir.
Cover the pot with a lid and let the couscous sit for 5-10 minutes. This will allow the couscous to absorb the water and steam to cook it through.
Fluff the couscous with a fork. Once the couscous is fully cooked, fluff it with a fork to separate the grains and prevent clumping.
Add salt, butter, or other seasonings as desired.
For extra flavor, you can cook the couscous in broth instead of water. This will infuse the couscous with more flavor.
HOW SHOULD I STORE LEFTOVER COUSCOUS SALAD?
Any leftover salad should be stored in an airtight container in the fridge for 3-4 days.
I don't recommend freezing this salad since it contains ingredients like cucumber, bell peppers, and fresh herbs, which could become soft and mushy from the freezing and thawing process.
WHAT VARIATIONS CAN I MAKE TO SUMMER COUSCOUS SALAD?
For Mediterranean Couscous Salad: Add chopped tomatoes, cucumbers, red onions, feta cheese, and olives to the couscous, and dress it with a simple vinaigrette made with olive oil, lemon juice, and dried oregano.
For Grilled Vegetable Couscous Salad: Toss grilled zucchini, bell peppers, and eggplant with the couscous, and dress it with a balsamic vinaigrette.
For Fruit and Nut Couscous Salad: Add chopped fresh fruit, such as peaches, apricots, or cherries, and toasted nuts, such as almonds or pecans, to the couscous, and dress it with a honey-lime vinaigrette.
For Spicy Couscous Salad: Add chopped jalapenos, red pepper flakes, and black beans to the couscous, and dress it with a spicy vinaigrette made with hot sauce, lime juice, and honey.
For Caprese Couscous Salad: Toss chopped fresh mozzarella, cherry tomatoes, and fresh basil with the couscous, and dress it with a balsamic vinaigrette.
For Tabbouleh Couscous Salad: Toss chopped parsley, mint, tomatoes, and cucumber with the couscous, and dress it with a lemon and olive oil dressing.
For Thai Couscous Salad: Add shredded carrots, bell peppers, and chopped peanuts to the couscous, and dress it with a sweet and spicy peanut sauce.
TIPS FOR MAKING SIMPLE COUSCOUS SALAD
To prevent the cooked couscous from clumping while chilling, run a fork through it at various times while it chills in the fridge.
Stored couscous salad will naturally start to dry in storage. You could always add extra olive oil or dressing, but I prefer to consume leftovers within a couple of days.
This summer couscous salad can be enjoyed as a side dish to grilled meats and other main dishes, or you can add chopped bacon, ham, or shredded chicken and turkey into the salad and turn it into a hearty meal.
Fold the ingredients gently into the chilled couscous so that they are evenly spread throughout the couscous without the salad becoming a mess.
It's natural for some of the other ingredients like bell peppers or ingredients such as beetroot to 'bleed' into the couscous when storing leftovers. While it may not look appetizing, the salad will still taste delicious!
More Delicious Recipes to Enjoy
Yield: 6
Summer Couscous Salad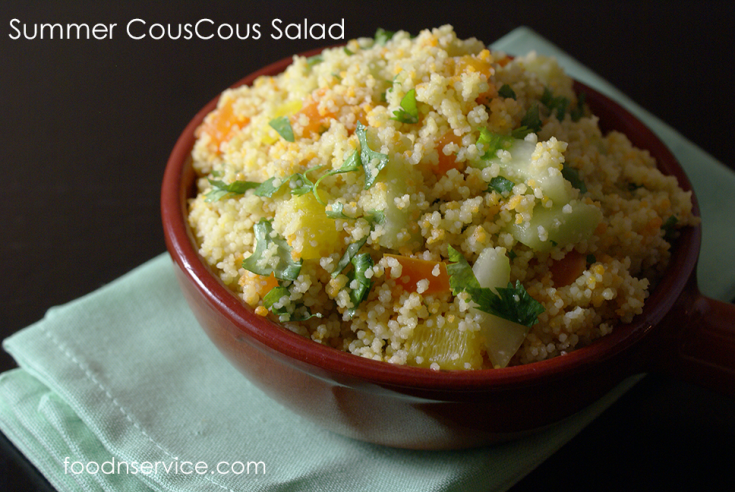 You'll love how much flavor is packed in this delicious Summer couscous salad that you can eat all year long!
Total Time
1 hour
17 minutes
Ingredients
2 cups of cooked & chilled couscous (follow directions on package)
1 diced yellow & orange bell pepper
1 cucumber (skinned, diced and de-seeded)
1/2 cup fresh diced cilantro
1/4 cup EVOO (Extra Virgin Olive Oil)
1/4 cup Apple Cider vinegar
3 limes
Instructions
Make sure that your couscous has a slight chill to it, not overly chilled though! We want it to absorb all these yummy flavors! During the chilling process in the refrigerator, I like to stir it once in while. This will prevent the clumping factor of the couscous.
With the limes, you want to cut them in half to squeeze the juice out of them. I suggest holding them upside down to catch a stray seed that might want to escape to freedom! Then, add the remaining ingredients.
Be sure to stir in everything with a "folding" technique so you don't make a big mess, but also evenly spreading out the flavors in the mixing process.
Notes
This salad is best eaten cold, so be sure to chill the salad in the fridge for about an hour!