Vegetarian Couscous Salad Recipe
Everybody loves quick and simple meals when the temperatures to start rising. To me, nothing says "Summer is here!" then making my favorite couscous salad!  It's a super fun salad that leaves you feel fresh and refreshed.
I like to make this couscous salad in large batches because I like to nibble on it during the day and throughout the week, and it's also just great tasting side dish for whatever it is that you want for lunch or dinner. Just take a look at all of these fresh & organic products that I'm using!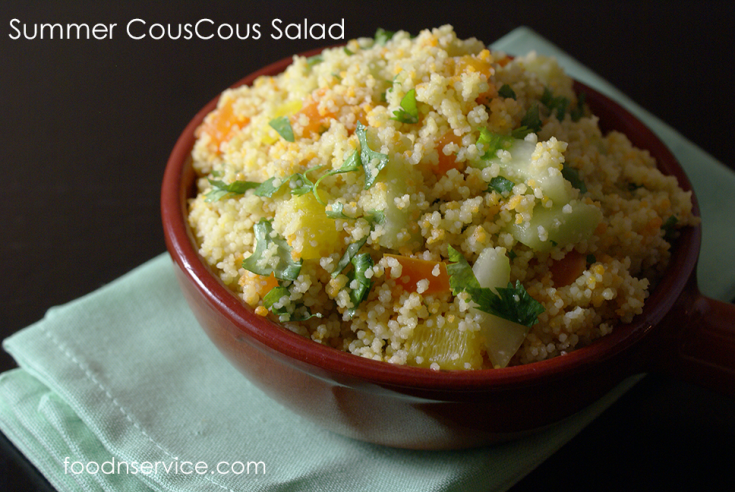 Yield: 6
Summer Couscous Salad
Ingredients
2 cups of cooked & chilled couscous (follow directions on package)
1 diced yellow & orange bell pepper
1 cucumber (skinned, diced and de-seeded)
1/2 cup fresh diced cilantro
1/4 cup EVOO (Extra Virgin Olive Oil)
1/4 cup Apple Cider vinegar
3 limes
Instructions
Make sure that your couscous has a slight chill to it, not overly chilled though! We want it to absorb all these yummy flavors! During the chilling process in the refrigerator, I like to stir it once in while. This will prevent the clumping factor of the couscous.
With the limes, you want to cut them in half to squeeze the juice out of them. I suggest holding them upside down to catch a stray seed that might want to escape to freedom! Then, add the remaining ingredients.
Be sure to stir in everything with a "folding" technique so you don't make a big mess, but also evenly spreading out the flavors in the mixing process.



You're done!  I like to let this yummy salad set for a good 30 minutes before eating.  It's low calorie, extremely healthy, and it's very refreshing on a hot summer day!  It's great for everyone to enjoy!
Some tips that I would like to offer:  To properly de-seed the cucumber, cut it down the middle (oblong wise) and then use a spoon to scoop out the middle.  You just want the firm outside of cucumber.  For the pepper, cut it into very thin strips and then dice.  You just want the small bits to add a nice sweetened crunch value to the salad, and it looks pretty, too!
To garnish your salad, I recommend in taking a nice big sprig of your fresh cilantro and place it in the center.  I hope you enjoy this recipe, as I have always enjoyed it!