Instant Pot Teriyaki Chicken
This Instant Pot Teriyaki Chicken is another fun and fabulous meal to make for your family. I love it when recipes are easy to make, easy to cook in one pot, and then easy to clean up afterwards. You'll love that this teriyaki chicken Instant Pot recipe tastes. You can eat it by itself, or easily enjoy it over a bed delicious jasmine rice.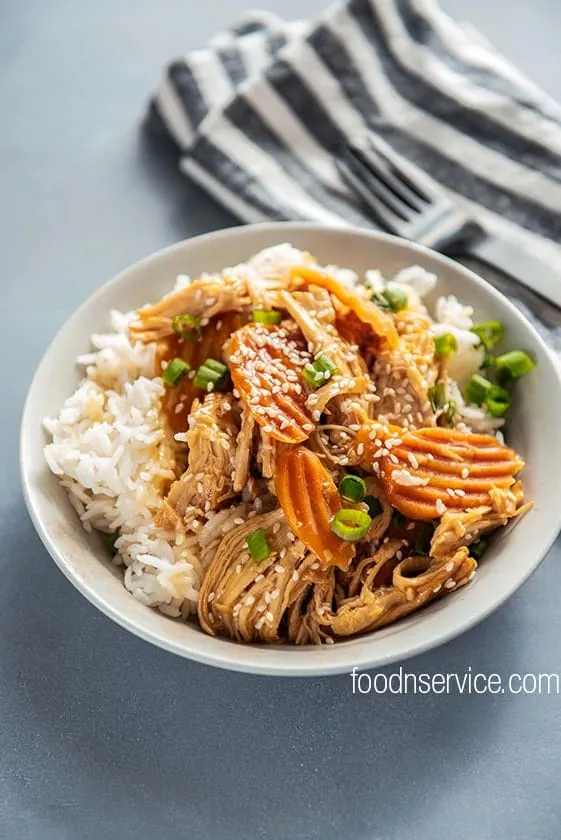 Why Do I love this Instant Pot Chicken Teriyaki Recipe?
I love an easy one pot meal recipe that I don't have to stress about it. I love chicken teriyaki, and there's just something more delicious about making it at home! Plus I can also make it in batches, so it helps with meal planning, too!
In this method of using whole chicken breasts in this recipe, we shred the breasts when we're done. However, you don't have to cook them whole and then shred them. You can cut the chicken breasts up into cubes, and then cook them.
For the carrot coins, you take whole carrots and use a standard grater with grooves in it. I used my handy mandolin that has that attachment. Mandolins are perfect for slicing up uniform veggies.
You can definitely double the recipe; however, if you do then you must increase the cooking time! No…you don't double the time. You're chicken will wind up drier than sandpaper and chewier than a leather belt. Add on an extra 4 minutes of cooking time to the pressure, and then allow it to fully NPR.
The directions for this Instant Pot Teriyaki Chicken states to NPR for 10 minutes, and then QPR. We are going to allow the Instant Pot to fully NPR when you double the recipe.
If you don't have an Instant Pot, then you can also make this in your Slow Cooker, and I've added the recipes below the Instant Pot one for you to follow along with!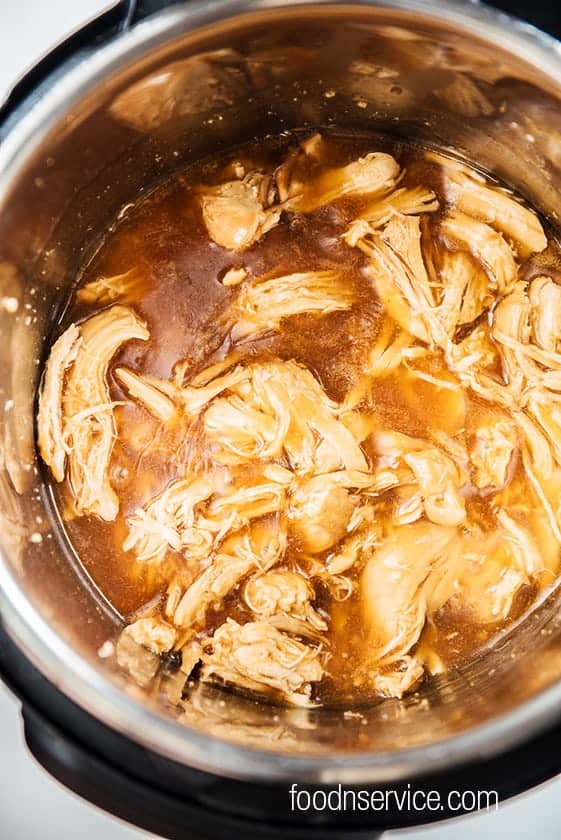 When your teriyaki chicken Instant Pot recipe is done, this is the texture you will have in the pot. That teriyaki glaze is going to be amazing over rice. I normally buy frozen jasmine rice from Trader Joe's, as it makes my meal time preparation done with less stress. I normally cook the frozen rice into the sauce when I pull out the chicken to shred.
This Teriyaki Chicken Instant Pot Recipe Is A Fabulous WW Instant Pot Meal!
If you're doing the whole Weight Watchers plan (Now WW), then you'll love that 1 serving will yield you 5 Freestyle Smart Points! Now can we be a little honest here? Most of the points is coming from the honey and brown sugar in sauce. If you drain off a lot of the sauce, you will totally be reducing your points by at least one or two! However, I'm adding the points in there because maybe you might want some of that delicious sauce over a bed of rice. 
Making Weight Watchers Instant Pot meals saves you so much time, and is also a great resource for batch cooking!
Instant Pot Resources You'll Love
Here's some great information that I think you'll love to know, especially in finding stuff for WW Instant Pot recipes, and other pieces of valuable information that you just might need one day.
Yield: 4
Instant Pot Teriyaki Chicken
My Instant Pot Teriyaki Chicken recipe is easy to make and super delicious. It'll make everyone super happy!
Additional Time
10 minutes
Ingredients
1 1/2 pounds boneless skinless chicken breast 1 cup chicken broth
1/4 cup soy sauce
1/4 cup honey
2 tablespoons rice vinegar
2 tablespoons brown sugar
2 teaspoons jarred minced garlic 1/4 teaspoon ground ginger
6 oz sliced carrots (coins)
2 tablespoons cornstarch
Instructions
Add chicken breast to electric pressure cooker

Whisk together broth, soy sauce, honey, vinegar, brown sugar, garlic and ginger

Pour over chicken in pressure cooker

Top with sliced carrot coins

Close and seal pressure cooker and set to 13 minutes high pressure (per manufacturer instructions)

Allow 10 minute natural pressure release (NPR) when done, then perform quick pressure release (QPR).

Remove carrots to separate bowl

Remove chicken to a large bowl and shred using two forks

Meanwhile, turn pressure cooker to sauté and allow sauce to come to a simmer

Whisk together cornstarch with equal amount of water until smooth

Stir into sauce and let simmer 2-3 minutes until thickened

Add chicken and carrots back into pot and stir to serve
FOR THE SLOW COOKER
Add chicken breast to slow cooker.

Whisk together broth, soy sauce, honey, vinegar, brown sugar, garlic and ginger .

Pour over chicken in the slow cooker.

Top with sliced carrot coins. Cook on high for 4 hours or low for 7.

Remove chicken breasts, and shred with forks. Place to side. Remove Carrots and place to side.

Whisk together cornstarch with equal amount of water until smooth. Allow to cook for 10-15 minutes to thicken. Then add back chicken and carrots. Stir until well covered and then serve.