Independence Day is just around the corner, and do you know what that means? Everything is red, white, and blue, including pies! The red and blue patriotic whoopie pies with soft creamy marshmallow fluff sandwiched between them is something you can't resist and want to devour as soon as you set your eyes on them! They're too adorable!
So, if you're looking for something sweet and fun to whip up on the 4th of July or Memorial Day, these patriotic whoopie pies are just the thing!
Why We Love Patriotic Whoopie Pies?
What isn't there to love about these soft, pillowy, creamy, and fluffy pies? They are sweet, velvety, and can be prepared real quick. Plus, the kids love em'! So, whether you're having a BBQ afternoon or a potluck supper on Independence Day or Memorial Day, these melt-in-the-mouth goodies are an excellent dessert that everyone will fall in love with!
The best thing about the patriotic whoopie pies is that all the ingredients used for making them are usually available at our homes. And the vibrant red, blue, and white colors make them super tempting.
The patriotic whoopie pies are reasonably-sized, so even if you are eating healthy, one helping won't ruin your diet!
So, mix up those red and blue batters, bake them to perfection, sandwich the sweet fluff in between them, and celebrate Independence Day to remember!
Ingredients for Patriotic Whoopie Pies
For the Pies
½ cup (113 g) Butter: Use unsalted butter at room temperature to avoid a lumpy batter.
2 cups (240 g) All-Purpose Flour: I used all-purpose flour, but you can use organic flour too.
1 tbsp (8 g) Cocoa Powder: For a rich, sweet chocolate flavor.
1 large Egg: Use an egg at room temperature for seamless mixing.
½ cup (112 g) Buttermilk: Buttermilk gives your pies a rich buttery taste and helps them rise; however, you can also use almond milk if you want.
1 cup (200 g) Light Brown Sugar: To keep the pies nice and soft with a mellow flavor.
½ tsp Vanilla Extract: The most important ingredient to enhance the taste of your pies.
Red and Blue Food Colors: To add a patriotic touch to your whoopie pies!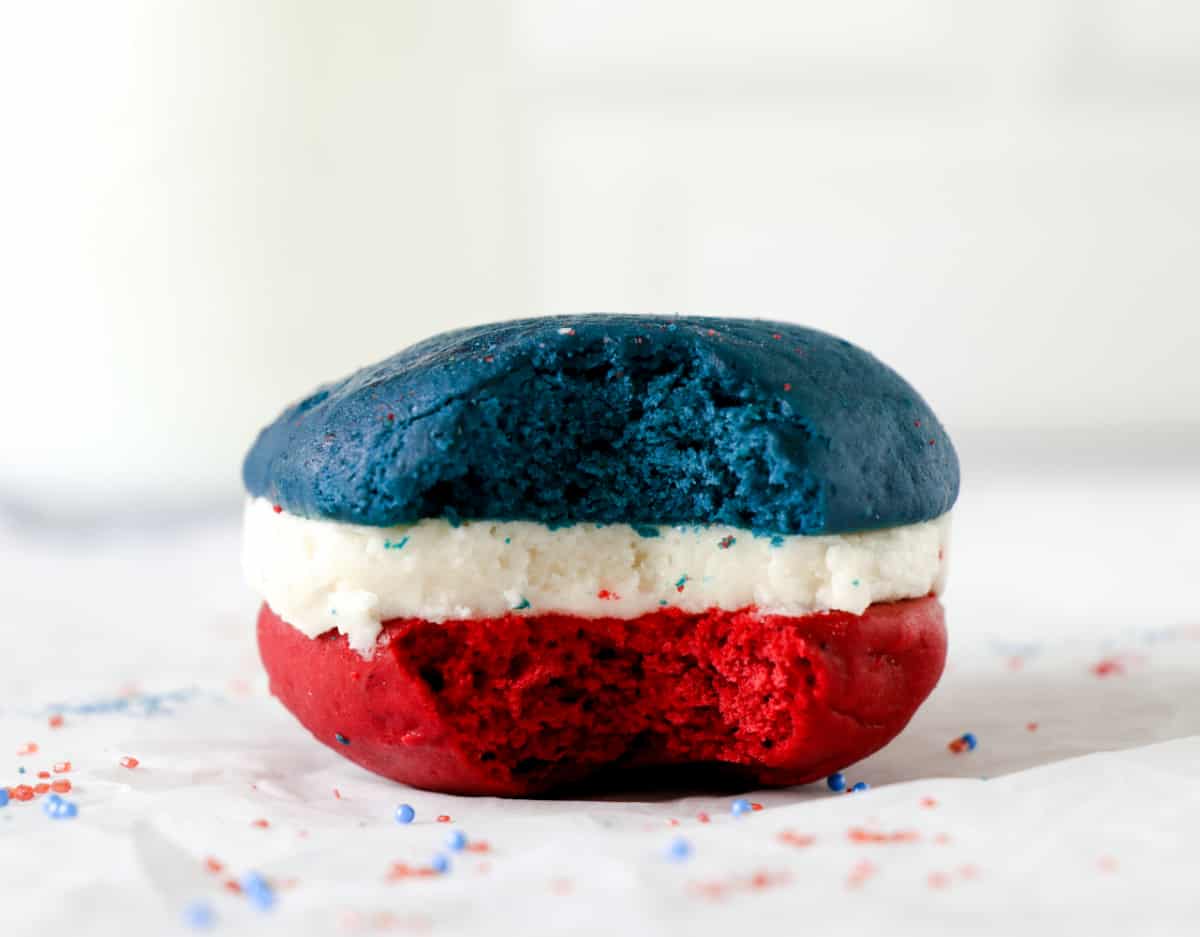 For the Filling
1 cup (200 g) Powdered Sugar: For a thick and sweet cream filling for the pies.
1 cup Marshmallow Fluff: It adds a fluffy texture to the pie filling.
½ cup (113 g) Butter: To make the filling smooth and creamy.
Frequently Asked Questions
Here are some common queries that might help you whip up the perfect patriotic whoopie pies: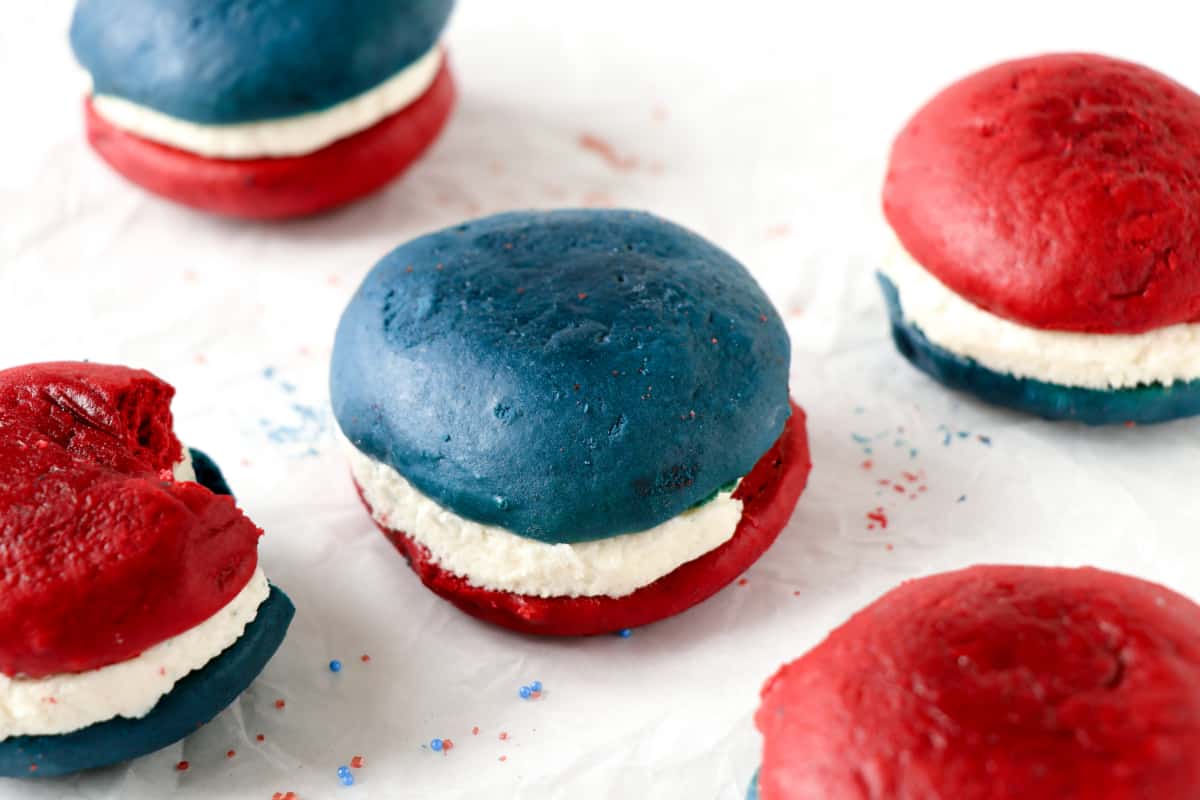 Q. Can we make the patriotic whoopie pies ahead of time?
If you plan to make them ahead of time, store the pies in an airtight container. You can store the filling at room temperature in a piping bag. In case you want to use the filling later, you can keep it in the refrigerator.
Q. Can I use regular milk in place of buttermilk?
You can use any milk of your preference in place of buttermilk, including almond milk. Alternatively, you can add a tablespoon of lemon juice to regular milk and use it instead of buttermilk.
Q. How many patriotic whoopie pies can I make with this recipe?
It depends on how big you make the pies. But usually, you can make 12 to 15 pies with this recipe if you use one spoonful of batter for each pie.
Q. Can I only use liquid food coloring for the pies?
You can use any type of food coloring, but if you're looking for bright colors, I would prefer using liquid gel dyes or gel paste dyes.
Tips and Tricks for Patriotic Whoopie Pies
Following are some tips and tricks to help you with the patriotic whoopie pies recipe:
1. Make sure the butter and eggs are at room temperature when you mix them for a smooth batter without any lumps.
2. Let the whoopie pies cool down completely before adding the filling.
3. If you don't like marshmallow fluff, you can use cream cheese frosting instead.
4. If you're short of time, you can use any vanilla cake mix to make the pies and just prepare the filling.
5. Add the drops of food coloring a little at a time till you get the desired color. If you add it all at once, the shades might get too dark and ruin the look of the pies.
More Easy Dessert Recipes to Love