Coconut Lime Sugar Cookies
These Coconut Lime Sugar Cookies are chewy and crunchy with a burst of tropical fruity flavor along with a sweet taste.
Not too long ago I took Angela out to a local bakery for a treat. I saw a coconut lime cookie in the bakery case, and I couldn't help but think to myself that those cookies just scream spring and summer to me.
Frequently Asked Questions About Coconut Lime Sugar Cookies
I don't know why but I always think of coconut and lime or lemon when I think about summer. I guess the combination reminds me so much of sitting on a beach in a tropical location and sipping on frozen coladas and daiquiris. These cookies are no different. One taste of them and they will transport you in your mind to a warm and tropical location. It's like taking a vacation without leaving the kitchen.
How can I get perfectly shaped cookies?
I use a cookie scoop to get perfectly formed cookies. I use the cookie scoop that is found here. You can also shape them by hand or using an ice cream scoop. I find that by using a scoop I get cookies that are consistently the same size. When I shape by hand it's harder for me to get consistently sized cookies. Having cookies that are the same size allows them to bake correctly and evenly.
Can I bake these cookies ahead?
Absolutely you can bake them ahead. Just a note though, you will want to not smash your cookies super thin if you are baking them ahead. The thinner the cookies the crispier they will be. So, if you are making them 24 hours or more ahead be sure to leave them slightly thicker. I recommend not making these cookies more than 48 hours in advance.
Can I freeze these Coconut Lime Sugar Cookies?
Yes, these coconut lime sugar cookies freeze beautifully. You can freeze them in two forms. The raw cookie dough freezes great if you don't want to bake all your cookies at one time. Place shaped cookie dough balls on a baking sheet and lay in the freezer until they become firm.
Place firmed cookie dough in a freezer safe container or freezer bag. Store frozen cookie dough for up to three months. You can bake your dough from frozen by adding tw0 minutes to your bake time.
To store already baked cookies, simply place baked cookies in a freezer bag or airtight sealed container. You can store baked cookies for up to three months in the freezer. To thaw they only need about 30 minutes on the counter.
Coconut Lime Sugar Cookie Recipe
Yield: about 18 cookies
Ingredients You'll Need
2¼ cups all-purpose flour
1 tsp baking powder
½ tsp baking soda
½ tsp salt
½ cup shredded sweetened coconut
1½ cup granulated sugar
2-ounces cream cheese; softened
6 tbsp unsalted butter, melted
⅓ cup vegetable oil
1 large egg
1 tbsp milk
1 tsp real vanilla extract
1 tbsp fresh lime juice
1 tsp lime zest
Directions For Sugar Cookies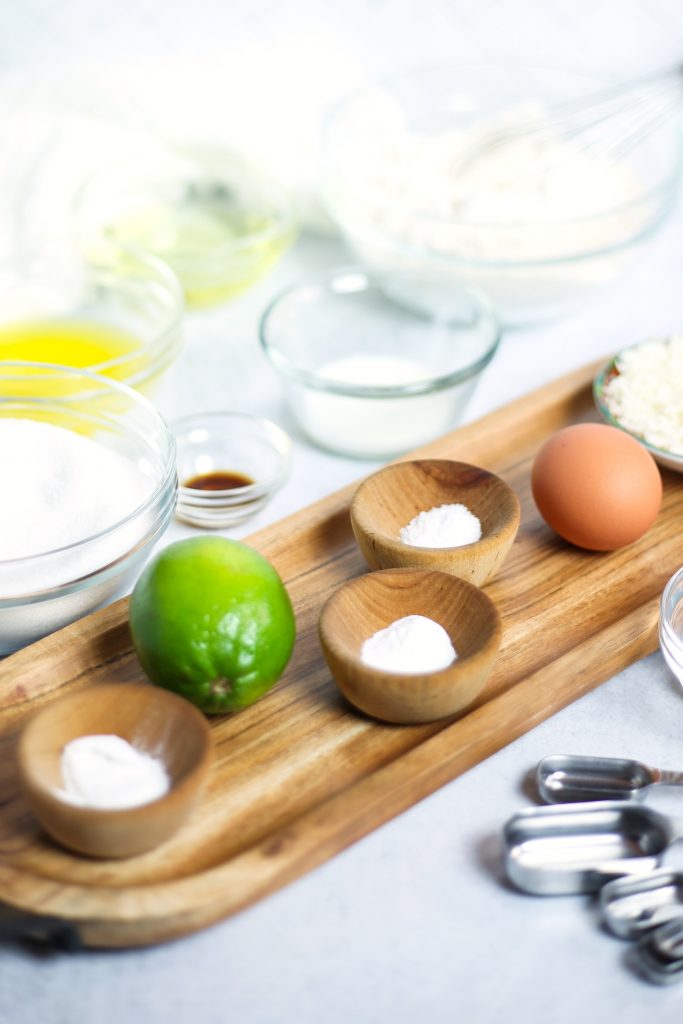 Preheat oven to 350
Whisk together flour, baking soda, and salt in a large mixing bowl. Combine, then add coconut and combine.
In a medium bowl, mix the sugar, lime zest, and cream cheese until combined
Add melted butter to sugar and cream cheese and mix to combine.
Add milk, oil, egg, lime juice, and vanilla to sugar mixture and mix to combine.
Add the wet ingredients to the flour mixture and mix until combined.
Line a baking sheet with parchment paper or a baking mat. Using a spoon or cookie scoop, place about 1½ tbsp of dough on a cookie tray, about 3½ inches apart; these cookies will spread quite a bit to about 3 inches in diameter.
With the bottom of a glass or measuring cup, flatten the cookie dough to about ¼ inch. NOTE: The thicker the cookie, the chewier it will be.
Bake at 350 degrees for 11-12 minutes or until the edges just turn golden brown.
Supplies and equipment
More Cookie Recipes