The Best Instant Pot Breakfast Burritos
You'll love how simply delicious and easy these Instant Pot breakfast burritos are to make. Are you always looking for a way to meal plan for you and your family, or want to cook breakfast for everyone? Then these breakfast burritos are just what you'll love to spice things up.
The ideas I come up with surprise me! I'm always thinking of creative ways to use my Instant Pot for breakfast. Let's face it, breakfast is important but waking up to fully cook a delicious meal isn't easy. That's why I decided to share one of my quick grab n enjoy breakfast recipes today.
I know. I know. Some of you may feel making a breakfast burrito in the Instant Pot seems like a longer process than using the stovetop, but when you opt to use the Instant Pot you're saying no to standing around babysitting your food cooking, and yes to a more flavorful experience!
These Instant Pot breakfast burritos are packed full of protein from eggs and spinach. Not only that but I love the blend of cheddar and mozzarella cheese for a boost of cheesy flavor.
Are you not feeling the Instant Pot breakfast burrito today? Well, prepare them ahead for your meal planning.
Can you Freezer These Instant Pot Breakfast Burritos for later?
My Instant Pot breakfast burritos are an excellent freezer meal for a quick protein-packed bite to eat. These Instant Pot breakfast burritos will keep between 3 to 6 months in the freezer when stored properly. This will keep the flavor in tact. It's said that you can freeze cooked eggs for up to a year, but I'm not exactly sure if it will taste very well at all.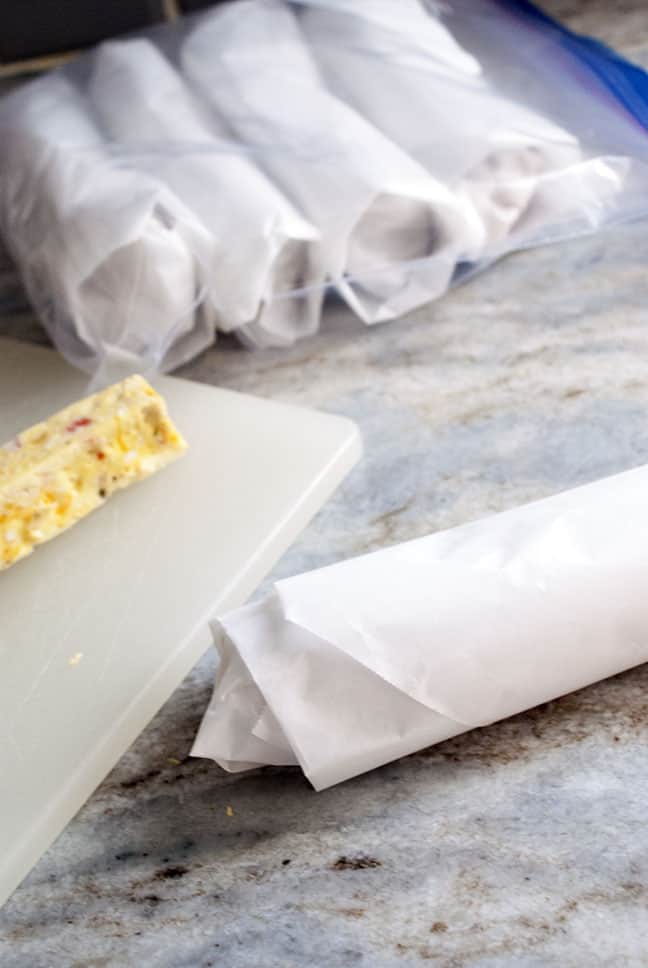 So how do you freeze them? Simply make your breakfast burritos, and allow them to cool. Wrap each burrito tightly in parchment paper, and place in a freezer-safe bag. Be sure to date and label them before placing them into the freezer.
How Do You Reheat the Frozen Breakfast Burritos?
There's a few different ways to reheat your frozen breakfast burritos.
You can simply place them in a microwave for about 1 1/2 minutes on high. If still slightly chill, then cook in 10 second increments.
Place them on a cookie sheet and cook in the the oven at 350 for up to 12-15 minutes.
Place in an air fryer, and cook on 350 for approximately 9 minutes. Air fryers take less time to cook since they are pushing hot air around the whole breakfast burritos, in simulating a convection oven. I might even consider checking it at the 7 minute mark, but I don't mind a crispier edging on my breakfast burritos.
Using this breakfast burrito as part of your meal planning makes it easier to have a healthy bite to eat before you dive into your busy day. I love having quick access to a protein-rich breakfast burrito in my freezer for those days I'm not feeling the urge to cook in the morning.
If you're not feeling the spinach in my Instant Pot breakfast burritos, then exchange it for some diced kale. Some of my friends swear the replacement tastes lovely for non-spinach fans.
What Are the different toppings that I can use in these Breakfast Burritos?
The options are endless! The pico de gala gives an added veggie component into these breakfast burritos that make the flavor pop. If you're not a pico de gala fan, well try to replace it with some diced tomatoes and herbs of your choice.
Here are some more ideas:
bacon pieces (must be cooked prior to using in recipe)
turkey sausage crumbles (must be cooked prior to using in recipe)
diced turkey breast
jalapeños
fresh herbs (i.e., rosemary, basil, thyme, and chervil)
oven roasted vegetables
diced peppers
your favorite cheese, including goat cheese
As with most of my recipes, you can easily substitute one ingredient for something that suits your taste buds better. I feel these Instant Pot breakfast burritos are perfect just the way they are, but hey you know what you like!
If you're ready to whip up a delicious breakfast for your household, then click to print my recipe card below so that you have this Instant Pot breakfast burrito recipe on hand whenever you're craving a quick healthy bite to eat any time of the day!
That's right! You can enjoy my Instant Pot breakfast burritos any time you want. That's the joy of being an adult … you can have breakfast burritos for lunch, dinner or even a snack.
Are These Instant Pot Breakfast Burritos Weight Watchers Friendly?
Yes they are, and you can make them even more Weight Watchers Friendly by utilizing Fat Free Mozzarella or Fat Free Cheddar cheese! We are only using 1/2 a cup of cheese per tray. Each tray makes 4 breakfast burritos. One 1/2 cup of Fat Free cheese has only 1 point!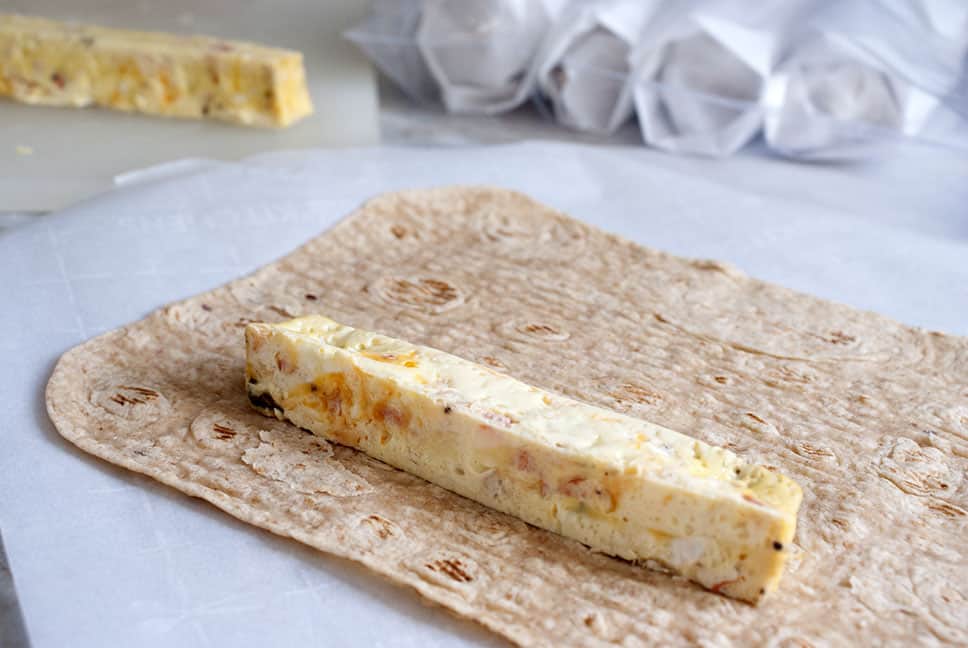 For the wraps, I'm using the Fit & Active Multigrain with flax seed flat bread from Aldi. These are simply delicious! Each wrap contains 2 SmartPoints, which is insanely fabulous to know that you can eat a hearty breakfast for only 2 SmartPoints!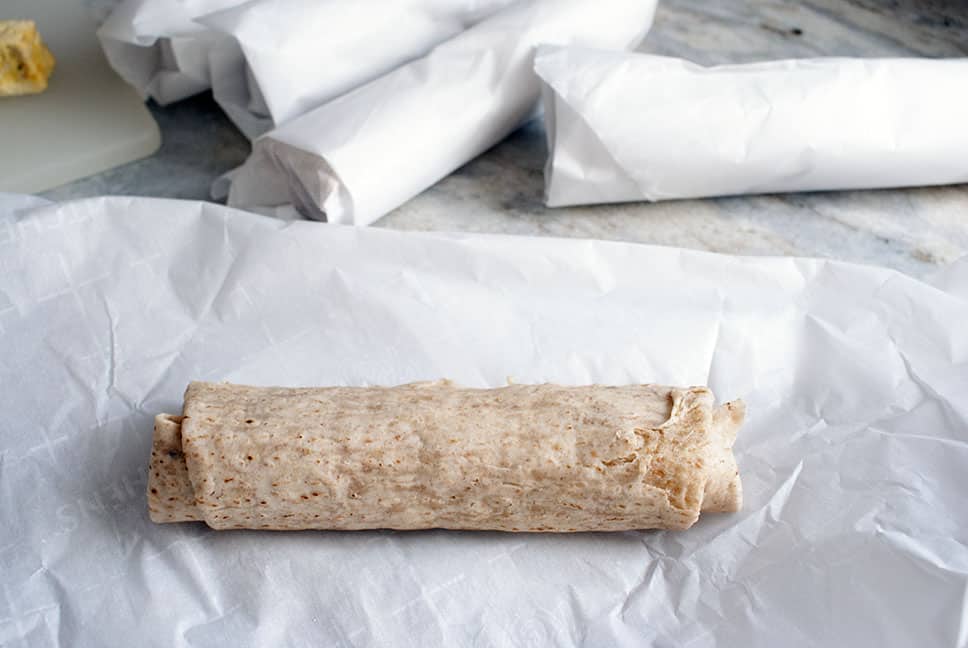 As you might already know (if you are a part of my Instant Pot WW Group, WW has recently created 3 different colored plans: Blue, Green, and Purple). The SmartPoints being utilized in this recipe is for the Blue plan. These SmartPoints should come very close to the Green and Purple plan.
Does it really take 35 minutes to cook them?
The answer: Yes! Here's the science and "why" behind it. When you're cooking all 3 silicone molds in a stacked position, you're creating a dense center that allows little no air flow. That means it will take longer to cook the center. It's been tested out by me and a few other recipe creators.
Also, elevations will cook differently. The least amount of time that you can cook the eggs in the molds is about 30 minutes. If you do cook it for 30 minutes, please be sure to Natural Pressure Release for 5 minutes, and then quick release any remaining pressure.
Of course, you will have reduced cooking times if you're not going to use all 3 trays. It's almost like a doubling effect. Here are my recommended cooking times, even if you're adding toppings into your breakfast burritos:
If you're using only 2 trays, you can cook them for 22 minutes on high pressure.
If you're only using 1 tray, you can cook the tray for 10 minutes on high pressure.
I Use the Webake 3 Pack Silicone Ice Cube Trays.
Easy Instant Pot Recipes To Make
If you loved this recipe, then you'll love making these other easy Instant Pot recipes for you and your family. Whether it's for breakfast, lunch, or dinner, I've got ya covered.
Yield: 12
Instant Pot Breakfast Burritos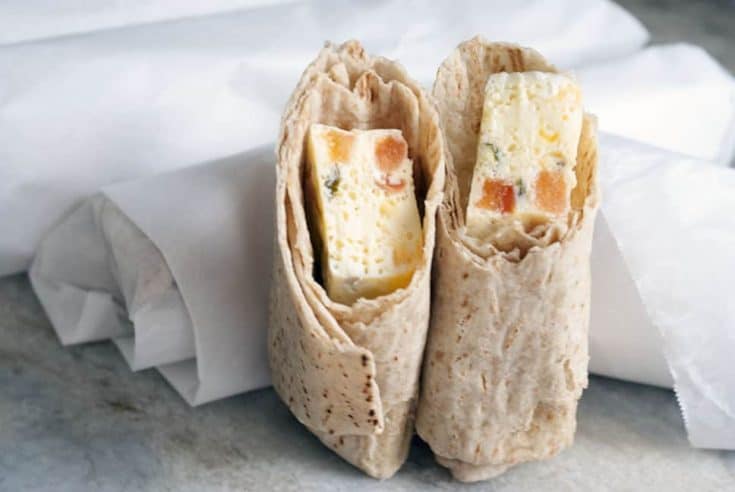 You'll love how easy these Instant Pot breakfast burritos are to make. These make a great Instant Pot freezer meal, if you love to meal plan!
When preparing to make this, you will also need:
non-stick spray
aluminum foil
Additional Time
15 minutes
Ingredients
12 eggs
2 tablespoons milk
1/4 cup pico de gallo
1/2 cup cooked/frozen spinach
1/2 cup shredded mozzarella
1/2 cup shredded cheddar cheese
1/4 cup crumbled cooked bacon
1/4 cup shredded cheddar jack cheese
salt & pepper to taste
Instructions
In a medium sized bowl, add eggs, milk, salt and pepper. Scramble the eggs, and whip well until ingredients are incorporated.
Lightly coat 3 silicone trays with non-stick spray.
In one tray, evenly distribute pico de gallo and cheddar cheese into the molds. In the other try, evenly distribute the spinach and mozzarella cheese. In the last tray, evenly distribute crumbled bacon and cheddar jack cheese.
Gently pour the scrambled eggs into the molds. Lightly spray foil with non-stick spray and then cover each mold with a piece of aluminum foil. The foil stops an excess amount of water from collecting inside the molds. It's best to place the molds on the trivet, it makes it easier to not make a mess.
Place 1 cup of warm water into your instant pot. On a trivet, place the molds in a cross position of making a letter X. This will allow proper cooking times for the eggs.
Carefully place the trivet into the Instant Pot. Close and lock lid, and place the vent into the closed position.
Press the Pressure cook/Manual button for 35 minutes. Once done, quick release all pressure out of the. Remove lid, and remove trivet with oven safe mittens.
Unstack molds and remove foil. Allow to cool for approximately 5 minutes. Turn silicone molds upside down on a cutting board. The egg molds will slide out easily. You can now wrap up your Instant Pot breakfast burritos for storing in the freezer, or to eat instantly!
Notes
1. You can not use fresh spinach. It has to be cooked spinach. Spinach has a lot of water in the leaves, and will not allow the eggs to cook evenly. It'll be a watery egg mess.
2. If you're super hungry, yes you can double up the eggs into 1 single burrito!
3. Each single mold in the tray can hold 1 large scrambled egg. That's why we use 8 for 2 trays. It's 4 eggs per 1 tray. You should be able to cook up to 3 trays of of these breakfast burritos at one time, and you will not have to have increase the cooking time at all. If you're cooking only tray of burritos, then cut your cooking time by at least 10 minutes.
Looking to join an amazing Weight Watchers group? Then be sure to join my Instant Pot Weight Watchers group on Facebook! Click the button below to join.
The group is there to help people find healthy meals while trying to track their points. Not on Weight Watchers? That's okay! We would love to have you join us to help us find healthy Instant Pot meals to share with everyone.