Granola Berry Cups are cute bite-sized breakfast treats that can also be enjoyed at brunch or as a healthy midday snack!
The granola berry cups are so easy to make and look stunning. Simply fill the crunchy granola cups with creamy yogurt and then top them with fresh berries.
WHAT YOU SHOULD KNOW ABOUT GRANOLA BERRY CUPS
Granola Berry Cups are quick and easy breakfast treats that are nut-free, oil-free, and gluten-free! You can make these granola cups dairy-free or vegan-friendly with simple ingredients swaps!
The granola cups are first chilled before baking to help prevent the granola from shrinking while baking.
HOW SHOULD I STORE THESE GRANOLA BERRY CUPS?
The granola cups can be stored in an airtight container at room temperature for 4-5 days but don't store them with yogurt as the granola mixture will soften. Stored granola cups can be filled with yogurt and topped with fresh berries before serving.
CAN I FREEZE THESE GRANOLA BERRY CUPS?
Yes. The granola cups can be frozen (unbaked or baked) for 2-3 months and then baked from scratch or simply reheated before assembling with yogurt and toppings.
WHAT DO YOU EAT WITH GRANOLA?
A simple way to enjoy a bowl of granola is with milk as a breakfast cereal. You can enjoy a bowl of vegan granola by using non-dairy milk.
Yogurt can also be added to the mix or used instead of milk.
IS GRANOLA AND YOGURT HEALTHY?
It can be! Granola adds dietary fiber and various nutrients, while yogurt is great for gut health and provides protein to your breakfast.
Remember that homemade granola will always be a healthier option as you have full control over the ingredients used, whereas some commercial granola brands can be fairly high in sugar and saturated fats.
Select plain Greek yogurt to enjoy as a healthy option with granola, and avoid yogurts loaded with sweeteners and preservatives.
HOW CAN I VARY THESE GRANOLA BERRY CUPS?
Add cinnamon or nutmeg to the granola cup mixture for delicious warmth.
Ditch the berries and turn these breakfast treats into granola apple cups or granola peach cups with fried slices of apple or peach.
Use applesauce or pumpkin puree instead of mashed banana in the granola mixture.
Add nut butter to the granola mixture. It helps to keep the granola together and can be used as a way to reduce the honey.
Sprinkle some cinnamon over the filled granola cups, and add chopped nuts or coconut flakes.
Make chocolate granola cups by adding 1 tablespoon of cocoa powder with 1-2 tablespoons of water to the granola mixture. Melted chocolate can also be used.
Cater to a dairy-free diet by filling the cups with coconut yogurt.
Turn these breakfast treats into desserts by filling the granola cups with lemon curd, cheesecake filling, chocolate ganache, or panna cotta.
TIPS FOR MAKING GRANOLA BERRY CUPS
I've used rolled oats in this recipe since they are larger than quick oats, providing a crunchy texture to the granola cups and helping them retain form.
This recipe is great for using slightly overripe bananas that the kids won't touch anymore because they turn brown! Remember that the riper the banana, the sweeter the flavor.
Use any flavor of yogurt in these granola berry cups. Vanilla-flavored Greek yogurt or berry-flavored yogurt work well. You could even use homemade yogurt!
Fresh blueberries and strawberries add a beautiful topping to these granola berry cups. Feel free to experiment with other kinds of berries.
More Breakfast Ideas You'll Love
Yield: 6
Granola Cups with Yogurt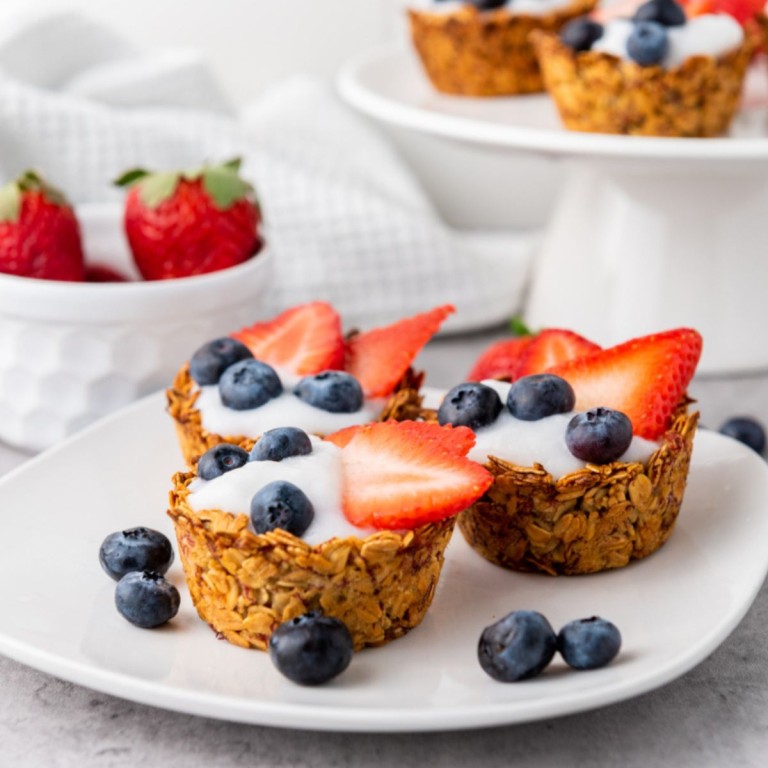 These homemade granola cups filled with creamy yogurt and fresh berries make a great combination for breakfast!
Ingredients
1 ½ cup rolled oats
1 banana
1 cup yogurt of your choice
¼ cup raw honey
Strawberries, for serving
Blueberries, for serving
Instructions
In a medium bowl, mash the banana. Then add in dried oats and honey to the mashed banana, and mix until well combined.
Add the mixture to a muffin pan and divide over 6 cups. Push the mixture to the edges and bottom, so that you are creating a cup.
Place the muffin tray into the freeze for 30 minutes.
Preheat the oven to 350 degrees and bake the cups for 30 minutes. Then remove from the oven and let cool off for 10 minutes.
Add the yogurt and berries to each cup and serve immediately.