As the leaves change color and the crisp autumn air settles in, it's time to start planning the most enchanting and eerie event of the year – Halloween, and these Halloween dinner recipes will be sure to help you come up with creative ideas! Beyond costumes and candy, Halloween presents a unique opportunity to indulge in a spooktacular dinner that combines deliciousness with a dash of eerie elegance.
Halloween is a time for spooky and fun celebrations, and what better way to kick off the festivities than with a themed dinner? Whether you're hosting a small gathering or a larger party, these Halloween dinner ideas are sure to delight your guests and add an extra layer of excitement to the holiday. In this guide, we'll explore some creative and delicious recipes that are perfect for the occasion.
Tips for Creating a Halloween Dinner Recipes
Embrace the Theme: Transform your dining area into a Halloween haven by incorporating eerie decorations like spiderwebs, candles, and eerie centerpieces. Let your creativity run wild and let the spooky spirit come to life through your table settings.
Playful Presentation: Elevate your Halloween dinner by giving your dishes a ghostly makeover. Use cookie cutters to create spooky shapes out of various ingredients, such as cheese or vegetables. Arranging foods in the shape of spiders, skulls, or witches' hats can instantly add a creepy touch.
Bewitching Beverages: Don't forget to whip up some spine-tingling drinks to accompany your meal. Craft colorful mocktails or cocktails, complete with dry ice for an eerie, smoky effect. Garnish with gummy worms or floating plastic eyeballs for an extra dose of Halloween fun.
Seasonal Ingredients: Make the most of fall's bounty by incorporating seasonal ingredients like pumpkin, apples, and butternut squash into your recipes. These ingredients not only add depth to your dishes but also enhance the autumnal ambiance.
RECOMMENDED READING
Easy Halloween Dessert Recipes
Halloween Rice Krispies Treats Ideas
Creepy Cherry Rhubarb Eyeball Pie
Halloween Potluck Recipe Ideas
Halloween Mummy Jalapeño Poppers
Easy Halloween Bat Cookies
HALLOWEEN FEET LOAF
JACK-O'-LANTERN STUFFED PEPPERS
Jack-o'-lantern stuffed peppers are a fun savory Halloween dinner recipes idea! These Halloween stuffed peppers make a healthy Halloween treat. Jack-o'-lantern stuffed peppers are a festive Halloween recipe! These stuffed peppers make a tasty Halloween dinner, and they're a great way to get in some healthy food before a night of trick-or-treating fun.
Get the full recipe from  I Heart Eating
HALLOWEEN PASTA (SPOOKY SPAGHETTI WITH MEATBALL EYEBALLS)
This Halloween Pasta Recipe is an easy, spooky dinner for Halloween night! If you're having trouble coming up with a themed food idea for your Halloween party, this recipe is made with staple ingredients, with a spooky twist.
This fun Halloween dinner recipes idea is the perfect main dish with familiar ingredients and minimal effort. It's a Halloween spaghetti made with some meatballs that are transformed into creepy eyes thanks to mozzarella balls and a few sliced black olives.
Get the full recipe from  A Full Living
MONSTER MAC 'N CHEESE HALLOWEEN DINNER RECIPES IDEA
HALLOWEEN BEAN DIP
SPOOKY HALLOWEEN CHILI
HALLOWEEN SALAD (HALLOWEEN SIDE DISH)
This fun and colorful Halloween Salad is the best spooky side dish. With pepperoni bats, vibrantly colored tortellini, and mozzarella cheese skulls, it's also the most delicious.
Enter this fun and colorful Halloween salad recipe. With pepperoni bats, spooky tortellini, and mozzarella cheese skulls, it's just as delicious as it is perfect for All Hallows Eve.
Get the full recipe from Foxes Love Lemons
MUMMY STROMBOLI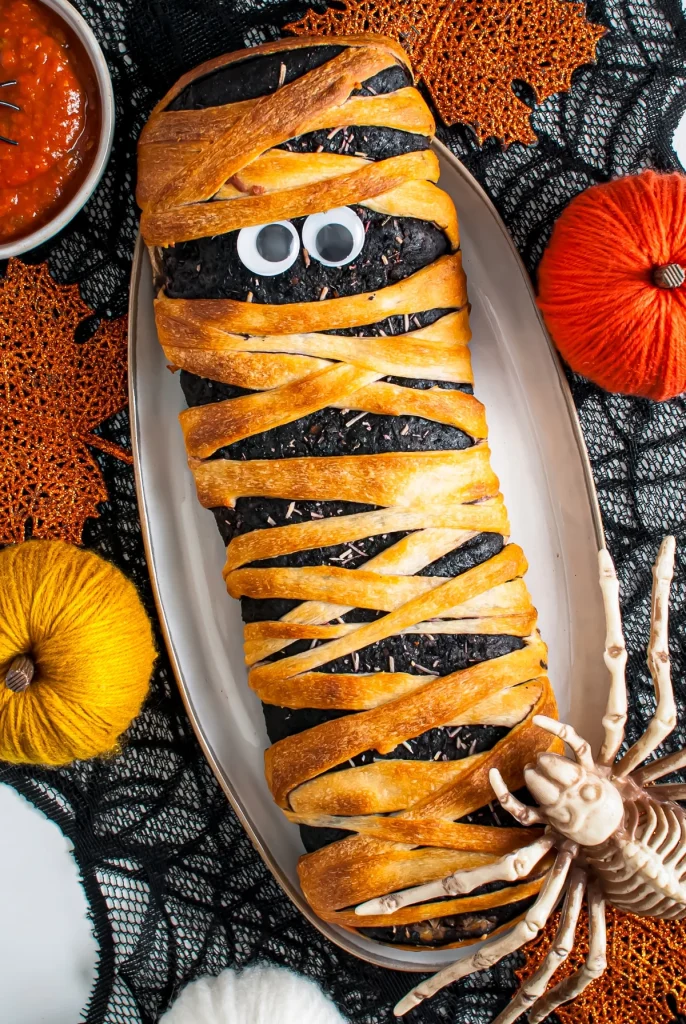 A tasty Halloween pizza treats, this Mummy Stromboli is a great dinner or appetizer recipe to serve at any and all of your Halloween gatherings. Kids really enjoy this as well, and it is very versatile in what you decide to stuff this with. With the mummy wrappings and eyes, it's spooky but also fun at the same time, and makes a great addition to your Halloween dinner recipes list!
Get the full recipe from  This Silly Girl's Kitchen
SPOOKY SHEPHERD'S PIE
If you're looking for an easy and spooky Halloween dinner recipes idea, then definitely try your hand at making this super fun Ghost Shepherd's Pie! With the fun approach of using mounds of mashed potatoes for ghosts and peas for eyes, your whole family will be sure to enjoy this ghastly recipe.
Get the full recipe from The Girl Who Ate Everything
Eyeball Pasta Pie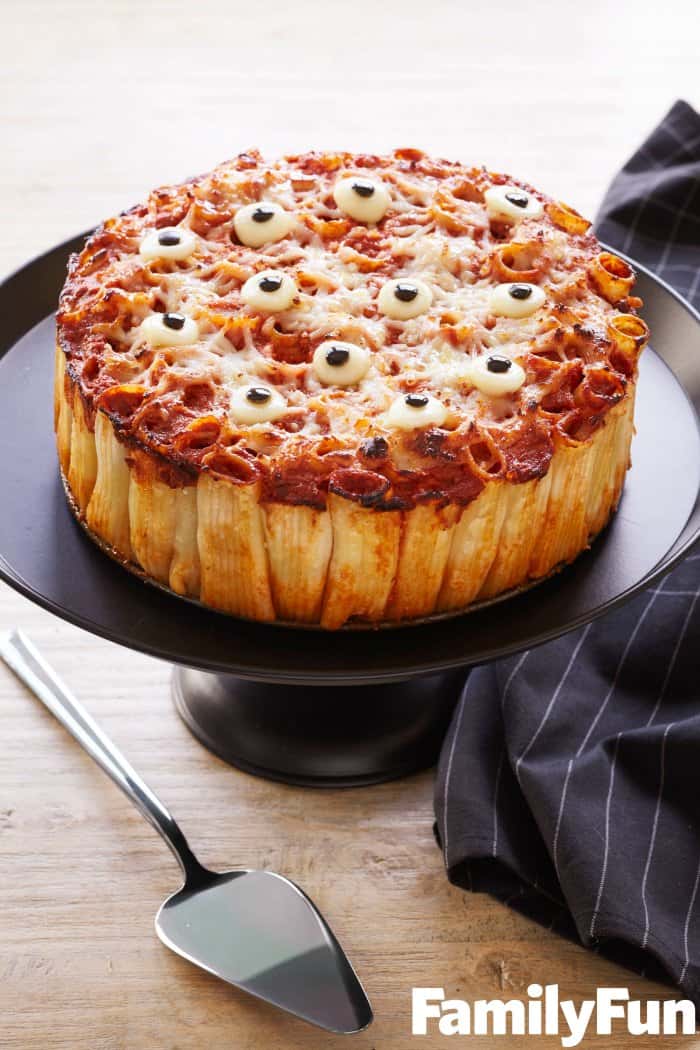 Take a traditionally fun baked pasta recipe, and finish it off with "eyeballs" to help create the eery and spooky effect of food looking at you! Make any pasta night more fun for Halloween night!
Get full recipe here from Mom Endeavors
Frequently Asked Questions About Halloween Dinner Recipes
Are there any creative ways to present ordinary dishes in a Halloween-themed manner?
Absolutely! Transform ordinary pasta into "Worms in Dirt" by serving spaghetti with a hearty tomato sauce and meatballs resembling worms. Additionally, create "Eyeball Caprese Skewers" using mozzarella balls, cherry tomatoes, and sliced olives for an eerie yet appetizing appetizer.
Can I make these recipes in advance?
Yes, many components of these dishes can be prepared ahead of time. Just be mindful of reheating instructions to maintain the flavors and textures.
How can I make the dinner kid-friendly?
While you can keep the spooky theme, consider toning down the scare factor in terms of presentation and flavors. Make sure to offer familiar dishes alongside the creatively themed
How can I make the dinner table look more festive?
Setting the right ambiance is crucial for a Halloween dinner. Consider using dark tablecloths, eerie candle holders, themed plates, and spooky decorations to create a festive atmosphere.
Halloween dinner recipes present a fantastic chance to craft a spooky and delightful dining affair for both family and friends. By adding thematic elements, creepy displays, and distinct flavors, you can elevate the festive ambiance of Halloween.