These soft and chewy Easter M&M cookies are melt-in-your-mouth goodness you'll want to bake time and time again. Delicious and easy, a treat you and your family will happily devour.
You can't go wrong with these cookies packed with pastel-colored M&M's perfect for springtime and a soft and gooey Easter treat.
Super easy to bake up, these cookies are great for seasoned bakers and new bakers alike. You'll impress your family and friends with their softness and pretty look. Seriously, who needs a bakery when you have this recipe?
What are M&M Cookies?
M&M cookies are soft and chewy homemade cookies with crispy edges that are made from a traditional cookie dough of flour, butter, sugar, and eggs. Then, M&Ms are added to the dough for a crunchy, chocolatey taste in every bite.
Are Easter M&M Cookies Gluten Free?
You don't have to miss out on these delicious Easter M&M cookies if you're unable to consume gluten – simply substitute the all-purpose flour for a high-quality gluten-free flour of your choice, and enjoy!
Why Did My Cookies Go Flat?
If your Easter M&M cookies fall flat after cooking it may be because of the following:
The butter was too soft
You mismeasured the flour and didn't use quite enough
The cookie dough wasn't chilled or just got too warm
You blended the butter and sugar too long and melted the butter too much
The cookie tray was too hot and the cookies got overbaked
The oven temperature was too hot or too cold
While there may be other factors influencing a flat cookie, these are the common culprits. Sometimes it takes some experimenting to bake up the perfect cookie, but this recipe is fairly easy so if you can master it, you're well on your way to baking brag-worthy cookies!
Recommended
Coconut Melt Cookies Recipe
Cappuccino Cookies Recipe
Chocolate Fudge Drop Cookies Recipe
Tips and Recipe Notes
Thicker Cookies – If your cookies aren't baking up as thick as you'd like, try lining your cookie sheet with parchment paper. You can also make sure to chill the cookie dough prior to scooping it onto your sheet and cooking it.
Moist Cookies – Looking for a moist cookie? You can achieve that by adding cream cheese to the dough. If you're new to this idea, start out by adding a couple of tablespoons to the recipe.
Uniform Cookies – Want perfectly uniform cookies? Try a cookie scoop with this recipe and enjoy baking up the perfect-looking cookie!
Ingredient Substitutions
Flour – All-purpose flour can be substituted for quality gluten-free flour.
Softened Butter – If you want a crispier cookie, use melted butter instead of softened butter
M&M's – You can use regular colored M&M's if you want a traditional colored M&M vs. the pastel colors more suited for spring and Easter. You can also tailor this recipe for other holidays. For example, use red and green M&Ms for Christmas cookies!
Will M&M's Melt in the Oven?
The outside coating of the M&M's prevents them from melting when they are baked, which makes a great looking and tasting cookie! So, whether you use pastel M&M's or the traditional color, neither will melt while baking in the oven.
How Do I Store Easter M&M Cookies?
Fresh-baked cookies will remain chewy for three days in an airtight container. You can store them either at room temperature or in the refrigerator.
Can I Freeze Easter M&M Cookies?
Store the fresh-baked cookies in an airtight container or freezer bag and keep them in the freezer for up to three months. You can also freeze the cookie dough and keep it in an airtight container for up to four months.
How to Reheat Easter M&M Cookies
Reheating the Easter M&M Cookies is quite easy. Just place them in the microwave on medium setting for up to 15-20 seconds. Be careful when retrieving the reheated cookies to be certain they aren't too hot to the touch.
More Insanely Delicious Cookie Recipes You'll Enjoy
If you love this Easter M&M cookie recipe, you're sure to love these equally tasty dessert recipes below! And, they would be just as sweet for a spring treat – a great addition to your dessert recipe book.
Marshmallow Chocolate Chip Cookies
Lavender Macarons
Blueberry Lemon Cake
Yield: 36 Cookies
Easter M & M Cookies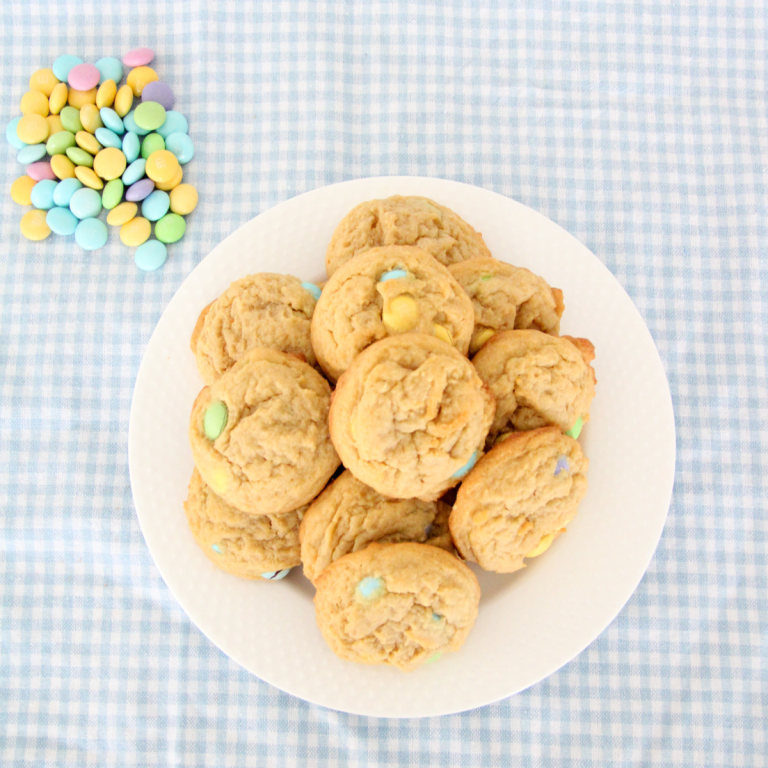 These soft and chewy Easter M&M cookies are melt-in-your-mouth goodness you'll want to bake time and time again. Delicious and easy, a treat you and your family will happily devour.
Ingredients
2 1/4 cups all purpose flour measured correctly
1 teaspoon baking soda
1/2 teaspoon salt
1 cup salted butter, softened
3/4 cup brown sugar packed
1/4 cup granulated sugar
3.4 ounces vanilla instant pudding mix (One small Box)
2 large eggs
1 teaspoon vanilla extract
2 cup Easter M&M's
Instructions
Preheat your oven to 350 degrees. Line baking sheet with parchment paper and set to the side
In a bowl, whisk together flour, baking soda and salt and set aside
Using a stand or electric mixer, beat the butter and sugar on high speed until light brown , at least 2 minutes. Once combined, add the pudding mix, vanilla and eggs and beat on high for 3-4 minutes
Slowly add the dry ingredients to the wet ingredients and turn the mixer on low to start, after about 1 minute then turn the mixer up to high and mix until combined. Add Easter M and M's and stir with a rubber spatula until mixed thoroughly
Use a cookie maker and make even balls and place everything on a cookie sheet. Bake for 10-12 minutes, or until slightly golden and just set on the top. Allow to cool on the baking sheet for five minutes then transfer to a baking rack to cool completely.
Enjoy!