Matzo Ball Soup is a rich and comforting soup, traditionally served over the Jewish Passover holiday. This soup consists of a comforting chicken soup base with shredded chicken, chicken broth, chopped veggies, and Matzo dough balls made from scratch and cooked in the broth for extra flavor!
Learn how you can easily make your own Matzo ball soup with easy recipe variations listed below!
WHAT YOU SHOULD KNOW ABOUT MATZO BALL SOUP
Matzo ball soup (also referred to as "Matzah") is a Jewish dish, traditionally enjoyed during Passover.
The ingredients used to make a traditional Matzo ball soup include a chicken soup base with dumplings. The dumplings are made out of matzah meal, eggs, oil or fat, and are then cooked in the soup which allows the balls to soak up all the delicious flavors of the dish.
It's an incredibly comforting kind of chicken soup that will fill you up and keep you warm during those chilly days.
HOW SHOULD I STORE THIS MATZO BALL SOUP?
Remove Matzo balls from any remaining soup and allow them to come to room temperature before storing them in an airtight container or Ziploc bag in the fridge for a few days. If the balls are left to sit in the chicken soup they will turn mushy.
The rest of the chicken soup can be stored in a separate airtight container in the fridge for 4-5 days or in the freezer for up to 3 months.
IS MATZO MEAL THE SAME AS MATZO FLOUR?
Matzo meal is simply ground Matzo which has a coarser texture than flour. You can source Matzo meal online, at whole food stores, and some local grocery stores.
Matzo ball mix is another way to make your dough balls.
FLOATERS VERSUS SINKERS!
Say what now?! When it comes to Matzo ball soup, you're either camp floaters or camp sinkers, meaning you either prefer your Matzo balls to be light and fluffy or dense.
Ingredients such as baking powder and a splash of seltzer or added to the dough for fluffy balls. For dense dough balls, skip the baking powder.
CAN I MAKE MY OWN CHICKEN STOCK FOR THIS SOUP?
Absolutely! I've used store-bought chicken stock for convenience but making chicken stock from scratch is relatively easy, it just requires a few hours of patience.
The chicken stock can be made the day before and stored in an airtight container in the fridge. You can skim off any floating chicken fat from the homemade stock and use that to make the Matzo balls for extra flavor!
WHAT VARIATIONS CAN I MAKE TO THIS SOUP?
I've used chicken filets for this Matzo ball soup. Boneless, skinless chicken breasts could also be used. Bone-in chicken breasts are also an option – you can just remove the bones when shredding the cooked chicken and check the rest of the soup for pieces of bone that may have dislodged.
For richer and more flavorful Matzo balls, use rendered chicken fat instead of olive oil.
Some recipes cook the matzo balls in boiling water before cooking them fully in the broth. This method helps to keep the chicken broth clear.
While I haven't refrigerated the dough balls before cooking them in the broth, this is an option and can help prevent the balls from falling apart when cooking in the chicken broth. This is a step that can be done ahead of time since most recipes chilling the dough recommend about 2 hours.
Add finely chopped dill to the Matzo dough balls for a boost of freshness.
TIPS FOR MAKING MATZO BALL SOUP
The baking powder in the matzo balls adds a lightness to the dumpling balls. Some recipes call for a splash of club soda or seltzer for the same outcome.
These Matzo balls can be formed, cooked, and then stored in the freezer for up to 3 months in an airtight container or Ziploc bag. Thaw overnight in the fridge and add them to a bowl of hot chicken soup for an easy meal.
This soup is hearty and filling as is but you could serve it with a side of fresh salad or roasted vegetables.
More Soup Recipes To Try!
Yield: 4-5 Bowls
Matzo Ball Soup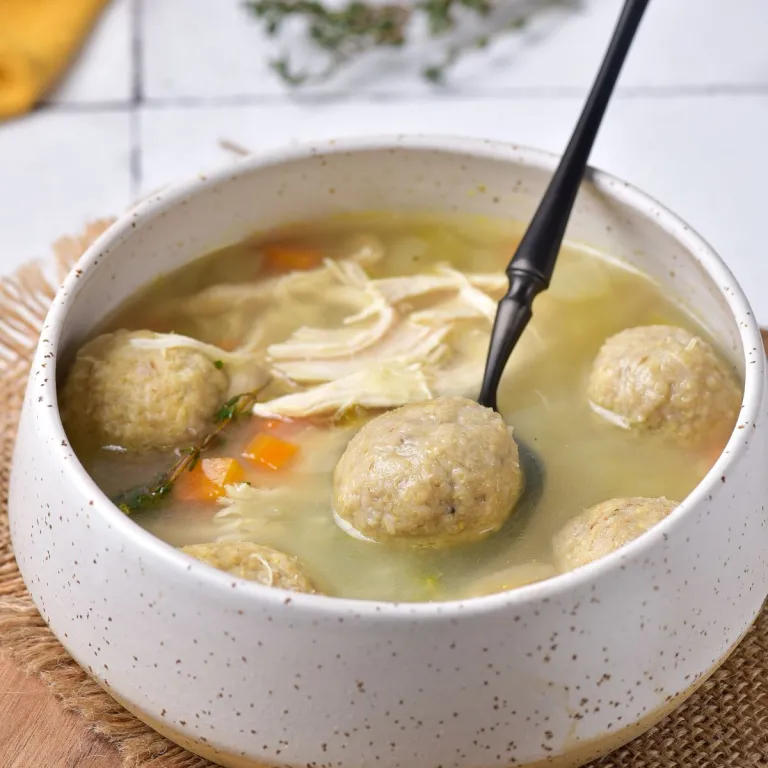 You'll love this wholesome and delicious Matzo ball soup any time of the year!
Additional Time
6 minutes
Ingredients
2 chicken fillets
2 cups chicken broth
1 onion chopped
1 carrot chopped
2 celery stalks chopped
2 garlic cloves (finely chopped)
1 tbsp olive oil
For matzo balls
1 cup matzo flour
1 egg
2 tbsp olive oil
1/3 tsp salt
1/3 tsp pepper
1/3 tsp baking powder
Instructions
Fry chopped onions, carrots, celery and garlic in olive oil. Turn on low heat and stir. After 5 minutes, put two fillets in a saucepan and pour in the broth. If the broth does not cover the fillets, add more broth or water. Boil for 20 minutes.
Pour the matzo flour into a bowl, make a well in the center and add the egg.
Add also olive oil, salt, pepper and baking powder. Knead a firm dough. If the egg is small, you can add a little water.
When the fillet is cooked, take it out of the broth and tear it with two forks. Put the chicken back into the broth.
With wet hands, form dough into balls 1-1 1/2 inches in diameter. Put the matzo balls into the broth and cook for another 5-7 minutes.
After 5-7 minutes, the matzo balls will increase slightly in size. Soup can be served. To make the broth more transparent, you can cook the balls in a separate saucepan and add them to the plate when serving.