I love how easy this basil pesto chicken recipe is to make, and I love how it's a perfect addiction to any weight watchers freestyle recipe card. It's low in SmartPoints, and you can make it even lower by swapping out an ingredient or two.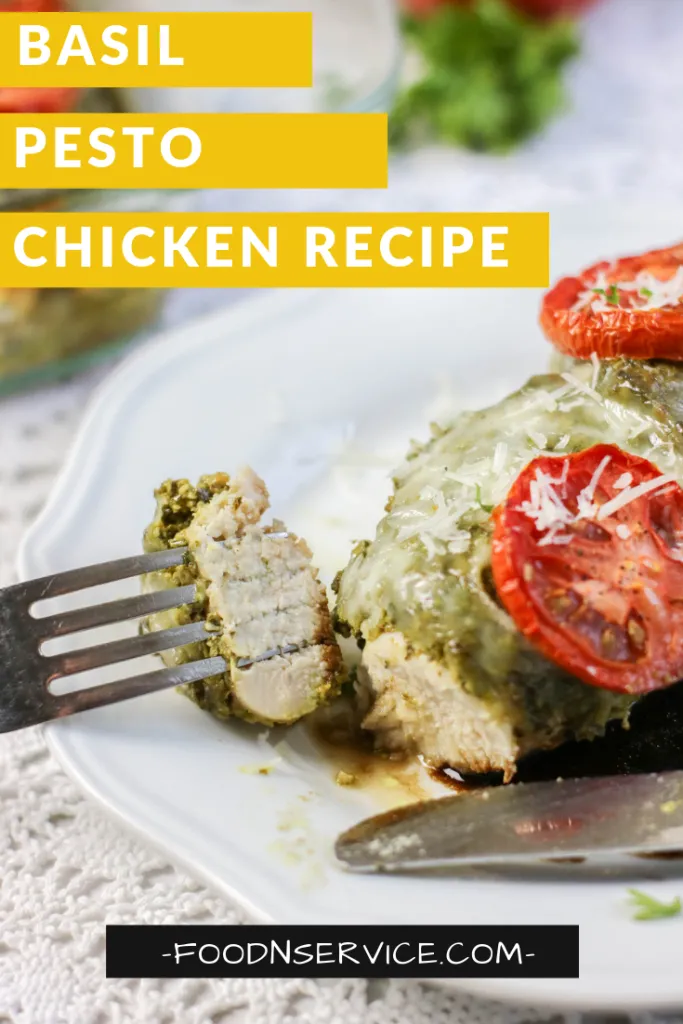 This basil pesto chicken is addictively delicious, and you'll want to make it a 1,000 times over. This whole recipe will have you looking at just around 5 SmartPoints on the Weight Watchers Freestyle Recipe scale, but if you had the balsamic reduction to the plate then you need to add on 1 more SmartPoint. That makes it a recipe that you'll want to make in batches to eat for the week, or even for another meal time.
You're Probably wondering, "What to serve with pesto chicken?"
I'm so glad you asked that question! If you want to splurge, you can totally go in head first and make it a basil pesto chicken pasta dish with maybe a nice rigatoni pasta or maybe make a fabulous side of oven roasted vegetables or oven roasted potatoes, brussels sprouts, and carrots. If you have an Instant Pot, you can definitely make my Instant Pot Citrus spiced cauliflower recipe.
I would try to focus on enjoying more hearty vegetables with this basil pesto chicken. I know…pasta is just fabulous with everything, I get it. If you're gun ho about eating a pasta with it, then try making your own zoodles or squash ribbons. Those are fabulous replacements!
Weight Watchers Freestyle Recipe Pesto Sauce
For my basil pesto chicken recipe, I used the Weight Watchers Pesto recipe from their site. I loved how they used a chicken broth to help create the consistency. They still used olive oil in it, but only enough to smoothing out the texture.
The WW pesto recipe will make approximately 1 cup, and makes 4 servings. Each serving is about 1/4 cup, which is what you'll need on each of the chicken breasts. The 1/4 cup of pesto sauce equals 3 SmartPoints!
Basil Chicken Pesto WW Freestyle Recipes Points Breakdown
Can we talk about the SmartPoints involved in this WW Freestyle recipe, and how maybe you can curb the points a bit more….if you wanted to?
1 tablespoon of balsamic vinegar reduction has 1 SmartPoint
2 slices of fresh mozzarella has 2 SmartPoints
1/4 cup of the WW pesto sauce has 3 SmartPoints
This will leave a total of 6 SmartPoints for the whole dish – 1 chicken breast. I think that's pretty fabulous for a moderate point dish for dinner. The dish can probably be considered 5 SmartPoints because when the chicken cooks in the oven, the pesto sauce and cheese melt down the sides, and you lose some of it.
However, I'm gonna keep it at 6 because I might just decide to scrap that cheese off the bottom of the dish, and add about a tablespoon of that pesto sauce on top of it, too. Nevertheless, here's how you can curb more points:
Leave off the balsamic reduction. This will make the basil pesto chicken only 5 SmartPoints.
You can use 1 slice of the fresh mozzarella, instead of 2. That will take your points down to about 1.5. I use the pre sliced fresh mozzarella, and those packs are traditionally 8 ounces. 1 ounces of fresh sliced mozzarella runs around 2 points. So if you want to weight it out, you can and then do the math. Each slice towards the end and middle of the mozzarella log might weigh a bit different, and there might run about 12-14 slices of mozzarella in it.
If you want, you can use Kraft Natural Fat Free Shredded Mozzarella, as that has zero points per 1/4 cup (which is how much you would need to coat the chicken); however, I love the effect and the fresh sliced. More flavor and worth the points!
For the pesto sauce, you can just use 2 tablespoons on top of the chicken, instead of the whole 1/4 cup of it. You'll still get some lovely flavor out of it!
I love how you can also make this recipe in batches and and freeze for future meals. If you're going to add to the freezer for future meals, don't add on the cheese or tomatoes. It will lose texture and flavor. Those are best added before placing in the oven.
More Weight Watchers Freestyle Recipes, Restaurant Menus & Tips
Yield: 4
Basil Pesto Chicken
This Basil Pesto Chicken recipe is succulent, moist, and cheesy delicious.
Ingredients
4 boneless, skinless chicken breast
½ teaspoon salt
½ teaspoon pepper
1 teaspoon garlic powder, divided
1 cup prepared WW basil pesto sauce
8 slices fresh mozzarella
2 roma tomatoes sliced to ½ inch thickness
Instructions
Preheat oven to 350 degrees. Spray a 9x13 baking dish with non-stick cooking spray.
Sprinkle chicken breasts on both sides with salt, pepper, and a pinch of garlic powder. Place chicken in baking dish.
Top chicken breast with basil pesto. Add sliced mozzarella and tomatoes.
Bake for 45 minutes to an hour, or until chicken reaches an internal temperature of 165 degrees.
Notes
Recipe for Balsamic Reduction
Place 1 cup balsamic vinegar in a small pot. Bring the vinegar to a boil, and reduce the heat. Simmer for 10 to 15 minutes or until you reach the desired consistency. Be aware that the reduction will thicken even more as it cools. 
It's best to prepared this while the chicken is cooking.