Air Fryer Sesame Chicken is chunks of chicken breasts coated in a sweet and tangy sauce and cooked in your air fryer. This recipe is simple to make and better than takeout.
This crispy chicken is tossed in sweet, sticky, mildly tangy, and spicy sauce, which will surely make your taste buds jump up with joy. This recipe is super easy to make and so incredibly delicious. Loaded with flavors, it's favorite among all age groups, and as this is air-fried, this crispy sesame chicken is a healthy and easy alternative to a fried takeaway.
How Do You Make Air Fryer Sesame Chicken?
The basics of the recipe starts with chicken breast meat cut into chunks, and then put into a yummy marinade for 30 minutes. You give it a quick dip in an egg wash, then flour-cornstarch mixture, and then air fry till golden brown! Make sauce, and then mix it with the chicken. It's DELICIOUS!!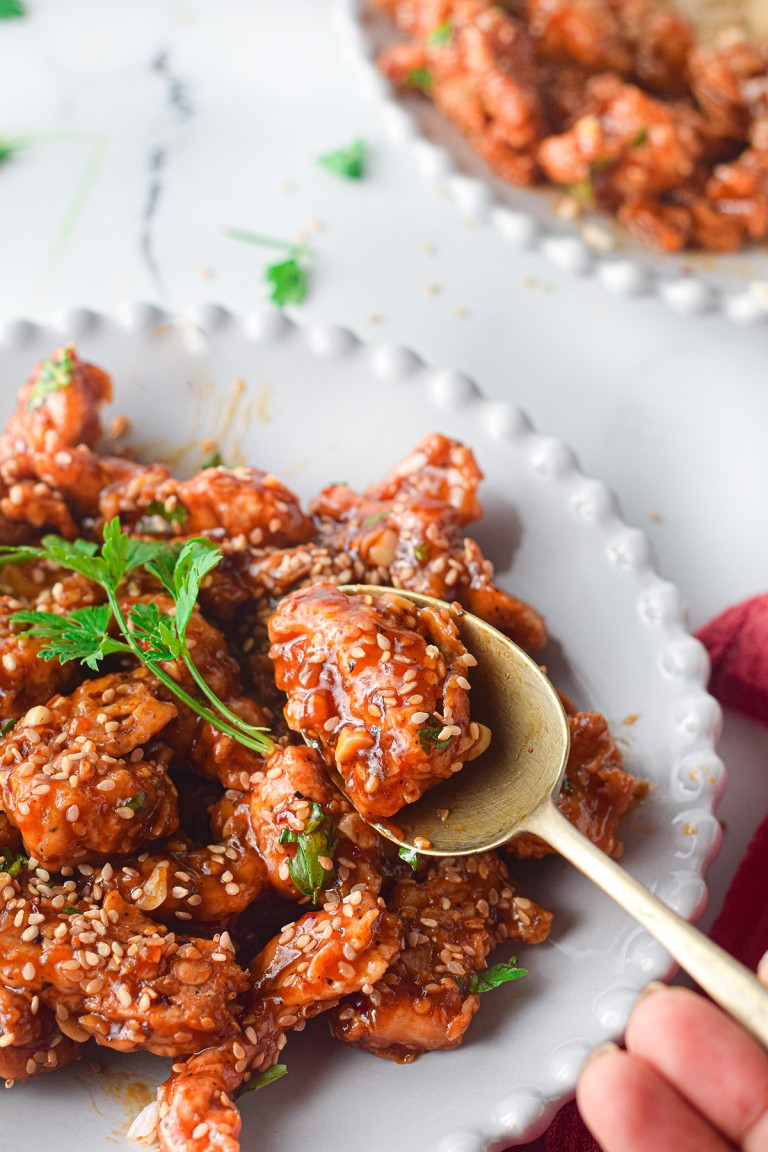 Can I use the Instant Pot with the air fryer lid or Ninja Foodi?
Yes! You can use your Ninja Foodi or your Instant Pot with an air fryer lid to make this Air Fryer Sesame Chicken. The benefit to using your Foodi or pressure cooker is you can make your sauce directly in your Instant Pot or Foodi by using the saute function.
What is Hoisin sauce and where can I buy it?
Hoisin sauce is a thick sauce that is commonly used as a glaze for meat, or a sauce in stir fry. The sauce is a mix of soybeans, fennel, red pepper flakes, garlic, vinegar, five spice and sugar. It's a sweet and salty sauce that makes extra delicious Asian style dishes.
Can I use Frozen Chicken?
Yes and no. Technically you can cook the chicken if it's frozen. However, your breading will not stick well to frozen chicken and you will need to increase the cook time. So, while you can technically use frozen chicken I don't recommend it. Please don't do this.
The Easiest Air Fryer Sesame Chicken Recipe
Cooking Tips
Check your air fryer manual to make sure you are cooking for the time your air fryer recommends.
If you are using a Ninja foodi or Instant Pot with an air fryer lid, you can make your sauce in the pot.
Line your air fryer basket with parchment paper for easy clean up.
Don't have an air fryer? You can cook in the oven! Preheat to 425°. Cook for 6-7 minutes on each, or until lightly golden brown. Follow the rest of the recipe as instructed.
More Easy Week Night Recipes to Love
Yield: 4
Air Fryer Sesame Chicken
You'll love this easy to make Air Fryer Sesame Chicken recipe! It's packed full of yummy flavors, and you can easily add to your freezer meal rotation!
Additional Time
30 minutes
Ingredients
For The Chicken
3 chicken breast fillets cut into bite-size pieces
2 eggs beaten
1/2 cup cornstarch
3 cups all-purpose flour
1 + 1/4 teaspoon salt
1 + 1/4 teaspoon black pepper powder
1 tsp soy sauce
1 teaspoon minced garlic
1 teaspoon minced ginger
Oil for brushing
For the Sauce
1 tablespoon sesame oil
1 tablespoon minced garlic
3 tablespoons brown sugar
¼ cup soy sauce
¼ cup ketchup
¼ cup hoisin sauce
¼ cup rice vinegar
2 teaspoon Chilli paste
2 tsp cornstarch mixed in 3 tsp of water
Instructions
In a bowl, mix chicken pieces with 1 tsp salt, 1 tsp pepper, minced ginger, garlic, and soy sauce and let it rest for at least 30 minutes.
Beat the eggs in a bowl.
Take a separate bowl and mix all-purpose flour and cornstarch, season with remaining (1/4th tsp) salt and pepper.
Remove the chicken from the marinade and dip the chicken pieces in the egg. Roll the egg coated chicken in the cornstarch and all-purpose flour mixture and place it on a plate.
Preheat the air fryer for 5 minutes at 180-degree C / 350-degrees F. Brush the basket with little oil and put the coated chicken pieces in it. Brush some oil on the top. Cook for 6-7 minutes on one side, then turn and cook for another 5 minutes or until golden brown. Repeat with the rest of the chicken. Set aside.
In a bowl, stir together soy sauce, ketchup, rice vinegar, chili paste, hoisin sauce, brown sugar, and cornstarch mixture.
In a pan, heat sesame oil and add minced garlic, sauté it for a few seconds.
Add the sauce mixture and cook for a couple of minutes until the sauce thickens.
Finally, add the air-fried chicken and toss the chicken pieces until the sauce thickens and the chicken is well coated in the sauce.
Garnish with sesame seeds and fresh cilantro and serve hot with steamed or fried rice.
Notes
You can store the sesame chicken in an airtight container for 5 days in the refrigerator or around 3 months in the freezer.
I love adding cilantro or green onions with sesame seeds on top!