These Instant Pot meatballs are so easy to make, and they turn out to be the most delicious meatballs! The possibilities of recipes to make in your new Instant Pot electric pressure cooker is only limited by your own imagination and ingenuity. It also helps to have some great Instant Pot accessories that you'll actually use in your kitchen.
I love thinking outside of the box, so that's why I was actually able to make wine from grape juice in my Instant Pot.
Once you make my Instant Pot meatballs, then you're going to want to make my super easy (and delicious, of course) Instant Pot Spaghetti! Now, you can cook the meatballs and spaghetti together at the same time. Your pasta will be pure mush. Then you're gonna wind up being mad and sad at the same time.
Cook the meatballs first, and then follow the recipe for the spaghetti. You're seriously going to love how it all turns out!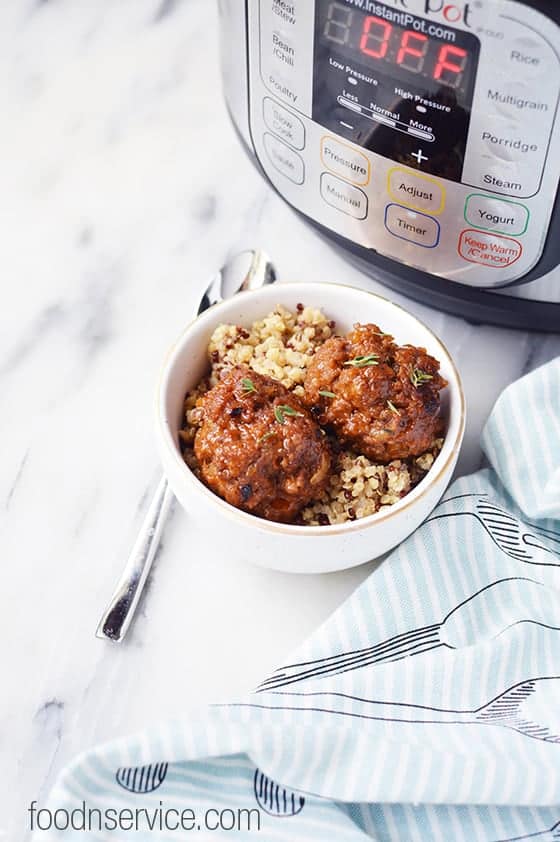 Serve Your Instant Pot Meatballs over Whatever YOU Want!
I served these Instant Pot meatballs over quinoa. I know…don't look at me like that. I've been on a health kick with incorporating into my daily eating habits, and I've excluded all pastas, breads, and most starches out of my meal plans.
However, go ahead and throw them over your favorite pasta, on a hoagie roll with melted provolone (YUM!), or just eat them by themselves.
The quinoa was a perfect (and HAPPY!) addition that seriously complimented the Instant Pot meatballs. I really enjoyed the flavor and the difference in textures that both brought to the table for me.
How To Avoid the Burn Notice
We all fear getting that dreaded Instant Pot Burn notice! It happens when a sauce, especially a dairy based and thick tomato based ones, is too thick to create a steam before the Instant Pot can come to pressure…so the sauce starts to cook and stick to the bottom of your liner. Then it creates a coating/layer that is scorched or burned.
This is why I put the broth at the bottom, and finish with the sauce on top of the meatballs. When the meatballs are done, you can always add a tablespoon or two of tomato paste to thicken it up a bit.
How To Store, Freeze, and Reheat your Meatballs
The meatballs will stay great in the freezer for up to 3 months. Not that the meatballs will last that long, but if you like freezer meal prepping, then this will be right up your alley. Who doesn't love a great time saving meals?
To reheat:, You can easily throw in the microwave for a minute or two, that or you can reheat on the stove top. You might need to add a couple of tablespoons of liquid to help thin it out so it doesn't burn, and will help with the reheating process. If you're reheating from frozen, then you need to defrost int he fridge for up to 24 hours, or place in a slow cooker on low for about 3-4 hours. I would add about a 1/2 cup of broth or water in addition.
To Store: Allow the meatballs to cool room temperature. This will take just about 30ish minutes. Then you can put them in an airtight storage container in the fridge, and should last about 4 days. They're delicious, so I doubt that it will last that long!
To Freeze: You can do this two different ways! The first way is to make your meatballs, and then put then in a freezer bag or air tight freezer storage container. The second way is to cook the meatballs off in the Instant Pot, and then cool completely. From there, place in airtight freezer safe containers.
Tips for Cooking The Instant Pot Meatballs
If you're doing Keto, gluten free, or Low carb, you can easily leave out the breadcrumbs without any issues! I've even used almond flour before, and they turned out pretty fabulous.
Is it necessary to use pork? No, you don't need it. You balance it out with the beef or veal. I love the flavor profile and fatty moisture it provides! With that said, you can make this with ground turkey or chicken! Do not use the 97%-98% low fat turkey and chicken. You'll want the dark meat blended in so it doesn't create "dry" meatballs.
Layering the ingredients is what helps with the cooking process and to help you NOT get the burn notice. Some earlier models are more sensitive then others, but the company has adjusted for that now!
Make sure to deglaze the bottom of the liner with the broth if you're searing them. It's NOT necessary for you to sear the meatballs! Searing creates another layer of flavor; however, you can simply moved right along with the recipe! It's totally fine, and it'll save you a couple of minutes!
Easy Recipe for Instant Pot Meatballs
Your family and friends are going to be so happy with how these meatballs turn out! This is a great idea to make for any type of pot luck dinner or Church dinner social. You can keep on making them in multiples batches to use a freezer meal!
I did some some fresh thyme to sprinkle on top of the meatballs when serving them. I think it's a little extra freshness to them. To add even more freshness, you can add some basil, oregano, rosemary, or chervil in to the mix of things.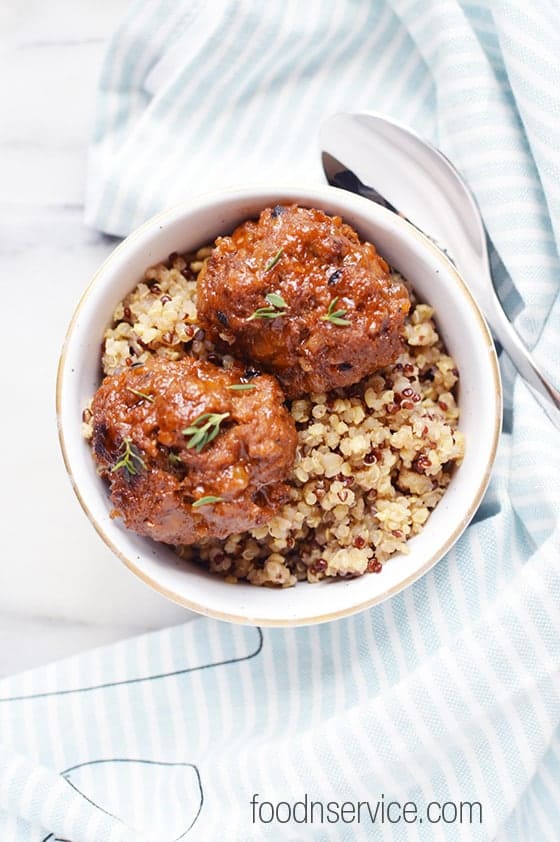 I hope you enjoyed my Instant Pot meatballs recipes! For more great Instant Pot Recipes, take a look below!
More Instant Pot Recipes:
Here are a couple of images to look at for the process.
See how you can easily add the meatballs into the Instant pot, and even stack them?