Instant Pot Meatballs Your Family Will Love!
Instant Pot meatballs are so easy to make, and they turn out just delicious! The possibilities of recipes to make in your new Instant Pot electric pressure cooker is only limited by your own imagination and ingenuity. It also helps to have some great Instant Pot accessories that you'll actually use in your kitchen.
I love thinking outside of the box, so that's why I was actually able to make wine from grape juice in my Instant Pot.
Once you make my Instant Pot meatballs, then you're going to want to make my super easy (and delicious, of course) Instant Pot Spaghetti! Now, you can cook the meatballs and spaghetti together at the same time. Your pasta will be pure mush. Then you're gonna wind up being mad and sad at the same time.
Cook the meatballs first, and then follow the recipe for the spaghetti. You're seriously going to love how it all turns out!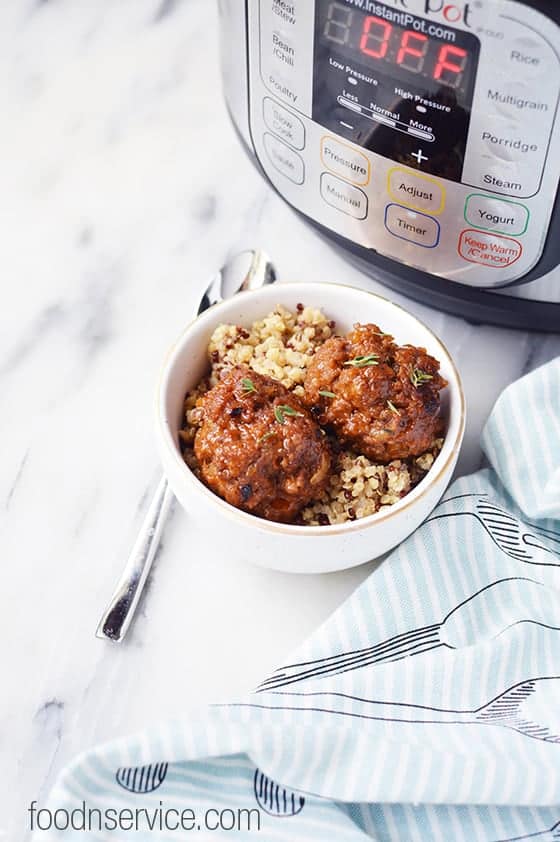 Serve Your Instant Pot Meatballs over Whatever YOU Want!
I served these Instant Pot meatballs over quinoa. I know…don't look at me like that. I've been on a health kick with incorporating Weight Watchers diet plan into my daily eating habits, and I've excluded all pastas, breads, and most starches out of my meal plans.
However, go ahead and throw them over your favorite pasta, on a hoagie roll with melted provolone (YUM!), or just eat them by themselves.
The quinoa was a perfect (and HAPPY!) addition that seriously complimented the Instant Pot meatballs. I really enjoyed the flavor and the difference in textures that both brought to the table for me.
Recipe for Instant Pot Meatballs
Your family and friends are going to be so happy with how these meatballs turn out! This is a great idea to make for any type of pot luck dinner or Church dinner social. You can keep on making them in multiples batches to use a freezer meal!
The meatballs will stay great in the freezer for up to 6 months. Not that the meatballs will last that long, but if you like freezer meal prepping, then this will be right up your alley. Who doesn't love a great time saving meals?
Additional Time:
6 seconds
Total Time:
18 minutes
6 seconds
Instant Pot Meatballs that will make your family wanting you to make over and over again! Cooking meatballs in your pressure cooker is a fast and easy method.
Ingredients
3 total pounds of ground meat, I used 1 pound of beef and 2 pounds of a pork and veal mix
1 red onion finely chopped
1/4 bunch parsley chopped
1/3 cup panko bread crumbs
1/2 teaspoon red pepper flakes
1 teaspoon olive oil
fresh thyme, salt and pepper to preference
1/4 cup grated parmesan cheese
1 egg
2/3 cup of stock or broth
1 1/2 cups marinara sauce
Instructions
Start by heating the oil in the inner pot using the sauté setting on high or a small non stick pan, then cook and brown the onions.
When done, turn off the Instant Pot or burner and remove the onions from the pan or pot. Add them to the ground meat along with all of the other ingredients, except for the stock and marinara.
Pour the stock into the bottom of the Instant Pot, set the trivet that came with your Instant Pot in the bottom of the inner pot.
Mix all of the ingredients together thoroughly, and then make uniformly sized balls and set them onto the trivet. Layering the meatballs is perfectly fine, just try not to smoosh the bottom ones by pushing down.
Cover the meatballs with the marinara sauce.
Check your sealing ring and then twist on the locking lid. Set the valve to sealing and select Manual mode for 6 minutes.
When the pressurized cook time has ended, let the pot NPR for an additional 6 minutes before Quick Releasing the rest of the pressure.

Let the meatballs cool for a few minutes before plating.
Recommended Products
As an Amazon Associate and member of other affiliate programs, I earn from qualifying purchases.
I did some some fresh thyme to sprinkle on top of the meatballs when serving them. I think it's a little extra freshness to them. To add even more freshness, you can add some basil, oregano, rosemary, or chervil in to the mix of things.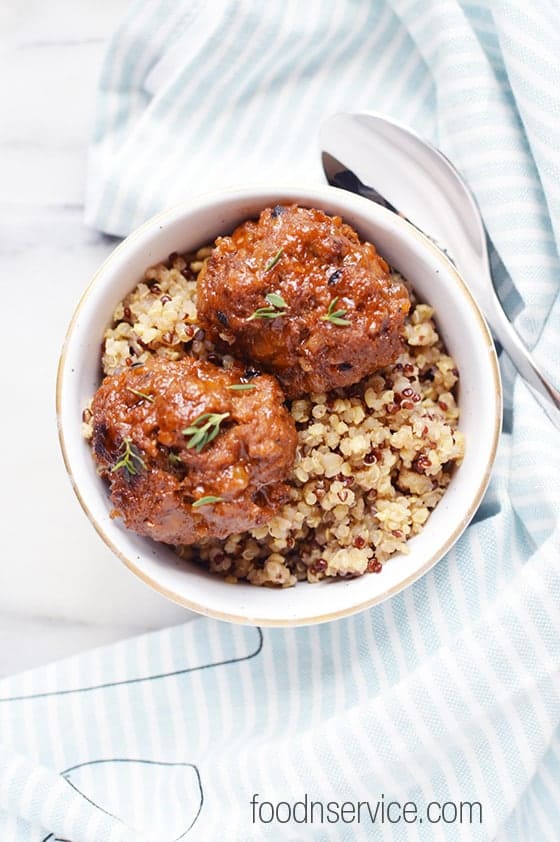 I hope you enjoyed my Instant Pot meatballs recipes! For more great Instant Pot Recipes, take a look below!
More Instant Pot Recipes:
Here are a couple of images to look at for the process.
See how you can easily add the meatballs into the Instant pot, and even stack them?
They turned out soooo juicy and delicious!