WW Instant Pot Frittata (Egg Bake) Recipe
This is going to be the easiest WW Instant Pot Frittata that you're going to make for your next breakfast gathering or for a fabulous brunch. Are you on Weight Watchers, or just love your Instant Pot? Then you'll love to know that this is an amazingly friendly Weight Watchers frittata recipe that you can add to your recipe index!
My cook book is full of fabulous, out side of the box thinking recipes that you didn't know you could actually make in your Instant Pot! They certainly aren't your traditional ones, but they're fun and delicious.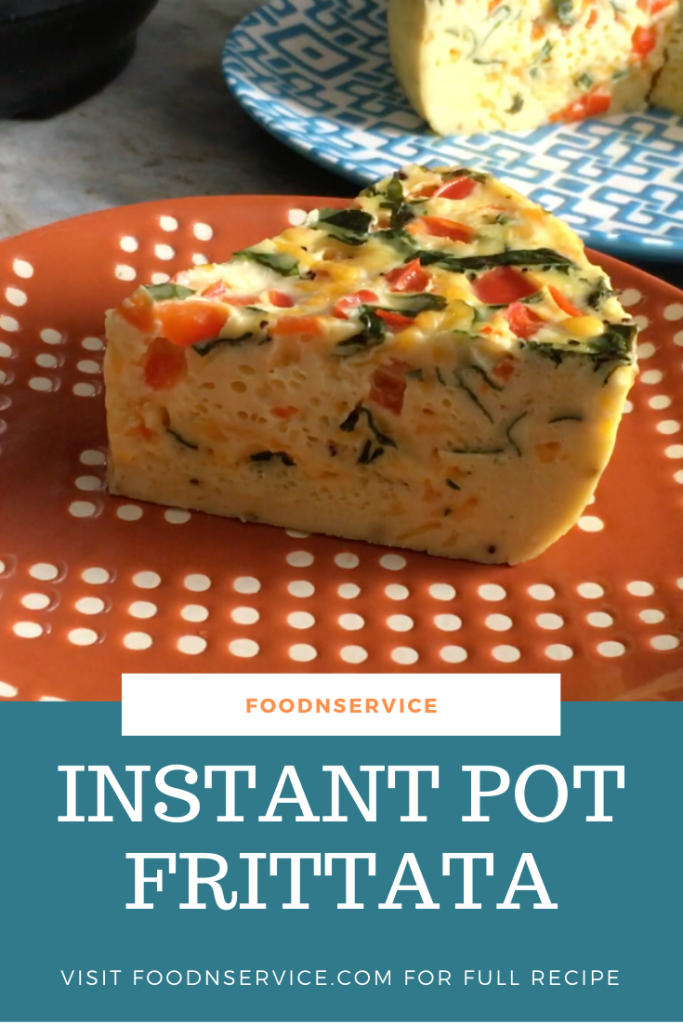 I love that my Instant Pot Frittata recipe incorporates some of those Zero Points that are readily available on all three of the MyWW plans (Green, Blue, and Purple).
No matter how you dice it, I love being able to add it fresh tomatoes and baby spinach into a breakfast dish. If you don't like the baby spinach aspect, you can always replace it with diced kale.
How Can I Change Up Your WW Instant Pot Frittata Recipe with other Ingredients?
There's LOTS of different ingredients you can add to this frittata. I gave some pretty basic ones that give a lot of flavor. As it stands right now, here are the different MyWW SmartPoints that each plan has for this recipe.
You can add in some fun fresh herbs such as: rosemary, dill, sage, thyme, and basil.
Then be sure to jazz it up with other yummy zero point additions! You can used sliced peppers, zucchini, red onions, parsley, and so much more. If you have more points to spare, then grab a couple of slices of cooked turkey bacon to add to it.
Also, don't be afraid to change up your cheese. You can easily add in lots of other cheeses that are low fat or fat free. If you have the points to spare, don't afraid to go all out with some yummy crumbly feta, farm house cheddar, or blue cheese. Just be sure to track!
Do You NEED to Add Flour to the Frittata?
No. You can always a rice flour or tapioca flour. The flour helps to keep it's form and to help keep it's stability, and not create a "deflated" frittata look. I've heard of people using cornstarch too, but I've not ever used myself in this recipe.
Also, leaving out any type of flour all together will not hurt the recipe. It will have the same exact flavor, it just won't have the same density and will deflate a tiny bit. The upside of it all? You'll have a fabulous Keto Frittata that you made in your Instant Pot!
I hope you love my Instant Pot Frittata recipe, as much as I do! What are some different ingredients that you would add to it? Did you make this? Let me know in the comments!
You'll Love these WW Recipes and Instant Pot Recipes, too!
Yield: 6
Instant Pot Frittata
I love how easy my Instant Pot Frittata is to make, and how simply delicious it is. My WW Frittata is fabulous to enjoy every day!
Additional Time
10 minutes
Ingredients
8 large eggs
1/2 cup fat free milk
1/2 cup all purpose flour
1 red bell pepper, diced
1/2 cup baby spinach or kale
1 1/2 cups fat free cheddar cheese
Instructions
Add 1 cup of water into into your Instant Pot. Be sure that your metal liner is in there, first!
In a medium sized bowl, add flour and milk. Whisk together well. Slowly add in eggs while continuing to whisk.
Add in all remaining ingredients and lightly whisk.
Spray down mold and pour in your frittata mixture. Place your mold onto the trivet, and place into your pot. Cover top with piece of foil. Try to get it as tight as you can.
Lock the lid and close the vent. Cook for 30 minutes on High Manual Pressure. Once done, allow to NPR for 10 minutes, and then QPR any remaining pressure.
Remove from Instant Pot, and allow a few minutes to cool. Your mold is going to be very hot, so be careful!
Once cool enough, you can easily flip onto a plate and it will easily come out.
Notes
You'll also need: non-stick cooking spray, 7 inch cake pan or 7 cup oven safe pyrex dish, or other 7 cup mold that will fit into your Instant Pot, and a piece of foil to cover the top.
PLEASE NOTE: You will have a small amount of condensation on top of your frittata. This is normal. Pour it off, or use a piece of paper towel to absorb it.
Recommended Products
As an Amazon Associate and member of other affiliate programs, I earn from qualifying purchases.