Instant Pot Flourless Chocolate Cake
Decadently rich and chocolatey, you would never know this Instant Pot Flourless Chocolate Cake was flourless! This cake is easily made in the Instant Pot and comes out with an unbelievably moist texture, almost like fudge-y brownies. It comes together with only a handful of ingredients, so it's easy to make again and again.
What's so great about flourless chocolate cake is that it's gluten-free! So, if you have someone in your life that can't have gluten, you don't have to try to bake a cake with gluten-free flour. You can bake this amazing gluten-free flourless chocolate cake for them, and it will be an amazing treat!
What is Flourless Chocolate Cake?
Flourless chocolate cake is an addictingly delicious, fudgey cake that's made without any kind of flour. It has a moist, pudding-cake-like consistency, but holds together like a normal cake, and can be sliced to enjoy for birthdays, family dinners, or get-togethers with friends. My version is easily made in the Instant Pot with just a handful of ingredients like eggs, sugar, butter, cocoa, and chocolate chips.
How Do I Store Flourless Chocolate Cake?
Once cooled, cover the cake in plastic wrap or place it in an airtight container. Store it in the fridge for 3 to 4 days.
Can I Freeze Instant Flourless Chocolate Cake?
To freeze this cake, wrap it in plastic or foil, then place it in a freezer bag. Store it in the freezer for up to 3 months. Allow it to thaw in the fridge before eating.
How Do I Serve Instant Pot Flourless Chocolate Cake?
For those who especially love chocolate, top this Instant Pot Flourless Chocolate Cake with a dusting of cocoa powder. You can also dust it with powdered sugar and pair it with a dollop of whipped cream or ice cream. I love a few berries on top, too.
This cake is rich so if you're a milk drinker, a nice glass of milk might hit the spot! But of course, coffee or tea also make a nice pairing.
Can I Make Flourless Chocolate Cake in the Slow Cooker?
Yes! You can make this recipe perfectly in the slow cooker! It just, obviously, takes a lot longer. You can make this recipe exactly as directed. Then, place it in a baking dish that fits in your Crockpot. Add about 1 cup of water to the bottom of your crockpot and set your baking dish inside. Place the lid on the slow cooker. Then, cook on low for 2.5-3 hours. It may be more the consistency of pudding cake. If you want it firmer, cook for up to an additional hour as needed.
Tips for Making Instant Flourless Chocolate Cake
Don't rush when releasing the pressure in the Instant Pot. This ensures the cake cooks properly.
Don't over-melt the chocolate chips. It can change the texture, and if it burns, chocolate stinks!
Don't try to use egg substitute in this recipe. The eggs are the primary 'glue' that hold this cake together, so using 4 real eggs is necessary.
Recipe Variations
This recipe seems like it's tricky – flourless chocolate cake sounds a bit fancy, no?! But actually, it's pretty forgiving, and you can play with the recipe a bit. Here are a few ways to mix it up:
Instead of butter, you can try coconut oil or vegan butter if you'd like.
Add a touch of espresso powder to the recipe for a mocha flavor.
Add nuts to the batter for a yummy crunch!
Replace the semi-sweet chocolate chips with milk chocolate or dark chocolate instead.
Try white chocolate chips for a completely different flavor.
Recommended
Chocolate Pound Cake
Fudge Cake Recipe
Instant Pot Lava Cake
More Decadent Recipes You'll Enjoy
Check out these other delicious dessert recipes if you like this rich chocolate cake recipe!

S'mores Bars Recipe
Easy Double Chocolate Cookies
Instant Pot Oreo Cheesecake
Chocolate Mousse Cakes
Banana Chocolate Tarts
Yield: 8 slices
Instant Pot Flourless Chocolate Cake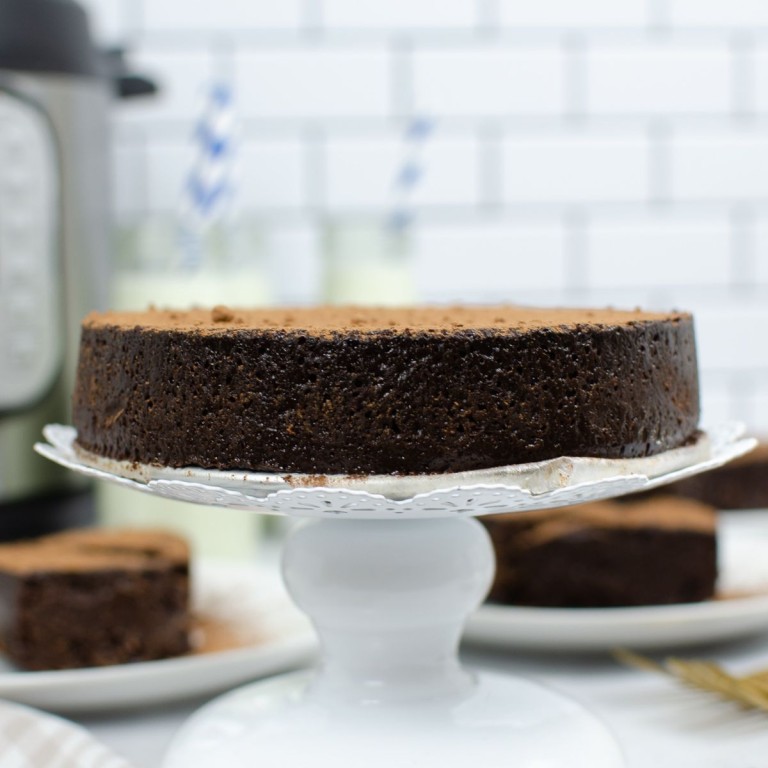 Enjoy this simple and decadent Instant Pot flourless chocolate cake that's delicious and oh-so-addicting.
Cook Time
1 hour
15 minutes
Total Time
1 hour
25 minutes
Ingredients
10 tablespoons butter
1 cup semisweet chocolate chips
2 tablespoons cocoa powder, optional 1/2 cup (or more!) for garnish
1/2 teaspoon sea salt
1/2 cup granulated sugar
1/2 cup light brown sugar
3 teaspoons vanilla extract
4 large eggs
Instructions
In the microwave, in a medium-sized bowl, melt together the butter, chocolate chips, and cocoa powder. Melt at 30-second intervals, mixing in between.
Once completely mixed and melted, add sea salt, granulated sugar, light brown sugar, and vanilla extract. Mix well.
Then add in the eggs one at a time. Mix well between each egg.
Add 1 cup of water to the bottom of your Instant Pot.
Prep your 6-quart springform cake pan by cutting a parchment liner for the bottom of the pan. Make the parchment liner a bit bigger than the bottom of the pan so that when you go to remove the cake from the bottom of the springform, you can use the parchment paper to easily slide your cake off. Spray the bottom and the sides of the cake pan with cooking spray.
Pour the batter into the cake pan. Cover with aluminum foil tightly.
Place your pan on the trivet. Holding the two handles of the trivet, place it in the Instant Pot on top of the water.
Set your Instant Pot to high pressure for 60 minutes. It will take about five minutes to come under pressure. Once it's done cooking, allow the Instant Pot to naturally release for 15 minutes. Once the 15 minutes is up, manually release by using a hot pad or towel and bringing the valve toward you to relieve the rest of the pressure.
Then remove the cake and place it on a cooling rack. Allow your cake to rest for about two hours.
Once your cake has cooled, enjoy the cake right away, or you can cover it in the fridge for up to 3 to 4 days.
Notes
Be careful when removing the cake pan as the inside of the Instant Pot will be very hot.